Let the good "wines" roll – or so goes Evo Bistro's implied motto.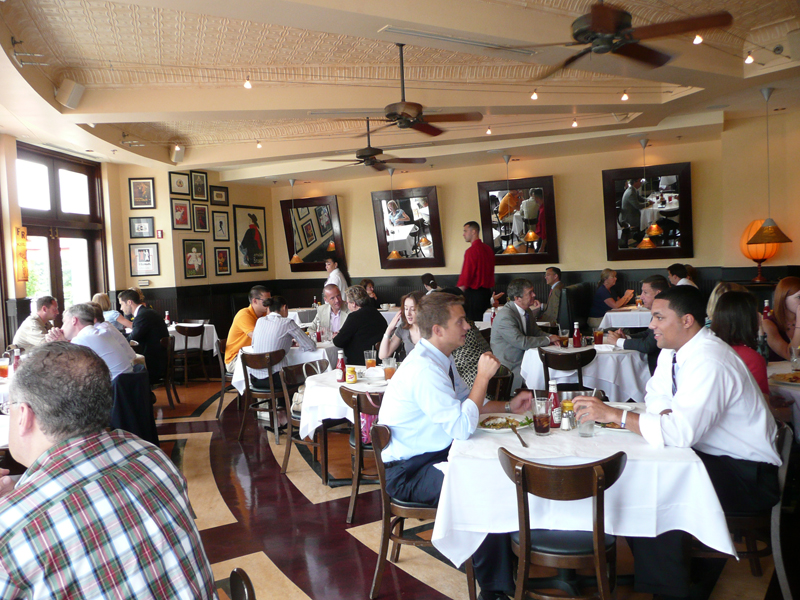 Let the good "wines" roll – or so goes Evo Bistro's implied motto.
Beginning this Saturday, Nov. 21, the McLean-based establishment will begin the tradition of innovative weekend wine tastings on all featured wines. Just how it does this, though, is the fun part.
The restaurant has installed a self-serve, wine tasting bar where vino lovers can try individually priced "pours," experiencing a certain vintage before risking the substantial investment of buying a bottle. Each of the 25 wines the restaurant has available for tastings are labeled with a rating of 90 or above on a 100 point scale by the respected review boards of Wine Spectator, Wine Enthusiasm, International Wine Review and Wine Advocate, Robert Parker. A description of the ferment and suggestions for food parings also accompany the rating, thereby creating a wallet-friendly method of promoting education and socialization of wine.
Evo Bistro, established by head chef and owner Driss Zahidi, has already been scoped out as one of the "75 Best Wine Bars 2009," rated the elusive "Four Out of Four Wine Glasses" and named "Cheap Eat 2008/2009" by Washingtonian magazine, Evo Bistro has been rated by Zagat as one of the "Top Newcomers 2008/2009" and as Northern Virginia magazine's "Top 50 Best Restaurants."
Further proving its reputation, the restaurant is currently expanding, utilizing the vacant space adjacent and doubling its size in order to accommodate for growing demand.
Once a patron has their fill at the tasting bar, they'll be welcomed to a table with polite, prompt attention and homemade hummus, creamy with hints of garlic and cilantro.
Chef Zahidi offers a variety of French, Spanish, Italian and Moroccan-tinged tapas specialties, drawing on the each culture's staple flavors to craft the most exquisite plates. He procures fresh ingredients such as lettuce and herbs strictly from local markets, guaranteeing not only a fresh meal but a hometown feel.
Zahidi's petite creations, sparing injury to checkbooks, include his Empanadas De Carne ($7.50), Spanish turnovers filled with seasoned Black Angus beef. His Kebabs are succulently spiced skewers of chicken ($8.50) or lamb ($9.95). And even skeptics will be converted once tasting his Butternut Squash Ravioli ($9) stuffed with naturally rich squash and mushrooms, dripping in sage cream sauce.
For a full entrée, dig into the Seafood Paella ($22.50) which includes mussels, shrimp, scallops and sausage. The Tangine ($24.75), also a favorite, consists of braised-lamb shanks served with couscous and crisp vegetables.
For the cholesterol-conscious, Evo Bistro has non-meat faire. The Caprese ($9) is comprised of fresh tomatoes and mozzarella dressed in a tangy, balsamic vinaigrette reduction. The Tortilla ($5, lunch only) is an onion and potato omelet cut to resemble crepes.
For those still doubtful Zahidi could top himself, order the after-dinner Pyramid Noisette ($12) which is shaped how it sounds – a marble chocolate obelisk with rich interior of chocolate ganache and hazelnut mousse. The Pear Tart ($12) features a mango-raspberry sauce and is served with vanilla ice cream.
Let Evo Bistro relieve the stressful work day and join in for Happy Hour, 4:30 – 6:30 p.m., Monday – Thursday with $5 drink and tapas selections.
Evo Bistro
1313 Old Chain Bridge Rd., McLean, VA
703-288-4422 • evobistro.com
Hours:
Lunch: Monday – Friday, 11:30 a.m. – 2:30 p.m.
Dinner:  Monday – Thursday, 5 – 10 p.m. ; Friday – Saturday, 5 – 11 p.m.; Sundays, 5 – 9 p.m.
Evo Wine Shop : Saturdays, 11 a.m. – 4 p.m. (Featured Wines Wine Tastings)