A proud Vienna establishment, Ristorante Bonaroti combines refined Italian cuisine with a less-than-exorbitant price tag.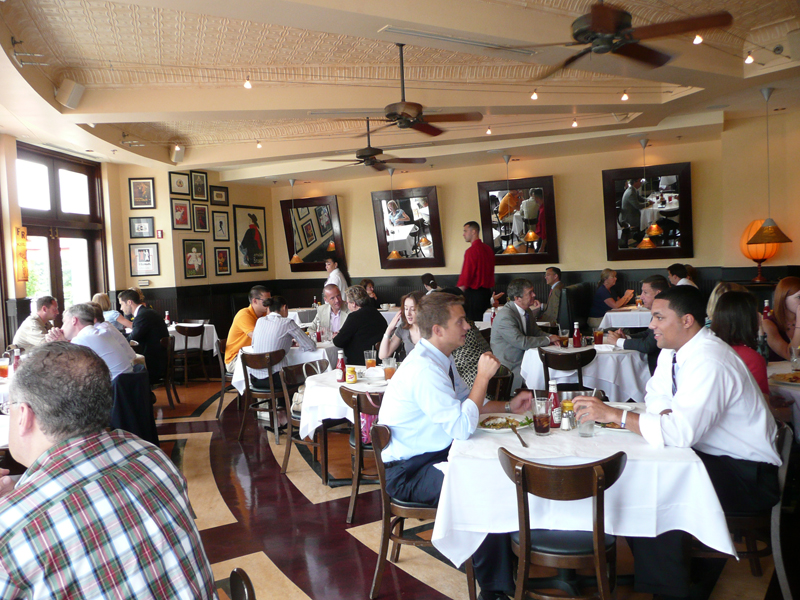 A proud Vienna establishment, Ristorante Bonaroti combines refined Italian cuisine with a less-than-exorbitant price tag.
The restaurant is affectionately called "Bonaroti's" by locals who  have known the establishment since 1982. In that time, Bonaroti has gained recognition across the D.C. region for its fine foods, including mentions in publications like Northern Virginia Magazine and the Washingtonian.
Outside, patrons are greeted with romantically lit patio tables adorned with Pellegrino bottles. A replica of Michelangelo's David stands by the doorway, beckoning you inside. The interior feels like the vanity dining hall aboard a 1930s cruise liner, with cozy quarters and gleaming chandeliers.
Pearl and peach walls delicately stenciled with a "B" announce the arrival of a room deserving of Michelangelo Buonarroti himself, one of Italy's greatest treasures. Numerous grandiose replications of Michelangelo's works hang throughout the restaurant, framed in golden entwine. A combination of murmuring private conversation with an undertone of classical Italian strings sets Bonaroti's atmosphere.
Tuxedoed staff are patient and knowledgeable. The international crew is more representative of an Italian family, fathered by Sergio Domestici, chef and owner. Composing culinary masterpieces since 1982 at this location, Domestici creates a menu of daily features.
Overflowing bread baskets are provided, the perfect accompaniment to the Antipasto All'Italiana – plated Italian cold cuts, cheeses and artichoke hearts. Or indulge in the Carpaccio ($12.50), thin slices of king salmon or swordfish marinated with lemon and olive oil, served with tomatoes and fresh mozzarella. Their permanent Insalate selection has a plated fresh Di Spinaci ($9.50), baby spinach served with peanuts, walnuts and crumbled bleu cheese with a raspberry vinaigrette. A chef's inspiration that day may consist of a warm selection of sautéed mushrooms over balsamic greens ($10.50).
As a main course, delve into the Scaloppini Mare Terra ($25.75), veal cutlets sautéed in butter with lobster meat and simmered in a port wine cream sauce. Fill up on their sumptuous pasta dishes, with house-made fresh pasta. The Spaghetti Alla Carbonara ($20.95) is cooked with onion, bacon and egg yolk in a rich cream sauce.
Their seafood selections are more than commendable with scrumptious dishes such as the Sea Bass Spigola ($22.95).
Bonaroti's has plenty of dolci to go around, and if pinched by curiosity, check out the display where one can visually feast on the sweets. The house specialties include authentic Italian ice cream – called gelato – raspberry white chocolate mousse cake, mango mousse cake, a selection of sorbets and more ($7.95 each).
The wine list spans the globe, from Argentina to California to Italy. Their full bar is generous with the pours and fresh made specialty coffee drinks revive any lulling guests.
Bonaroti also sports two private dining halls which can be reserved for 40 – 50 individuals. These large parties can choose from a vast selection of group menu options or call for customization.
Ristorante Bonaroti
428 Maple Ave. E, Vienna, VA
703-281-7550 • bonarotirestaurant.com

Hours:
Monday – Friday: lunch, 11:30 a.m. – 2:30 p.m.; dinner, 5 – 10 p.m.
Saturday, 5 – 10 p.m.; closed on Sunday