Heartfelt condolences, memories and tributes in the wake of yesterday's death of Senator Edward "Ted" Kennedy were swift to issue forth from countless individuals and corridors of power worldwide, ranging from the White House to City Hall in the City of Falls Church. Having been diagnosed with brain cancer in May 2008, Sen. Kennedy died late Tuesday, Aug. 25 at age 77.
Political leaders in Virginia joined the global chorus by distributing statements to news organizations and others by the Internet yesterday.
President Obama's declaration, delivered from his vacation home on Martha's Vineyard, set the tone. In his proclamation, Obama stated that Sen. Kennedy "was not only one of the greatest senators of our time, but one of the most accomplished Americans ever to serve our democracy. Over the past half-century, nearly every major piece of legislation that has advanced the civil rights, health, and economic well-being of the American people bore his name and resulted from his efforts. With his passing, an important chapter in our American history has come to an end."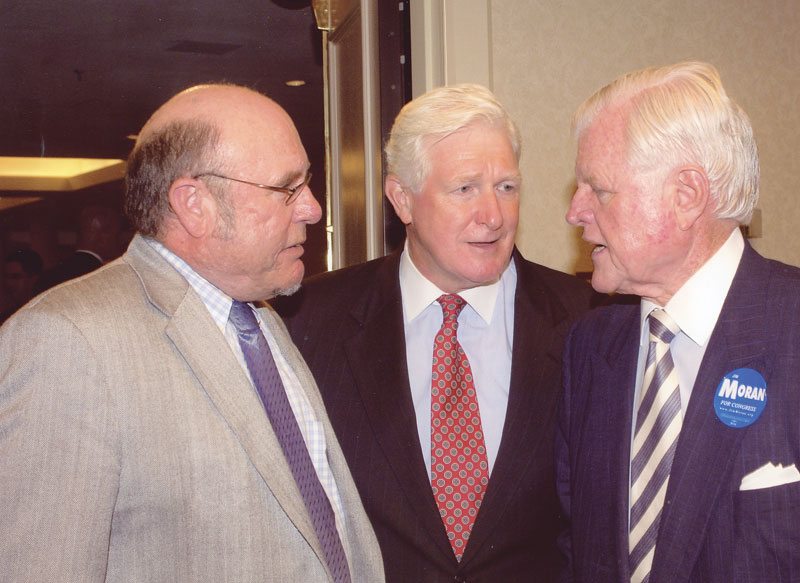 Virginia Senator Jim Webb stated the following: "I have tremendous respect for Senator Kennedy and the impact he had on our entire congressional body. He was highly regarded on both sides of the aisle. He had a wonderful sense of humor. And he brought great passion to the issues that he pursued. His ability to talk to people of all philosophical persuasions was of great value to our process."
Virginia Senator Mark Warner statement included the following: "Senator Kennedy's death saddens all of us…His approach to issues and legislation was respected by all members of the Senate. His legislative accomplishments reflected both his commitment to his principles – and a willingness to cross party lines and find common ground. He brought a passion and devotion to the causes he fought for, but always treated his opponents with respect."
Rep. Jim Moran of the 8th District of Northern Virginia enjoyed Sen. Kennedy's role in support of his re-election efforts, including when the fellow staunch progressive, Boston native and Irish descendant appeared at a fundraiser on Moran's behalf in 2004.
In a statement issued yesterday, Rep. Moran said, "Ted Kennedy's legacy will be the legislation he committed his life to enacting: equal access to quality public education and health care and basic human services. He took America's principles to heart, that we are all created equal and all entitled to the fruits of this land and the rewards of our economy. He believed in the American peoples' ability to better themselves and to provide for the next generation."
Moran added, "Ted was born into a life of privilege, but he devoted his days on this Earth to bettering the lives of those less fortunate. He was absolutely dedicated to making the American government work for all its people. We would be a lesser country without Ted Kennedy's lifetime of leadership."
Virginia Governer Tim Kaine, who is also chair of the Democratic National Committee, issued a statement that included the following:
"Today we mourn the loss of one of the greatest and most consequential political figures in American history…It is not an exaggeration to say that Senator Kennedy devoted his entire adult life – in the great tradition of the Kennedy family – to public service. And, in his 46 years in the Senate, Senator Kennedy's primary focus – and the legacy he will be most remembered for – will be his work to improve the plight of ordinary Americans, to empower the powerless and to end the scourge of discrimination based on race, ethnicity, gender, sexual orientation, disability and economic background that was all too prevalent in an earlier time."
City of Falls Church Mayor Robin Gardner stated: "My prayers and condolences go out to the family of Ted Kennedy. The remarkable American voice of Senator Kennedy is now silent, but his legacy of nobility in public service and the importance of serving all members of our community – especially the poor, the afflicted, and the unfortunate – is indelibly stamped on our national consciousness."