What had been a nomadic life for the Creative Cauldron arts education non-profit and Falls Church Arts came to an end with the opening of a new 3,000-square-foot permanent home on S. Maple St. this summer.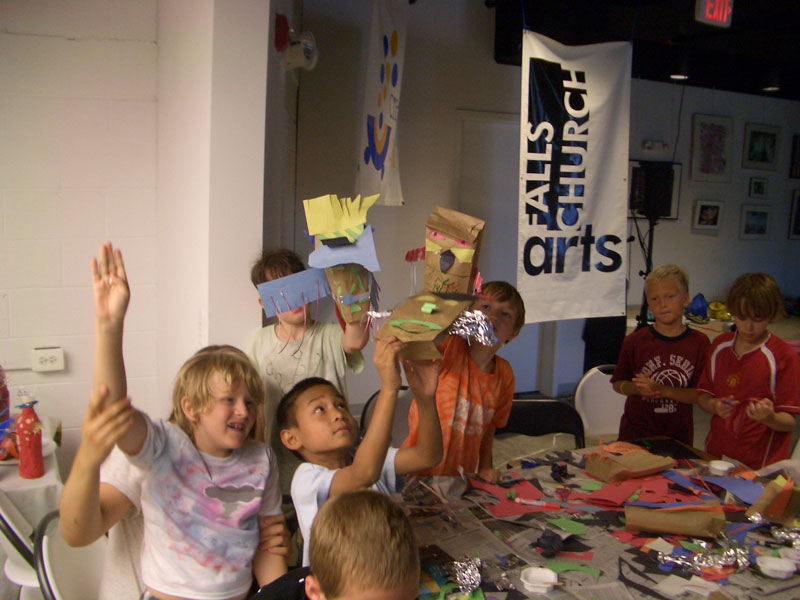 What had been a nomadic life for the Creative Cauldron arts education non-profit and Falls Church Arts came to an end with the opening of a new 3,000-square-foot permanent home on S. Maple St. this summer.
ArtSpace Falls Church, located at 410 S. Maple Ave., features a roomy area for performances and a gallery exhibit that is already anticipating the arrival of additional works by local artists.
Still in its early stages, ArtSpace is the result of more than a year and a half's worth of collaborative effort in Falls Church to spark more interest in the arts and humanities.
"When I was on the City Council, we discovered that Falls Church was lagging behind in the arts, in comparison to surrounding cities like Alexandria, Arlington and Fairfax," said Marty Meserve, past Falls Church Arts president and current Creative Cauldron president.
The project, largely overseen by Laura Hull, founder of Creative Cauldron, took shape when Tom Gittins, co-founder and then-president of Falls Church Arts (FCA), worked with Hull to bring the two organizations together approximately five years ago.
Though structurally different, a critical common point aiding in the successful cooperation of Hull and Gittins was their mission to "nurture all the arts… visual arts, performing arts, and literary arts," Meserve said.
Such a daunting endeavor, of course, had its setbacks and difficulties.
For one, raising funds in the struggling economy demanded much attention. However, widespread support from the community began to weigh in.
In its application for a special use waiver, the developer of the multi-use complex at Pearson Square had offered the space at a reduced lease. That was the first step towards turning the dream into reality.
Advocates of the plan contributed $30,000, in addition to $250,000 secured by the City of Falls Church and another $100,000 by property owner Transwestern Inc.
Upon the approval of a grant submitted for consideration by Creative Cauldron, Dominion Power's foundation covered the costs for a green lighting system, one that will be environment-friendly and efficient as well, amounting to about $20,000. The local branch of the office supply store Staples helped out as well, reducing the costs of the 95-seat performance and classroom space.
Due to the budget constraints, it's "pay as you go right now," said Hull. Even despite the tremendous appreciation by the community, more than $120,000 is still needed to help install the seating platform, rigging and curtains.
Bumps along the road came and went as the ownership of the venue changed several times. Communication issues arose, as original developer Atlantic Realty handed the property over to Transwestern, and FCA and CC boards were unaware of the situation.
"We had to start all over," Meserve said, remarking on the complications that hindered the project from making progress.
"It's been a learning curve," said Hull, who was in charge of much of the work."Working with the FCA, community leaders, learning how a 'proper' or voluntary concession with development played out – I had no playbook."
The aid came as Cindy Mester, Assistant F.C. City Manager, guided Hull through the process. Mester, who serves on the ArtSpace Task Force Committee, is in charge of special projects, such as building ArtSpace. Working as the facilitator between developers, Mester commented on her own love for the arts.
"Personally, culture is very important for me," Mester said, noting that her husband, Gary Mester, is a photographer whose work often appears in the News-Press and shares her enthusiasm for art.
ArtSpace Falls Church, currently modest in scope within the plan to achieve cultural advancement, is nonetheless everything all its supporters had hoped for.
"I built this place on a cell phone; now, I will have a land line," Hull said, excited over her vision finally becoming reality.
Kristen Byrne, a graduate of J.E.B Stuart High School and student at George Mason Unviersity, who has been working with Hull as an intern for several years as a counselor for Arts Adventure, a Creative Cauldron program, also lauded the immense effort that went into the project.
"As a student in high school, I was not involved in the arts much," Byrne said. "[The establishment of ArtSpace] most definitely is an eye-opening experience. It got me to really look into the arts. And it was always a hassle to move around, so it's great that we made [ArtSpace] ours."
However, for Byrne, the permanence of the space also brings a restriction.
"I'm really an outdoorsy person, but because we're no longer moving about from place to place, [the programs] are no longer outdoors," she said.
And perhaps, the versatility of the camps is something that FCA and Creative Cauldron will work on later in the future. For right now, the goal of the programs is expansion. "The key will be to see if we can find a way to cast a net as wide as possible," Hull said.
Already, Hull's expectations are being met. Regardless of the not-yet-finished space surrounded by mainly concrete and bland walls, many upcoming projects and productions are scheduled. Among the theatrical performances are "King Pizza," "The Wee Christmas Cabin of Carnnaween" and others, some of which are to be presented by the young campers at Creative Cauldron.
As for sharing the space with Falls Church Arts, Gina Caceci, former director of FCA and current secretary of the Creative Cauldron board, commented that there is "a written alliance agreement in place to guide the decisions." ArtSpace, however, is operated mainly by Creative Cauldron, who carries the responsibility for programming and operating the space.
"We're still getting to know each other," Meserve said. "Falls Church Arts concentrates more on visual arts, whereas Creative Cauldron concentrates more on performing arts. But I see the two blending as we go on. The first year is an experiment for both of us."
Insofar as the two non-profit organization's goals go, Creative Cauldron and Falls Church Arts are cooperating to continue their coinciding mission of bringing arts to the Falls Church area.
"This is a wonderful opportunity for our small city to attract high-quality, events and people. [We hope to] make Falls Church more of a destination," Caceci said. "We want all of the arts to be an acceptable, affordable and an integrated part of the Greater Falls Church community."
Meserve had a similar goal as well. "It'd be great for [ArtSpace] to be so successful that every weekend the audience fills the house. This is truly an intergenerational opportunity for the people to get in touch with the arts."