Laurel Lukaszewski is currently showing a series of her black and white abstract ceramic sculptures at Lee Center.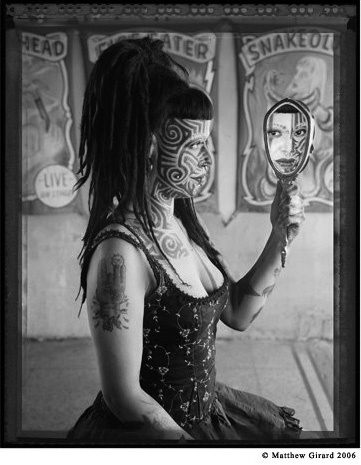 Clay Formations
Laurel Lukaszewski: Capturing Lines, at the Lee Arts Center (5722 Lee Highway, Arlington). The event runs through August 30, and the gallery is open Monday – Friday, 9:30 a.m. – 10 p.m., and Saturday, 9:30 a.m. – 6 p.m. For more details, call 703-228-0559 or visit www.arlingtonarts.org/leeexhibitions.htm.
Laurel Lukaszewski is currently showing a series of her black and white abstract ceramic sculptures at Lee Center. The white clay is porcelain and the black is made of cassius basaltic, a specific type of stoneware designed to come out black after firing. The raw black and white materials give Lukaszewski's work a purity and visual punch where most raw clay work, needless to say, exists in a range of muddy browns.
While line, form, light and shadow play a significant role in the work, more than anything, they seem to pay tribute to raw, and semi-raw, industrial materials. Using a variety of extruders, her basic clay forms are uniform and seamless. Some seem to be insulated two wire household electrical wire, others look like household or automotive rubber gasket materials. Yet others seem to be giant collections of rubber bands, rods of graphite or maybe black-oxide treated steel.
Each piece is a concentration of one particular type of extrusion and sits before us as if it were on a factory floor, about to become some part of a greater whole. "Shift," installed above the Lee Center entrance doorway, is made up of hollow core square stock of varying lengths. In some ways, they seem to be cast off stubs of longer pieces. Too short to be of use, they collect in a company of fellow cast offs.
Lukaszewski is a founding member of Flux Studios in Mount Rainier, Md. Flux being one of the key players, along with Red Dirt, and the Washington Glass School in the Otis Street complex of artists studios there. Last year's much talked about 10th floor display at Artomatic featured ceramicists from the Otis Street complex. Her Artomatic showing this year earned Lukaszewski a craft award of distinction from the James Renwick Alliance. To view more of her works, visit her online at www.laurellukaszewski.com.
Cleary Pastels
Manon Cleary: New Pastels, at the Addison/Ripley Fine Art (1670 Wisconsin Ave., NW, Washington, D.C.). The event runs through August 22, and the gallery is open Tuesday – Saturday from 11 a.m. – 6 p.m. For more details, call 202-338- 2341 or visit www.addisonripleyfineart.com.
Manon Cleary is a well-known D.C. artist and former art professor at UDC. The current showing at Addison/Ripley is a mix of new work and older pieces. Despite a lifetime of skill and knowledge, Manon finds it increasingly difficult to churn out new work due to her end-stage pulmonary disease.
She seems to have wisely set aside the oil paints with all their attendant vehicle vapors, and is currently concentrating on pastel works done on sanded art paper. Eight small pastel portraits feature a past pet white rat with beady little red eyes. One of the newer cloud images possesses an amazing degree of depth thanks to Manon's use of color.
Several larger figurative works from a dozen or so years ago are especially nice, all of them graphite on paper. Using ground graphite, a stump and, most importantly, an eraser, she crafted images of photographic quality. Devoid of any line work, they seem to be black and white photo prints from just a few feet away. Two images of a man wrapped in plastic hearken back to the early '90s and David Lynch's TV drama, Twin Peaks. The plastic wrapped body of Laura Palmer being the source inspiration for these drawings. Manon's "Man in Plastic Bag" seems to be testing the limits of the bag in which he lives.