Last week's review covered one of two must-see shows up at the moment: Margaret Boozer's wonderful crop circle-like dirt drawings at the Katzen Center, American University's art museum.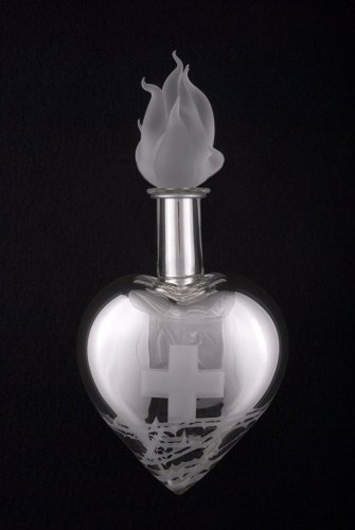 Last week's review covered one of two must-see shows up at the moment: Margaret Boozer's wonderful crop circle-like dirt drawings at the Katzen Center, American University's art museum.
There's no question this is one of the best local artist shows you'll ever see. Boozer will need a warehouse and a bulldozer to top this one.
The exhibit runs through Aug. 15 at the Katzen Arts Center (4400 Massachusetts Ave. NW, Washington, D.C.). You can stop by the center from Tuesday – Sunday, noon – 4 p.m. Admission is free. For more details, call 202-885-1300 or visit www.american.edu/museum.
This Mortal Coil
"Paint Made Flesh," at the Phillips Collection (1600 21st St. NW, Washington, D.C.). The exhibit runs through Sept. 13, and is open 10 a.m. – 5 p.m. Tuesday – Saturday, 10 a.m. – 8:30 p.m. Thursday and 11 a.m. – 6 p.m. Sunday. General admission is $12, or a discounted $10 for students and seniors 62 and over. Admission is free for those 18 and under. For more details, call 202-387-2151 or visit www.phillipscollection.org.
While the show title may have you thinking of cavorting fair maidens, this is one of the most sobering figure shows you'll ever see. Painted depictions of the human form is indeed the general framework for the show. However, it will serve the viewer well to let that notion simmer on the back burner. More than anything else, what we have here, at full boil, is a post-WWII survey of textural painting styles. You'd be hard-pressed to do better than this lot.
The 43 images here run the gamut from triple A-List artists,  like Lucian Freud and Willem de Kooning, to well-known A-List artists, like Julian Schnabel and Eric Fischl, to more than a few fresh faces you're not so likely to know about. In short, it's a show that covers a lot of territory and does so with aplomb.
Some of these works have paint applied in such quantities they'd make a great art experience for the blind … if you could touch them, which, of course, you can't. Even so, a few of these works are so textural they're akin to bas relief sculpture. Julian Schnabel's typical painting on a field of pottery shards takes the notion of textural surface to an extreme level that literally is half-painting, half sculpture.
Throttling back from that a tad, but not by much, is the lurid quantities of paint used by Joan Brown in her 1962 painting "Girl on a Chair." Suffice it to say, Brown took the notion of palette knife painting to level that seems to have involved trowels.
And so it goes, artist by artist, each to his own way of thinking. Lucian Freud, not exactly known for economizing on paint, seems fairly sober compared to the work of Leon Kossoff in his 1994 painting "Cathy No.1, Summer."
Kossoff's image is rendered almost exclusively in a brown tonal range with a somewhat flat, almost plastic-like sheen to the paint. Coupled with his dragging thick textural smears, the work seems like a 42-by-30-inch chocolate sheet cake hung on the wall – if you decorated cakes with naked women on them. It's to say that you can't totally escape the fact these are indeed figure paintings.
John Currin's 1999 painting "The Hobo" depicts a happy female hobo in see-through clothing. Hunched over from the weight of her backpack, her pendulous breasts hang free, directly related to the small bag dangling from her Y-shaped walking stick, and subtlety related to the jewels hanging from her gold waist chain. Ironically, it seems to have a fair amount of social commentary lurking just below the obvious cheesecake factor.
One of my favorites here is a 1956 canvas by Jack Levine of two scantily-clad burlesque dancers waiting to go on stage. The mottled paint application, with subtle tiny flicks of arbitrary color, yields a surprisingly life-like depiction of skin. Another favorite is Lucian Freud's angelic painting titled "Standing by the Rags." The fleshy female model with one outstretched arm rests on a massive pile of crumpled white rags. Her innocent repose seems to transform the lowly rags into massive white wings.
Willem de Kooning's fabulous "Woman" circa 1953-4, needs no introduction, but confirms the fact that in-the-moment action painting can indeed qualify as drawing. Similarly, Tony Bevan's 2005 "Head" would also seem to qualify as drawing. Wangechi Mutu's Medusa-esque paint on photo collage image seems to address the way female sexuality lures men to violently dangerous pursuits like motorcycle riding.
In short, "Paint Made Flesh" is an absolute must-see for any aspiring painter. It's one of those shows that photography can't adequately capture, and thus must be seen in person. For a little historical perspective, be sure and take a quick post-show peek at the Permanent Collection downstairs with its thinly-painted Seurats, and impasto Van Goghs.
Fete for Figures
"Celebration of the Figure VII," at MOCA DC (1054 in Canal Square, 1054 31st St. NW, Washington, D.C.). This exhibit is open Friday, July 10, from 6 – 10 p.m. For more details, call 202-342-6230.
You never know what you'll find at MOCA's figure show openings. They're half carnival, half art opening. By request, I'll be there doing some of my 6-foot-tall figure drawings. One way or the other, it should be interesting.
Artist Opportunities
Sign-up time has begun for the summer session of Open Studio Figure Drawing at McLean Project for the Arts (1234 Ingleside Ave., McLean). Tuesday sessions run from 7 – 10 p.m.; Saturday sessions run from 4 – 7:30 p.m. For more details, call 703-790-1953 or visit www.mpaart.org.