Like the state championships won throughout the school year, the postseason awards honoring George Mason High School's athletic department continue to flow in spades.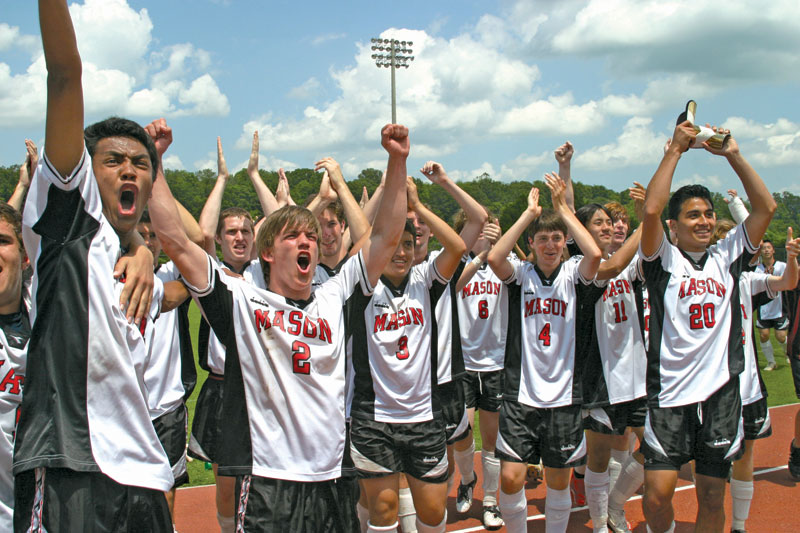 Just two weeks after receiving the Virginia High School League's Wachovia Cup for Group A schools, an honor annually bestowed upon the most successful athletic program for each classification, George Mason High School (GMHS) was given the distinction of being named the top athletic program in Virginia by Sports Illustrated magazine this week.
As detailed in Kevin Armstrong's story on SI.com, the magazine's Web site, the Mustangs' success was recognized as the best in the state, ranked among the best in the country along with Washington D.C. winner Gonzaga and Maryland powerhouse DeMatha.
"After sifting through state tournament results for the 2008-09 school year, contacting athletic directors from top programs, examining all-around success rates as well as weighing the importance of producing star athletes and teams that excelled on the national level," the article said, Sports Illustrated placed George Mason on the list "of the top high school athletic program in each of the 50 states, plus the District of Columbia."
Consistency was the name of Mason's game this year. The road to the Sports Illustrated honor began in the fall, when the Mustangs' girls cross country team took the state title for the first time in program history. Mason's girls basketball squad avenged its loss to Floyd County in the 2008 state semifinals by squeaking by the Buffaloes in March's Group A Division Two championship 53-46.
"To us, what Mason did was pretty exceptional on the national level," said Armstrong in an interview with the News-Press. He also noted that Mason was selected based solely on its success this year and not on athletic history. "It wasn't necessarily that they were competing outside of the state, but their concentration inside Virginia was exceptional."
At the Radford Jubilee state tournament in June, the Mustangs swept the soccer titles. The boys squad edged Radford 1-0 in its first state title appearance since 2005, just hours after its female counterpart defended its state championship against the Bobcats 3-2.
"The breadth of success that Mason had stood out to us," Armstrong said. "There wasn't necessarily one characteristic, but it was overwhelming in terms of the number of events that they won."
The award, as Mason Athletic Director Tom Horn noted, does not mean that "Mustang sports teams would line up against state powerhouses like Frank W. Cox." Rather, it recognizes that the "athletes and coaches achieved at a level that exceeded expectations."
In the three years of SI's report on the top high schools, Mason stands as Virginia's smallest winning school. In 2006-07, Midlothian High School took the top honor with an enrollment of 1,575 students. Last year, Stone Bridge (enrollment of 1,709 in 2007) received the Virginia honor. While more than two George Mason's (801 students in grades 8-12) could fit into one Stone Bridge, their respective track records of athletic success nonetheless remain similar.
The Sports Illustrated honor marks the third time in recent memory that the Mustangs have been mentioned by the magazine. In 2004, after George Mason announced that Tysons Corner's Moore Cadillac bought the naming rights to the football stadium, the $50,000 figure was featured in SI's "Go Figure" section.
Shortly thereafter, Mason was one of four Virginia schools selected to participate in Sports Illustrated's ATLAS and ATHENA program, which provides grants to implement teaching mechanisms to educate athletes about training options and nutrition programs. A full-age advertisement for the program, which featured ten Mason football players, ran in the magazine.
"Honestly, my first thought when I heard about this award was that this little school gets three mentions in SI in a relatively short time and there are many high schools in this area that never get recognized," Horn said. "Coming to a place like George Mason gives you opportunities that you don't have other places. There's an enormous sense of pride."
In a 2.2-square mile town whose size pales in comparison to neighboring Fairfax County with its million-plus population, the challenges George Mason has faced en route to its athletic success far surpassed those of its peers.
"I know our competition is equally sized, but there are unique challenges of living in Falls Church. If you're at a school with 3,000 kids, like in Virginia Beach, you can expect that half will be interested in athletics and the other half in academics," Horn said. "That's a challenge for our kids to balance all of that, given the expectations from parents, teachers, coaches and other students. It says a lot about our kids that we can do that and still be successful in sports."
Despite the myriad of state titles, athletics have not been a particular rallying ground for the Falls Church community, especially when compared to other Bull Run District schools.
"If you go to a baseball game at Strasburg, you're more likely to see people in the community not connected to the school and that draws kids in at a much younger age," Horn said. "Our coaches are dealing with a lot of kids that become seriously interested in sports only when they reach high school."
Horn hopes that the Sports Illustrated award will boost local acknowledgment of the achievements that Mason's athletes have garnered in the past.
"I don't want to upset the balance because I think it works and I don't want [Falls Church] to turn into a sports town at the expense of anything else," he said. "I hope our athletes are recognized but that nothing changes. Would it be great if 3,000 folks came out to watch a football or basketball game? Sure it would. But I'd rather them come out to recognize the accomplishments of our kids."
The awards for the program began with the Region B Principal's Cup, a recognition that was assumed to go to Clarke County, Mason's long-time Bull Run rival. While the bounty of recognition ultimately began with uncertainty, the Mustangs' trophy case has not stopped adding new memorabilia since.
"I think that if we build with the right assistance and the right attitude, these things are, if not inevitable, then definitely possible," GMHS Athletic Boosters President Mike Wolfe said. "I think that if you get the right people in the right positions, then the program will develop."
Along with the Wachovia Cup, Mason was awarded the 2009 Claudia Dodson VHSL Sportsmanship, Ethics and Integrity Award, joining 16 other schools in the state and earning 50 points toward the Cup standings.
For some in the Mustang community, though, this most recent honor will mean the most to them, simply because it comes from one of the biggest names in sports.
"Obviously to be recognized by Sports Illustrated is quite an honor," Wolfe said. "I'm not taking anything away from the other awards, but if I look at it from a sports fan's point of view, it's incredible. It's kind of hard to beat."