With a veteran core of three girls that have played together on both club and high school teams in addition to two newcomers, the George Mason High School varsity girls soccer defense was one of the most potent in the state this year and was instrumental in securing the Mustangs' second-consecutive group A title.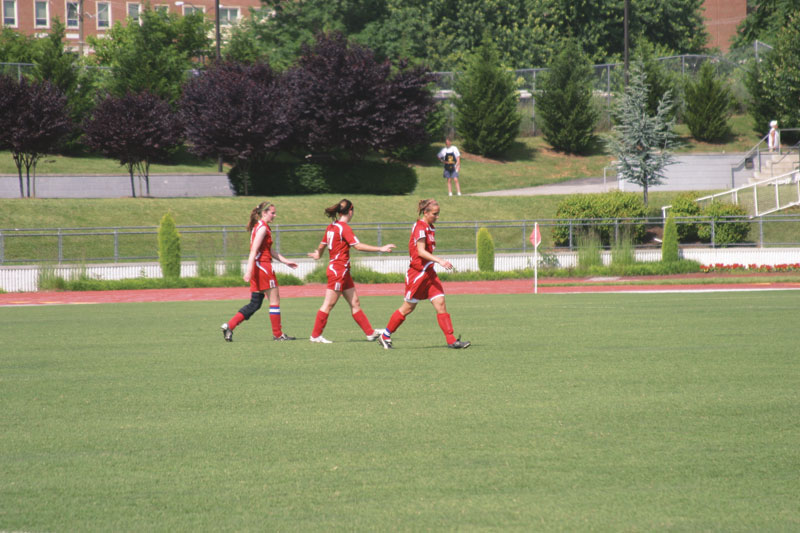 They say that offense sells tickets but defense wins games.
Boy, does it ever.
With a veteran core of three girls that have played together on both club and high school teams in addition to two newcomers, the George Mason High School varsity girls soccer defense was one of the most potent in the state this year and was instrumental in securing the Mustangs' second-consecutive group A title.
Mason's 3-2 win over Radford in the state championship game on June 7 marked just the fifth time that the Mustangs ceded a goal to a single A opponent in 18 contests and was the first game since April 1 that the defense allowed more than one opposing shot to find the back of the net. Simply put, one could be missing four fingers and still be able to count the tallies given up in group A play this year.
As a unit that often does not get enough credit, the back line's stellar season was less of a one-hit wonder and more the production of years of hard work. Seniors Tegan Argo, Alexa Peyton, and Abby Stroup have been defenders throughout their careers on the Mustang varsity, while juniors Kelley Frank and Nicole Mitchell are newcomers to the unit, but nonetheless familiar with Mason's tradition of winning.
"In [the state championship] all you need is one defensive error to get a shot on goal, so I think [the defense] deserves a lot of credit," coach Jennifer Parsons said following the game in Radford, Va. "I've never seen my back four this fired up for a game before; they were awesome."
The story of the defense begins in front of the net with the keeper Mitchell. In what Radford coach Lee Boehling called "one of the greatest sports stories," Mitchell came to be the Mustangs' goalie following three years as an outfielder on Mason's baseball team. The sport switch, though, came natural to the athletic Mitchell, who was the leading scorer on Mason's state championship basketball team this winter.
"That kid is fantastic," Boehling said. "I love how she played baseball with the boys team. What a badass that kid is. I can't even imagine. She physically has all the tools and more to be an outstanding goalie. I just like everything about her: great size, mobility, and she's super athletic."
Mitchell, who played basketball with many of her soccer teammates, was encouraged to consider switching to soccer to continue the chemistry that existed on the court. A self-proclaimed person who "knows nothing about soccer," Mitchell even surprised her peers by showing up on the first day of practice.
"She didn't tell us she was playing until she walked across the field at practice," Stroup said. "She showed up in basketball shoes and basketball shorts and we thought she was joking until she stayed with us until the end of practice. I thought she was kidding the whole time."
With the help of her back line teammates, eventually Mitchell fell right into place with the defense. Her experience as a leader in other sports helped her fit in even quicker.
"It was tough at first because I really had no idea what to do, but as the season went on everyone was so helpful with teaching," said Mitchell, who on the first day of practice was confused at how her teammates wore their socks and put on shin guards. "A lot of the things you learn in baseball you learn in soccer too. If the ball is rolling to you, you have to get down low and get in front of it. The grounders are the same thing in soccer except I have two hands."
"During one practice Nicole would pick up the ball and kept looking over at coach Parsons asking if she could punt it or throw it," Peyton added. "She had the ball in one arm and pump-faked like she would in basketball. But you couldn't tell that she never had been there before, no one would have known that she had just started playing."
Playing sparingly throughout the season and splitting time in the net with senior Caitlin Sickler, Mitchell developed into a second-team all-state goalie and the defensive rock of a state championship team. She and the rest of the defense withstood a barrage of shots in the title game, holding Radford senior Mary Wiley, the record-holder for single-season goals, to minimal contribution.
"Having Nicole in goal was huge, she gave us reliability in the back," Stroup said. "She not only provided another dimension to our defense but she knew how to be a teammate. Everyone was uplifted by her at some point in the game. Trying to explain offsides to her was a joke at first, but she took it as a challenge and worked hard in every drill. Even as the goalie, she would finish first on team runs because she pushed herself."
The compilation of the stingiest defense in single A girls soccer started back in 2001, when Argo and Stroup both joined the McLean Destiny, a nearby club squad, in fifth grade. Peyton then joined the unit her freshman year, the summer after which she latched on to the Destiny. Playing together for so long gave the trio a communication advantage on the back line.
"We always warm up together and hold each other accountable," Stroup said. "We'll turn on a hinge in the back and have each other's support and that's really helpful because you can't take risks without knowing that someone behind you will make a recovery run."
"I guess we read each other and understand each other on the field at different moments," Argo added. "We've gotten used to each other over the years."
Argo has been a defender all of her life, dating back to when she joined the Destiny. Stroup switched from playing forward before her sophomore year to sweeper, citing the leadership role as a perk of defending from the back line. Peyton, the last of the three to come to the Falls Church school system, added a new layer of leadership and expertise.
"The first time we went to states we got eliminated in the semifinals but after we were talking about how we would lead the defense as seniors," said Peyton, who has battled knee injuries her entire career. "For me, it's been great playing with Abby and Tegan in school. We got really good at communicating with each other and got good at solving problems on and off the field with each other. I've gone through a lot of injuries but because I've played with them so much they know what's going on."
Frank, on the other hand, found her way to the back four after spending her first two seasons at Mason as a forward. In years past, teammates mentioned that she belonged on defense and when numerous defenders were still playing basketball, Frank instantly jumped at the opportunity to change positions.
"I went up to coach Parsons and asked to play defense, and I think she thought it was all a joke," Frank said. "When I got out there and played for a half she told me that she loved me at stopper. Playing defense completely changed the game for me."
With a physicality usually reserved for a rugby pitch, Frank brought an aggressive mindset to the defense. After her first game against Briar Woods, an 8-0 Mason loss, Frank fondly remembers waking up the next day with bruises on her legs, proud of her first effort as a defender.
"I'm a really aggressive player and playing defense allows me to unleash that side," Frank said. "My favorite part about playing defense is that we have our own little team. The offense is the rest of the team, but we have our back four and we work together a lot."
"I kind of took Kelley under my wing," Stroup added. "She is the player that I would least like to play against on our team, because she is brutal. She doesn't let anything through and is so hardworking and so aggressive. She acted like she had been [on the back line] for years."
After routinely beating teams 12-0 and rarely having the ball cross into their side of the field, the Mason defense turned it up in the state tournament, limiting the Wilson Memorial and Radford offenses to an aggregate three goals in over two hours of soccer.
And now, with Argo, Peyton, and Stroup having crossed the stage at D.A.R. Constitution Hall on Wednesday night, three of the five defenders have officially closed the Mason chapter of their soccer careers. Yet, the memory of playing on the back line and winning consecutive state championships will last forever.
"When the final whistle blew, Alexa and I ran to each other and Tegan then joined us and then Kelley joined us, and we were so excited," Stroup said. "All the seniors started crying because there was no better game that we wanted to go out on."
"Playing with these girls is the greatest feeling," Frank added.