Stifel & Capra Nominated For NICHE Award
Stifel & Capra has been nominated for a 2009 NICHE Top Retailer Award in the category of Best Guild Store.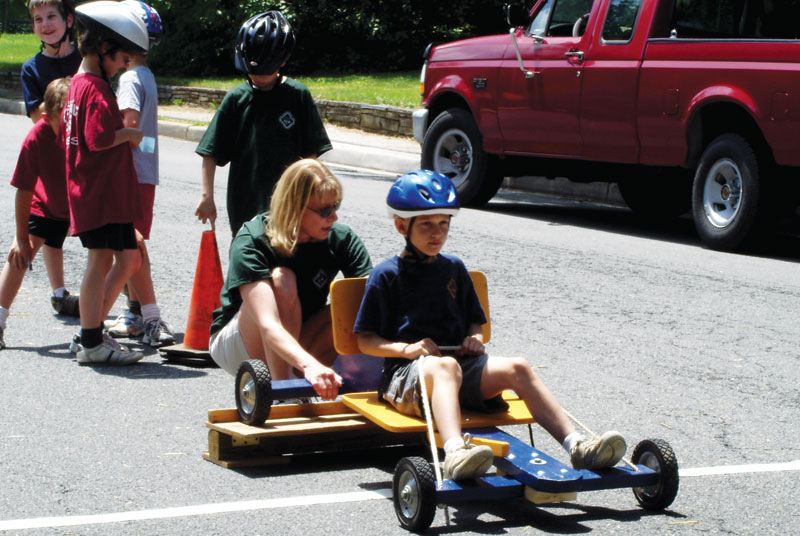 Stifel & Capra Nominated For NICHE Award
Stifel & Capra has been nominated for a 2009 NICHE Top Retailer Award in the category of Best Guild Store. Stifel & Capra was also nominated in the Top Retailer category. The NICHE Top Retailer Awards honor the nation's best craft retailers, arts nonprofits, museums and guilds for growing and strengthening the American and Canadian craft community. The program annually recognizes 24 retailers and gallery owners as "Top Retailers," names one "Retailer of the Year" and gives awards in 10 special categories.
Fairfax Elderhostel Holds Alumni Meeting
The next Fairfax Elderhostel meeting will include three presentations: "How Does That Intergenerational Work?," "A Kingdom by the Sea" and "Attention All Photographers."  The meeting is free and visitors are welcome to attend, but reservations are required. Light refreshments will be served. The meeting will be held at the George Mason Public Library (7001 Little River Tnpk., Annandale) this Sunday, June 14 from 2 – 4 p.m. For more information, call 703-534-2274.
Wegmans to Help Fight Childhood Obesity
From 9 a.m. – 12 p.m. on Thursday, June 11, Wegmans employees will participate in "Rainbow Health Day" at two Fairfax County Head Start locations: the Gum Springs Children's Center in Alexandria, and the Higher Horizons Day Care Center in Falls Church. The event will help 3-5 year-olds learn the importance of eating fruits and vegetables and engaging in physical activity. During "Rainbow Health Day," the Wegmans volunteers will play games with the children that involve gross-motor skills such as throwing, hopping and running, along with activities requiring balance and flexibility. For more information, call Rebecca Prather at 703-324-8000.
Shepherd's Center Hosts Silent Auction Benefit
Shepherd's Center of Oakton-Vienna, in collaboration with the Vienna Arts Society is hosting its first Silent Auction Benefit to be held Tuesday, June 2 – Saturday, June 20 at the Vienna Arts Center (115 Pleasant St. NW, Washington, D.C.).  Local artists have donated over 50 pieces of their artwork.
Stop by the Vienna Arts Center to view and bid on items during the entire bidding period. A reception, hosted by the Shepherd's Center, will be held Saturday, June 13 from 2 – 5 p.m. at the Arts Center. Admission is free and light refreshments will be served. Everyone is welcome. All of the money raised will benefit the Shepherd's Center of Oakton-Vienna and its ongoing efforts to assist seniors in the local community. For more information, call 703-281-0538 or visit the Shepherd's Center Web site at www.scov.org.
Falls Church's Galster Honored at Reunion
Grinnell College in Iowa recognized the professional accomplishments and service contributions of 12 alumni during Alumni Reunion Weekend, May 27 – May 31 on the Grinnell campus. Alumni Award winners are members of reunion classes who have distinguished themselves in their careers and communities, and embody Grinnell's mission of life-long learning and service.
Steven R. Galster, a 1984 graduate of Grinnell College from Falls Church, received an Alumni Award. After graduating from Grinnell, Galster earned a master's degree in security policy from George Washington University. He spent his early career at the National Security Archives and the Environmental Investigation Agency on projects about arms and ivory trafficking. In 1994, Galster founded the Global Survival Network, where he uncovered Russian Mafia involvement in international human trafficking operations. In 2000, Galster founded Wildlife Alliance, which was responsible for launching the world's largest wildlife enforcement network. He's also led investigations into black market operations in five continents.
Baptist Church Celebrates Macedonian Project
The Macedonia Baptist Church, with the Bonder & Amanda Johnson Community Development Corporation and AHC Inc., is proud to celebrate the groundbreaking of The Macedonian. The project represents the fulfillment of a 15-year goal for the church community, and a major success in the continuing revitalization of the Nauck community near Shirlington.
On Wednesday, June 10, The Macedonian opened its 36-unit complex. Thirty-two of the apartments are affordable for households earning at or below 60 percent of area median income, five are committed to the Arlington County Supportive Housing Program for person with disabilities making at or below 40 percent of area median income, with County subsidies paying the difference. Six other apartments are affordable to those earning 50 percent of area median income. The apartments are located at 2229 South Shirlington Road in Arlington. For more information, contact Karen Bate at 703-402-2672 or kbate@kbconceptspr.com.
Ireland's 4 Provinces Hosts Gonzaga Crew Fundraiser
Ireland's Four Provinces (105 W. Broad St., Falls Church) is hosting a fundraiser this Sunday, June 14 from 5 – 7 p.m. for Gonzaga College High School Crew to raise money to send their Varsity Eight rowers to the Henley Royal Regatta in Henley-on-Thames in Oxfordshire, UK from July 1 – 5. The Henley brings together the fastest "school-boy" crews in the world and this will be the first time that Gonzaga Crew has had an opportunity to participate. Two of the members, Johannes Schmidt and Denis Leahy, are graduates of St. James Catholic School in Falls Church.
Resident's Grandson Graduates Fairfax High
Alex Tyler Price, the grandson of Marguerite Shaffer of Falls Church, will graduate from Fairfax High School on June 15 as its valedictorian. He will be attending Hampden-Sydney College in the fall on an academic scholarship to study Physics in the honors program. Price will also play football for Hampden-Sydney.
Falls Church 'Futbol Club' Holds Soccer Tryouts
Falls Church Futbol Club (FCFC) will be holding soccer tryouts for boys and girls. Professionally coached and trained, FCFC is committed to teaching young players the skills and love for the game in a fun and positive environment while still providing a competitive soccer experience. Scholarship aide may be available.
Those interested should bring a soccer ball, proper shoes, shin guards and water to all tryouts. The next tryout dates for boys ages  14 and under are Friday, June 12 from 6:30 – 8 p.m. and Saturday, June 13 from 5 – 6:30 p.m. The next tryout for boys and girls ages  9 and under is Saturday, June 13 from 4:30 – 5:30 p.m. The next tryout for boys and girls ages 10 and under is Saturday, June 13 from 5:15 – 6:15 p.m. For more information, call Tom Hamblett at 703-599-0869.
F.C. College Students Graduate Marymount
The following Falls Church residents are among 450 Marymount University graduates who earned bachelor's degrees at the University's 58th Commencement Ceremonies at DAR Constitution Hall in Washington, D.C. on May 10:  Claudia Aranibar, Maricel-Joy Fernandez, Inta Funk, Sumnima Karki, Angelica Quant, Jennifer Crotts, Lynna Doan, Adrienne Dykstra, Alina Elliott, Bridget McCarthy, Lisa Sepassi, Helen Tran, Joelle Earley, Alimatu Kargbo, Jen Paras, Mary Seidel, Saira Azam, Audrey Garcia, Alexandra Vera, Deborah Ferrari, Doreen Johnson, Kathleen Lawlor and Miroslava Vasquez.