It may be a generalization, but when it comes to second albums, good bands can maintain the strength of their debut.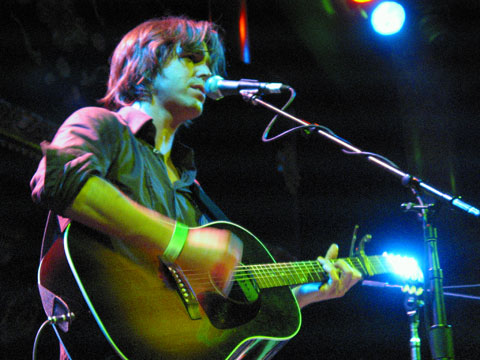 It may be a generalization, but when it comes to second albums, good bands can maintain the strength of their debut. Great bands, on the other hand, grow from them.
With the release of It's Frightening, Brooklyn-based White Rabbits has taken its sound another step forward and, in the process, distinguished itself as a burgeoning power on the rock and roll landscape.
"Power" is precisely the right word when it comes to the six-piece, double-drummer outfit. Those familiar with their first offering, Fort Nightly, will recall the raw assault the Rabbits launched with every track.  Percussion pulsed like an earthquake, while the strings rang like air raid sirens. But rather than run and hide, the fans gathered, en masse, and cheered. The album earned praise-a-plenty from Web publications like Pitchfork, to the pages of CMJ. The band built on it by setting the music scene astir at South By Southwest in 2007 and pumping out pulsing tune "The Plot" on "Letterman."
Among those that flocked to their banner was indie rock darling Spoon, who toured with White Rabbits for a month before frontman Britt Daniel signed on to produce their new album. Rabbits vocalist/pianist Stephen Patterson credits Daniel for prodding the group to divert from the sound of their debut and explore new territory with the sequel.
"Whenever you write, you're always really excited about the new sound, but eventually you always question it and wonder if you really want to follow that new direction," Patterson says. "But he really liked it and encouraged us to take the risk."
According to Patterson, Daniel particularly liked "Percussion Gun," the track that became the lead single off It's Frightening. He also dug "The Company I Keep," a hip, lounge-y song that reminds a little of Rufus Wainwright. It's a clear departure for the Rabbits, but they pull it off smartly, showing there's more to their talent than simply pounding out tunes with the intensity of an atom bomb.
"I'm proud of the first album, but I don't think it sounds very good now," says Patterson, who shares the stage with bandmates Jamie Levinson (drums), Matthew Clark (drums, guitar), Alex Even (guitar) and Gregory Roberts (guitar/vox). "We tried to do too much and it came across bloated.
"We went through the phase of beating the s–t out of our instruments every night. It makes for a fun live show, at least temporarily. But on this album we found a way to make it sound less chaotic and sporadic. I think 'refined' would be the right word."
Patterson's self-assessment is on the mark. The fluidity and whimsy that made Fort Nightly, and their live shows, so enjoyable is still present, as is the raw power. But on It's Frightening, White Rabbits show more restraint. And that judgment of holding back on certain arrangements, rather than sounding every instrument, all the time, only adds to the drama of the tracks and makes it feel even more fulfilling than the group's first offering.
"We wanted to control the craft a bit more," Patterson says. "And I think that's just a natural part of being older."
Growing up is seldom easy to do in the world of rock and roll. But with an assist from Britt Daniel, the Rabbits have made it seem simple. So simple, in fact, it's frightening.
• White Rabbits play D.C.'s Rock 'N Roll Hotel on June 2. Tickets are $12 in advance and $14 on the day of the show. For more information on White Rabbits, visit www.whiterabbitsmusic.com.