George Mason High School boys varsity tennis team's senior Brian Sham captured the Region B singles title on May 19, defeating Wilson Memorial's Matt Harris in straight sets, 6-2, 6-0.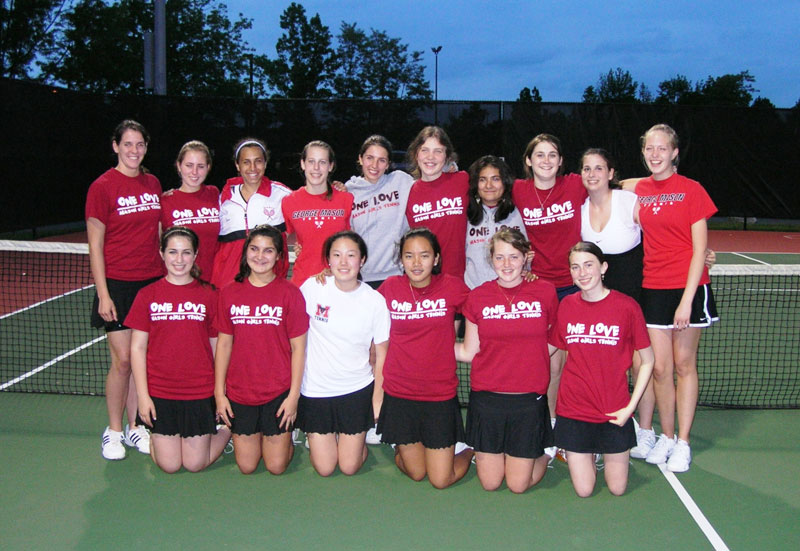 George Mason High School boys varsity tennis team's senior Brian Sham captured the Region B singles title on May 19, defeating Wilson Memorial's Matt Harris in straight sets, 6-2, 6-0.
Sham had nine unforced errors against 21 winners in the match. Sham and junior Tim Goetz faced the Wilson Memorial in the Region B doubles finals on Tuesday, winning 6-0, 6-1, shortly after routing Appomattox, 6-0, 6-0.
The Mustangs ousted the Green Hornets in the team competition on Saturday, winning all six singles matches. Sham, Goetz, seniors Chris An and Johnny Vroom, junior Thomas Burnett, and sophomore Sam Waters all defeated their opponent in straight sets, dropping 13 individual games in all. Mason moves on to the Region B team finals on Saturday.
For the Mason girls team, even the most perfect of runs have to end sometime.
The girls lost their first team match of the year in the most crucial of times, falling 5-2 in the semifinals of the Region B tournament to Wilson Memorial High School, ending one of the most successful seasons in school history.
In last year's regional tournament against the Green Hornets, the Mustangs swept the doubles matches after falling behind 4-2 in singles, securing the comeback victory which catapulted them into the state tournament at Radford. After Wilson surged out to a two-game margin, the stage was set for yet another Mason miracle.
For the Mustangs, they would have to wait another year, as Wilson sophomore Hannah Shields and senior Kala Guy clinched their team victory in the No. 2 doubles match, 6-1, 6-0, over Mason's Isis Hanna and Claire Pribulka.
"Facing us last year helped a lot for them," Mason Coach Chris Madison said. "They had all the confidence in the world after singles last year but we snuck back and won it in doubles. I can only guess what their coach's pep talk was before doubles this year, because he wasn't going to let that happen two years in a row.
"They just brought more energy today and we dealt a lot with nerves," he continued.
On court one, Mason senior Michelle Repper took down classmate Christine Coffield, a player whom Repper had defeated in the Region B singles tournament just a few days prior, in straight sets. Repper, who was visibly frustrated after her backhand slice repeatedly flew into the net, staved off a furious comeback to win, 6-1, 7-5.
"I'm just a lot more of a consistent player than I was last year," Repper said. "You have to look at your teammates score and do it for them if you're nervous; you have to pull it together."
In the fifth position, Pribulka scored the only other singles victory for Mason against Guy, 6-3, 6-1. After starting out down 2-1, Guy broke serve to climb ahead 3-2, but Pribulka broke right back, winning the next four games to take the first set. The Mason junior then cruised in the second set, holding off Wilson Memorial, thus clinching the team victory in singles play.
Even though Mason dropped its remaining four singles matches, the scores give little indication of how close the games were. Mustang junior Kelsey Kane, playing in the No. 2 slot, took Shields to three sets, eventually falling, 6-1, 4-6, 6-1.
"Kelsey probably played her best competition of the year and lost to a great player, so it's not a letdown in any way," Madison said.
Juniors Claire Sedmak and Alexa Schaffer also fell in straight sets. No. 3 Sedmak fell to senior Jamie Stark, 6-1, 6-3, while Schaffer, a new addition to the Mason roster, lost to classmate Katie Hock, 6-1, 7-5. Hanna dropped her match to senior Amanda Gorby, 6-0, 6-2. Repper and Kane, the No. 1 doubles team, and the No. 3 doubles team of Sedmak and junior Nathalie Lesgourgues were in the middle of their respective games when the match ended.
"Experience was a big factor today," Madison said. "With the girls returning, they play matches all year round."
The loss was the first team defeat of the year for the Mustangs, who finished their regular season at an unblemished 12-0. Despite having just one school – Clarke County – in the Bull Run District to compete against, Mason faced stiffer competition, winning four matches against AAA schools. On the year, the Mustangs relied on its depth to put away opponents, compiling a .812 singles and doubles winning percentage as a team.
Still, with the loss to the Green Hornets, Mason's presence on the court will not completely end. Repper and Kane represented the Bull Run District in the Region B doubles tournament on Tuesday night, eking out a three-set victory over Coffield and Stark, 3-6, 6-3, 6-3. Earlier in the day, the Mustang duo had an easy time dispatching Altavista's doubles teams in the semifinals, 6-0, 6-0.
On May 20, Repper won her second Region B singles championship, cruising by Coffield, 6-3, 6-1. After dropping the first game in her semifinal match against Altavista's Alexandra Brumfield, Repper reeled off 12 straight games to win, 6-1, 6-0.
On June 4, Repper will compete for her first group A singles title in Radford, VA, taking on the Region D winner in the first round, after which she will join Kane for the first round of the state doubles tournament.