Playful Psychology
Focus Exhibitions, at the Greater Reston Arts Center (12001 Market Street, Suite 103, Reston).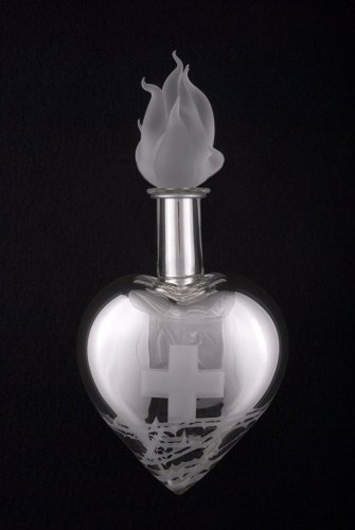 Playful Psychology
Focus Exhibitions, at the Greater Reston Arts Center (12001 Market Street, Suite 103, Reston). This exhibit runs through June 6. The gallery hours are 11 a.m. – 5 p.m., Tuesday – Saturday. For further information, call 703-471-9242 or visit www.restonarts.org/Exhibitions/Current.htm.
John M. Adams continues with his trademark abstract oil paintings over painted horizontal lines. The 24 works currently on view at the center are of a fairly intimate size, painted on either 8 x 10″ or 17 x 20″ birch panels. The funny thing is that nearly all of Adams' paintings are of an intimate nature no matter how big their overall size.
Other than a brief foray into wide, explicit horizontal lines a few years ago, Adam has exclusively shown paintings riffing on the fine horizontal line theme. To be sure, the fine line works are the most successful, finding their most playful moments when the lines are thin enough to disappear as the viewer moves away from them; a performance of an artistic sleight of hand.
While the horizontal graduations resemble notebook paper, or latitudinal lines on a map, Adams sees them as non-specific representations of the units of measure that man imposes on his life and the world around him. Whether they represent space, time, music or anything else you can think of, it's immaterial. They are nowhere in the real world, and everywhere in our attempts to understand, define and control the world around us. They may in fact depict more than anything else what separates humans from the rest of the animal kingdom.
This collection of paintings has a fairly wide range to them. Some seem to be hazy layers of encaustic, while others look similar to rusty metal with assorted layers of old paint recalled in surviving chips. Over all, more than anything, these images vaguely resemble maps of coastal and arctic areas. Discover more about Adams' works at thefullempty.com.
Stephanie George presents a series of 14 monoprints on paper based on entries in her dream journal. The mottled color and depictions come by way of oil paints applied to plates and then pressed onto paper. Each print may take three or four individual pressings before the image is completed. The works have a childlike innocence and directness about them, mixed with an adult's sense of foreboding, danger and consequences. It's an interesting contrast between psychological seriousness and playful presentation.
Recurring themes revolve around fish, cars and guns. The one gun image here, titled "Dream (Guy with gun by church)," seems most similar in feel to Leon Golub's pithy series of paintings on militaristic thugs and torture – which is not to say George's monoprints are all doom and gloom. In George's work, we see more of a mixed message. In "Dream – Falling on a rollercoaster," we find screaming fun loving rollercoaster riders holding arms and hands high in the air. Meanwhile their seat mate is launched skyward out of the coaster as it crests the top of a hill and begins its descent. For her this will likely be a fatal trip with no return. For the rest, it will just be another safe joy ride.
Baltimore-based Jessie Lehson, self-described "dirt girl," works with her vast collection of dirt samples from around the world. As seen on her web site, she crafts home made pastel sticks from assorted dirt samples, and then uses them to draw. But more than anything, she does site specific installations of a fairly minimalist nature.
The works on her web site recall the soil-based works of D.C. artist Margaret Boozer of Red Dirt Studios in Mount Rainier, Md. Add in the minimalism of a Donald Judd, with a touch of Andy Goldsworthy at times, and you have a fair inkling of what Lehson's oeuvres looks like.
Unfortunately, the work on view here at the center seems to be atypical of Lehson's usual fare. Here we see "Terrior," a 12 x 8-foot grid of low clear plexiglass boxes filled with assorted dirt samples and implanted with tomato seedlings. Artistically speaking, there is a sort of no-man's land where you've got an idea, but haven't quite brought it home yet. Taken in context, "Terrior" feels like a somewhat experimental transitional piece. Lehson may be working on some new notions of dirt in her head. It'll be interesting to see where it all takes her in the future. Check out her web site, www.dirt-girl.com, and send her some dirt samples for future endeavors.
Fete des Artes
Northern VA Fine Arts Festival, at the Reston Town Center. The event runs from Saturday, May 16 – Sunday, May 17, from 10 a.m. – 6 p.m.
Over 220 jury selected fine artists and crafts people will be showing and selling their works. For complete details, maps, parking, etc. visit  www.restonarts.org/Festival.
Mount Rainier and Hyattsville Maryland Arts District Open House. Check out the artists studios in the two building Otis Street complex in Mount Rainier, Red Dirt Studios, Washington Glass School and many others this Saturday, May 16 from noon – 6 p.m.  One of the highest concentration of name artists on the DC art scene. Also be sure to catch the artDC space in the old Lustine Chevrolet showroom in Hyattsville.
For more information, visit artdc.org, and washingtonglassschool.com/school, or call 202-744-8222.