Emblazoned Images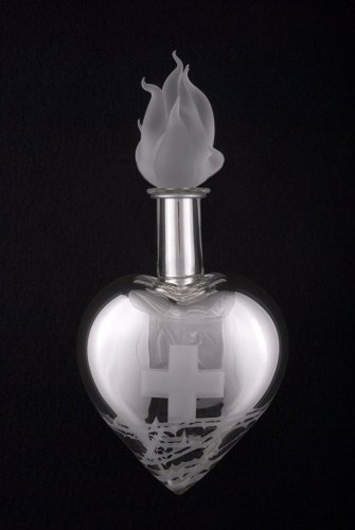 "Katie Dell Kaufmann: Arming the Hero," at the Lee Arts Center (5722 Lee Highway, Arlington).
This exhibit runs through April 28, and the gallery hours are Monday – Friday, 9:30 a.m. – 10 p.m.; Saturday, 9:30 a.m. – 6 p.m. For more details, call 703-228-0560 or visit www.arlingtonarts.org/leearts.htm.
Katie Dell Kaufmann has 15 of her encaustic and assemblage collages currently on view in the Lee Arts Center upstairs hallway, otherwise known as the Mini Gallery. The Lee Center gets an amazing amount of mileage out of this hallway, and provides us with another classic case of "use what you have."
Which might also be a fair way to start thinking about Dell Kaufmann's work on view, alternating encaustic abstracts with her assemblages. The assemblages border on recycled art work that we've been seeing around town of late (the latest show being at the Central Branch of the Arlington Library through April 30). While Dell Kaufmann is clearly using odd bits of found molding, and wooden whatnots, they still living in their original forms, so they aren't really recycled, per se.
Her assemblages, while offering up a fair quantity of material, leave a lot unsaid. Enough so, that you're likely to walk away with a general feeling, or notion of what she's thinking rather than any clearly defined stories.
"Spiral" presents an African-American woman's face juxtaposed with several images that seem to spiral or spin in their visual presence. Whether they actually do or not is immaterial here, they seem to, and that's all we need to know. A silhouette of fern fronds leaves you wondering how that ties in with the rest. A tiny bit of collaged text reads "The End," which seems ominous enough. But you never know, spiraling ends may lead to new beginnings. Or maybe one ending leads to a spiraling climb upwards. Then again, the black and white palate used seem less than upbeat, so maybe this one doesn't have such a happy ending after all.
"Double Edged Sword" offers some of the most interesting bits of wooden detritus of all. Here we find several wooden scraps, at least one of which was cut to an almost impossibly narrow wisp of wood in its arch. The tension inherent in the wood is echoed beneath in paint, offering up a sort of two and three-dimensional abstract composition. "Upon Waking From a Long Sleep" seems to offer one of the clearest tales of all. Here we find a black and white rendering of a woman's face, another with thorny vines like barbed wire and red flower patterns sprayed on with stencil masking. Most revealing of all is the wooden "X," with all of its obvious connotations, behind a half open door covering it when closed. Overall, the piece seems to be a tale of female sexual repression and awakening. Like "Spiral" you can't definitively tell which direction this one is headed on your own. With a little nudge from the title you can give it a positive spin and see that its an awakening.

Pictorial Brutes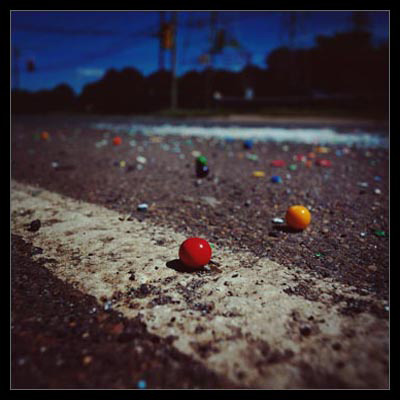 Bill Murcko's "Brothers of the Road," at Principle Gallery (208 King St., Alexandria). For gallery hours and the duration of the show, contact the gallery at 703-739-9326 or visit www.principlegallery.com.
Mackinac Island, Mich. artist Bill Murcko seems like the last guy you'd expect to be painting portraits of hardcore motorcycle gang members, especially since Mackinac Island doesn't even allow motorized vehicles on the island.
Murko travels to the two biggest biker events in the U.S.: Sturgis, S.D. and the Daytona Beach Bike Week, photographing assorted bikers as he's able; not all of these guys are exactly willing to cooperate. Murcko then paints their portraits against white backgrounds when he gets home.
While working from photos is less than ideal, there are times when necessity dictates their use, and this would certainly be one such case. Obviously a guy who will barely pose for a quick photo isn't going to sit for an oil painting. Generally speaking, Murcko has done an admirable job with it.
The 11 canvases on view do carry a photographic quality to them, no doubt in part to the isolating white backgrounds he chooses to set them against; it's probably a wise choice all things considered. These characters provide the context for whatever it around them, and as such, anything else included in the image would likely dilute their personae. And personas they have in spades.
No doubt, this is one of the most interesting and unusual shows around town at the moment. You might never see another art show dedicated to the one-percent crowd. Here we find a Hell's Angel and a president of the Sons of Silence – the rest can't be too far behind. One sports a tear tattoo, meaning he's served a jail term. "Werewolf" has enough hair and fang-like piercings to eliminate any question as to how he got his name.
One of the most interesting aspects of these paintings is how the inexactness of their painted portraits softens up the rough edges of their personalities. The Hell's Angel almost seems like he'd be an O.K. guy. Except you know in the back of your mind the rumor that they have to commit murder to get into that club, which would seem to preclude anybody from being an O.K. guy. Still others seem down right friendly, such as the flame-tattooed rider in "Classic Sturgis," complete with matching flamed knit cap.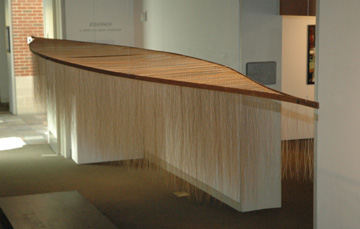 In fact, most of these guys seem worn down by the road, the sun and certainly the accumulated effects of substance abuse. In many regards they seem more victims than victimizers. Dare one say it: more scared than scary. The subject of "Three Packs a Day" has it down to a science, smoking and drinking simultaneously with the same hand. While "Prospect" and the president of the Sons of Silence in "Puppy Love" occupy two different ends of the biker world hierarchy, in many ways they seem to be two different versions of the same guy.
By isolating these guys against white backgrounds, it forces us to deal with them directly on a one-to-one basis. You might not want to deal with them and 14 of their friends all at once, but one-to-one, almost all of these guys seem like they'd be reasonable folks; each staking his little corner of the world and willing to defend it if need be, but more than anything, each simply trying to get through life as best he can. Pretty much just like the other 99 percent of us.