Falls Church High
BASEBALL: Falls Church High lost 17-0 to McLean High on Saturday, April 4 in an away game, and again, 12-2, to Langley High on April 6.
The Jaguars faced the Annandale High Atoms on Wednesday, April 8 with results too late for press. They will play again after spring break in an away game against J.E.B. Stuart at 6 p.m. Tuesday, April 14.
SOFTBALL: In their only spring break game play, Falls Church's softball team lost 23-3 to George Mason High last Wednesday. They face J.E.B. Stuart in an away game at 5 p.m. Tuesday, April 14.
TENNIS: Both boys and girls teams challenged Yorktown High on Wednesday, April 1 and then Edison High the next day. Neither team pulled ahead, with the girls losing six matches to Edison, and both teams losing their respective nine matches against Yorktown. The teams will meet Mount Vernon at 4 p.m. Wednesday, April 15, with the boys at home and girls traveling to Mount Vernon.
George C. Marshall High
BASEBALL: The George C. Marshall baseball team won three games last week – against Liberty (April 4, 11-1), Freedom (April 6, 8-6) and Park View (April 7, 11-1) – and suffered two losses against McLean (April 2, 4-3) and Thomas Jefferson (April 4, 11-10). The Statesmen traveled to Freedom High on April 8 to continue spring break play, with results too late for press. They face Thomas Jefferson again in a home game at 6:30 p.m. Tuesday, April 14.
LACROSSE: The boys lacrosse team broke even this week with a 18-5 loss against Madison High last Thursday and a 6-4 win versus Edison on Friday. The lady Statesmen lost to Madison 19-9 on Thursday, as well. The boys return on Monday, April 13 to challenge South Lakes in a home game at 7:15 p.m., while the girls team travels to South Lakes.
SOFTBALL: Keeping their overall season record even at 4-4, the Marshall softball team won two games against Good Counsel (April 1, 10-5) and Annandale (April 4, 5-2). The girls also lost against McLean (April 2, 8-0) and Hayfield (April 4, 9-6). The girls return on Tuesday, April 14 to challenge Thomas Jefferson in a home game at 6:30 p.m.
George Mason High

BASEBALL: George Mason's baseball team faced a double loss (1 p.m., 8-1; 4 p.m., 9-5) this week against Heritage High on Tuesday, April 7. The boys face J.E.B. Stuart in an away game today at 5 p.m.
GIRLS LACROSSE: The girls lacrosse team extended their winning streak to five with a 13-11 win over Dominion High last Thursday, improving their record to 5-1. Sally Blakemore, a senior, had a huge game with six goals, four draw controls and an assist. Junior Courtney Ready had a hat-trick, and Chelsea Wilkes, also a junior, controlled the midfield with four draw controls in addition to picking up four ground balls. Freshman Joy Nystrom made her debut as goalie for the Mustangs and accumulated 12 saves. "I'm so proud of how our girls played against Dominion Thursday night." Said head coach Courtney Gibbons. "They worked so hard all over the field and if paid off with an overtime win. Sally Blakemore has been such a great leader all year and Joy Nystrom stepped into goal for the first time and impressed everyone! We're excited to continue our season Monday after spring break."
BOYS SOCCER: The George Mason boys soccer team beat Madison County 3-2 on Thursday, April 2, improving their Bull Run district record to 2-0. Junior Alex Casteuble netted the first from 10 yards away on an assist from Nick Smirniotopoulos, also a junior, who would score Mason's second goal just seven minutes later on a breakaway. Mason put things away after a 2-1 lead, when Junior Erik Nelson hit the game-winning goal off of a corner kick by Smirniotopoulos and a header by senior Jack Cashin.
"It was a tough match, as always, at Madison," said Coach Arthur Iwanicki. "[I was] proud of the lads when they came back after the first goal, and from the ties. But we must find a way to start stronger. I think this was a team-building game and only hope for better performances after spring break."
The Mustangs moved their overall record to 3-2 and do not play again until they continue district play in Rappahannock County next Tuesday, April 14 at 7 p.m.
GIRLS SOCCER: The team beat Clarke County High 4-0 last Tuesday, April 2 at home, and then lost to Briar Woods by the same score the following night. Sophomore Violet Miller had another big game for the Mustangs on this Tuesday, April 6 when she scored the first and last goals of the game, and also had an assist. Sophomore Hannah Walker and senior Tegan Argo provided helpers on Miller's goals. Freshman Leah Roth and sophomore Elle Silverman accounted for the remainder of the Mustang offense, netting one goal apiece. Goalkeepers Caitlin Sickler, a senior, and Nicole Mitchell, a junior, combined to shut out the Eagle offense.
The girls are now 3-2-1 overall for the season and sit at 2-0 in the Bull Run. After a 13-day layoff, the team will pick up district games again next Tuesday, April 14 when they host Rappahannock at 6 p.m.
J.E.B. Stuart High

BASEBALL: The bats came and went for the Stuart baseball team during Saturday's Let's Play Two Tournament at Osbourn Park. Down by four runs
versus Notre Dame Academy in the first contest, the Raiders offense surged for three runs in the final three frames to squeak by with an 8-7 victory. Luck played a part in the win, as freshman Evan Leventhal reached first on a strikeout and wild pitch.
He ended up coming around for the game winner on a throwing error by the Notre Dame first baseman. Adam Ninteman led the attack with a single, a double and two RBI's. Senior Daniel Falkenstern clamped down for two innings of shutout work to earn the victory. But the Raiders failed to take that momentum into the afternoon against Woodbridge.
The game was called after five innings and a 16-1 blowout loss. Falkenstern couldn't handle the Woodbridge lumber and took the loss. The team is now 1-2 in district play and 2-5 overall. They host George Mason High School today at 5 p.m.
CREW: After a strong start to the season at the Polar Bear Regatta, the Stuart crew team had the week off as gusty winds caused the cancellation of the Walter Mess Regatta. The team returns to Sandy Run this Saturday, April 11 at 9 a.m. for the Smokey Jacob Regatta.
BOYS LACROSSE: A series of cancellations has forced the boys lacrosse team to remain idle until their game against Edison on Tuesday, April 21 at 6 p.m. Contests against Washington-Lee and Falls Church High were cancelled last week, and a matchup with Yorktown previously scheduled for next Friday, April 16 has been wiped off the schedule.
GIRLS LACROSSE: The Lady Raiders lacrosse team had a break in the action last weekend. They take their 1-6 record into battle against Washington-Lee next Monday, April 13 at 6 p.m.
BOYS TENNIS: Weather forced the cancellation of the boys match against Mount Vernon. The undefeated Raiders face Wakefield High School next on Wednesday, April 15 at 4 p.m.
GIRLS TENNIS: Battling slick courts as well as their opponent, the Stuart girls tennis team managed to blow out Mount Vernon High School 9-0 last Friday. It was the second shutout of the season for the Lady Raiders. Junior Vicky Nguyen and senior Kathy Le Nguyen led the way with 10-0 margins in their singles matches. Senior Carina Gutjahr, senior Kelly Weirick, sophomore Tonia Saba and sophomore Rachel Frenkel also coasted to easy victories.
The team dominated in doubles play with wins by Gutjahr and Weirick, Nguyen and Nguyen, as well as the sophomore/senior tandem of Nicole Wright and Aiza Brahim. Stuart is now 5-1 on the season going into spring break. The girls hope to make a push from second to first place in the National District when Yorktown comes to Sleepy Hollow next Tuesday, April 14 at 1:30 p.m.
BOYS SOCCER: The Stuart boys soccer team was shutout by Washington-Lee on Friday 3-0. The defeat brings their record to 4-4 on the year. They aim to get back on track against Yorktown next Friday, April 17 at 7 p.m.
GIRLS SOCCER: Washington-Lee handed the girls team a loss as well. The Lady Raiders fell to the Generals 8-1, and now have a record of 1-5-1. They play host to Wakefield on Tuesday, April 14 at 7 p.m.
• The J.E.B. Stuart High sports roundup was compiled and written by Jordan Edwards.
McLean High
BASEBALL: The Highlanders came out on top last week during a packed week, with three wins – against George C. Marshall (April 3, 4-3), Falls Church (April 4, 17-0) and Washington-Lee (April 7, 12-2) and two losses against Oakton (April 6, 10-3) and Chantilly (April 7, 10-5). They faced Robinson High on Wednesday, April 8, with results too late for press. The McLean baseball team squares off against W.T. Woodson High in an away game at 6:30 p.m. Tuesday, April 14.
LACROSSE: The Highlander boys scored one victory, 8-7, on April 7 against Mount Vernon, after struggling against W.T. Woodson on April 2, losing 17-8, and losing 15-4 against Herndon High on April 6. The boys faced Potomac School on April 8, with scores too late for press. Their next game is 3 p.m. Monday, April 13 versus Thomas Jefferson High.
The Highlander girls lacrosse team won 9-8 against Thomas Jefferson on April 1, but lost its game against W.T. Woodson 18-4 the next day. The girls traveled to the Shipley School in Bryn Mar, Penn. for some spring break play, losing 14-10. On Wednesday, they played The Charter School in Delaware with results too late for press.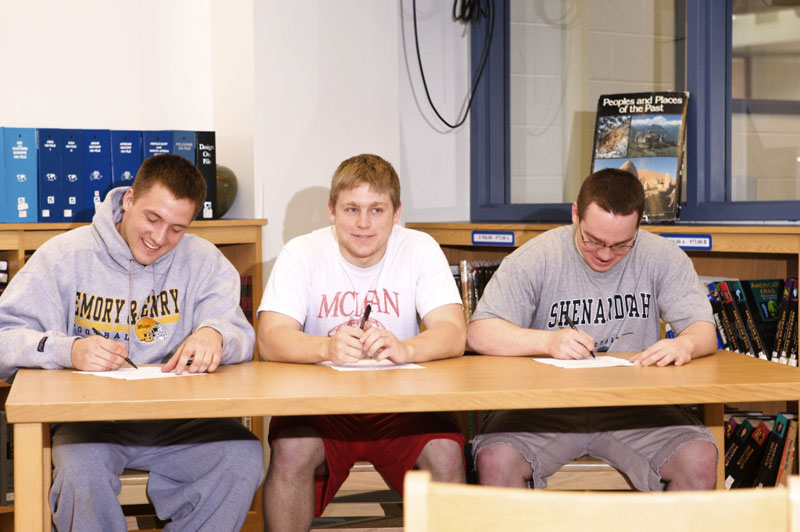 SOFTBALL: With only one 4-2 loss against Bishop O'Connell on April 3, the McLean softball team prevailed against five opponents last week – Marshall (April 2, 8-0), West Springfield (April 4, 20-0), Lake Braddock Secondary (April 4, 7-0), Hylton (April 6, 4-3) and Westfield High (April 6, 5-2). The girls rest until returning on Tuesday, April 14 to challenge W.T. Woodson in an away game at 6:30 p.m., and then away at South Lakes at 6:30 p.m. April 15.