Blocks away from a future Metro station, the Tysons Corner-based theater troupe 1st Stage sits at the forefront of the area's cultural reinvention.
The young ensemble of acting veterans and newcomers aims to bring a new wave of professional theater to Fairfax County from its home in a converted furniture warehouse off Springhill Road.
Barely half a year old, the professional troupe already has three productions under its belt, with another one, the riotous hit comedy "Red Herring," on stage beginning this week.
The theater's artist director, Mark Krikstan, a former drama teacher at George C. Marshall High, says the new space works like "a teaching hospital," allowing young actors to hone their skills on stage and gain professional credits.le
"There were a bunch of actors from high schools and around the area who wanted professional experience and credits," explains Brad Kalbfeld, who volunteers to publicize 1st Stage. "We took that vision in creating the company, and designing a holistic experience. People might want training as an actor, a grip, in set design, and 1st Stage enables them to put their work in front of an audience, and more importantly, critics."
Kalbfeld added, "You look at these areas around Tysons like Falls Church, and you see there's a need for access to culture close to home. How many professional theater troupes does Arlington have? Tysons needs that cultural component."
The operation at 1st Stage is two-fold: to furnish a cultural experience for audiences and to provide professional credits for young actors. To that end, the theater has offered classes to high school students, taught by members of 1st Stage's permanent volunteer staff, including Kalbfeld's wife, Jane, who serves as an acting and voice coach.
The troupe looks to serve rising actors as well as the community, says Brad Kalbfeld, who, like all of 1st Stage's support staff, volunteers countless hours every week to promote the fledgling theater. Actors are provided a stipend for their long weeks of rehearsals.
The 1st Stage theater is a testament to the dedication of the troupe's staff, who gutted, rebuilt and painted the new performance space, using an eye-catching palette chosen by Deb Crearie, a former art teacher at George C. Marshall High and Red Herring's stage manager.
"It was astonishing," says Jessica Lefkow, Red Herring's guest director. "They were still putting the paint on the theater on opening night."
Even then, Lefkow is impressed by the troupe's determination. "I've never seen a theater company so clearly and cleanly grounded," she says. "They hit the ground running, and it's been delightful to work with them."
Kalbfeld emphasizes the community aspect to 1st Stage, employing volunteers from around the Tysons area to participate in the creative process. "All of these locals have a role in creating the play, bringing in wider circles of people who contribute to the show," says Kalbfeld.
Taylor Jones, a Reston native pursuing a musical career in New York City, composed the jazz score for Red Herring in a recording studio located in a patron's basement.
The theater stage is not the only expansive space, with the tiered seating holding 100 patrons for a performance and an ample backstage that houses plenty of props, set changes and a green room for the actors.
In addition, the outside hallway beside the performance space acts as a rotating gallery for local artists, such as Falls Church watercolor painter Debby Conn.
Aside from ticket sales, which have been consistently strong, says Kalbfeld, the company depends on incorporating the community into the theater's operation.
To raise funds from patrons, 1st Stage invented a novel means of raising public interest: selling theater space by the square foot.
"We calculated how much it would cost to power and heat the theater for an entire year," Kalbfeld explains, "and then we divided by the square footage. Patrons can then purchase a square foot for about $19.25 a year. That way, they don't have to buy a whole room for $500 or $1,000."
Kalbfeld says that business has been faring well for 1st Stage, which staged its first production, the comedy "The Suicide," last September. "People really like the space, and we have a very high rate of return. The sell out rate has been rising, too, and we've kept our core of supporters," he says, noting that patrons who purchase square footage in the theater will have their name and information placed on a large blueprint in the theater lobby. The blueprint is divided by a grid of square-footage, and will also be featured online.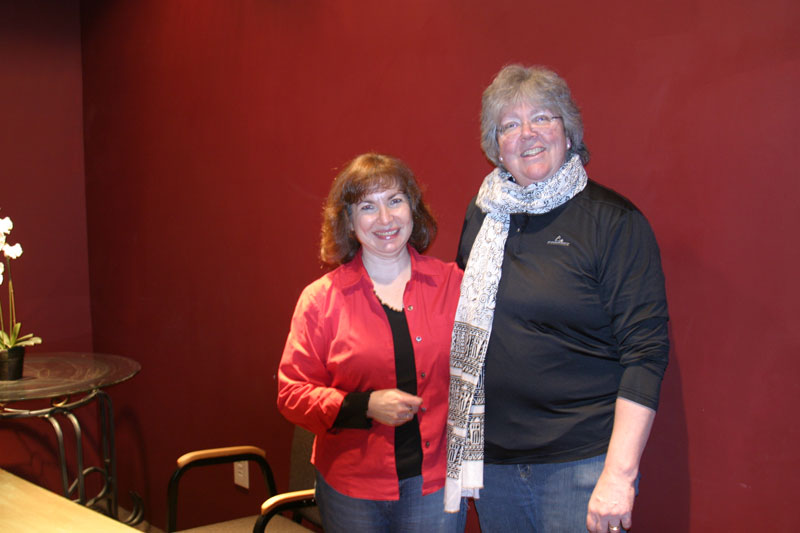 As a young company, 1st Stage has relied on the power of the Internet to convey its mission and performance dates to the community. Kalbfeld says he was astounded to discover how, at a recent Tysons-Vienna Chamber of Commerce mixer, "no one knew that Tysons Corner has a professional theater troupe."
Kalbfeld and actor-sound manager-ombudsman Peter van Valkenburgh have spearheaded 1st Stage's public relations battle, utilizing popular community networking web sites Facebook and Myspace and web video site Youtube to spread the word about the company and its performances. "We use our blog and e-mails to connect with patrons and supporters," says Kalbfeld.
1st Stage's performance of Red Herring begins this Friday, April 3, and runs till April 26. Tickets, as well as square footage, can be purchased through the group's web site at www.1ststagespringhill.org.