Falls Church High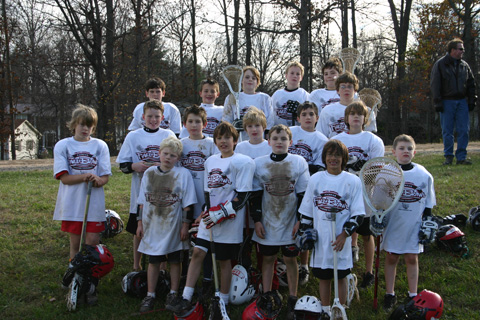 Baseball: The Falls Church High baseball team lost 15-5 to Mount Vernon High in a home game on Monday, as well as against George Mason High (10-1) on Tuesday.
Lacrosse: The boys team won 8-6 against Lee High on Monday, and followed up with a strong 15-1 win over J.E.B. Stuart High on Tuesday. The girls vanquished their opposition against Lee and Stuart High Schools, 14-13 and 21-4 respectively.
Soccer: The Jaguars boys team continued to struggled through a rough season, losing to Stuart 1-0 on Friday and suffering a 5-2 loss Tuesday against Mount Vernon High. "Winning the remaining four district games is essential to winning the district," said Head Coach Lee Bailey. "Our priority has to be winning out the season. Doing that would give us the momentum going in to regional play, and since we match up against Liberty and not the Concorde District this year, we have a better chance to advance." The girls team also holds a 0-6 record for the season, and lost their respective games against Stuart (2-1) and Mount Vernon (2-0) last week.
Softball: The Falls Church Lady Jaguars lost 21-0 against Mount Vernon High during Monday's home game. The girls face George Mason High today in an away game at 5 p.m.
Tennis: The girls tennis team lost 8-1 against Washington-Lee High on Monday. The team will face Edison High in a home tournament today at 4 p.m., while the Falls Church boys team travels to Edison.
George Mason High
Baseball: George Mason High School's varsity baseball team prevailed 10-1 against Falls Church High last Tuesday. The George Mason Mustangs combined five hits and a walk to score five runs in the top of the first inning, and led a strong offense throughout the game. The Mustangs made 13 hits, with junior P.J. Anderson and freshman Stephen Lubnow leading with three hits each. Junior Tyler Roth kept Falls Church at bay for 5 1/3 innings, allowing only one hit and striking out 11 batters. The Mustangs face Broad Run High this Friday, April 3, in a 5 p.m. home game.
Girls Lacrosse: Mason beat Park View High 21-0. Senior Sally Blakemore led the team with five goals and five ground controls. Junior Gwen Edwards and Amanda Rolander, a sophomore, had four goals apiece. Rolander also had six ground balls and four draw controls for the Mustangs in the blowout. Juniors Courtney Ready and Chelsea Wilkes had strong performances on the midfield. The Lady Mustangs have an overall record of 4-1, with a goals for/against record of 74-35.
"Our success so far this season has come from the hard work in practice and playing together as a team in the games," said Coach Courtney Gibbons. "We look forward to our district games coming up." Mason plays Dominion High on Thursday, April 2, in an away game at 7:30 p.m.
Soccer: The Mason varsity boys soccer team won 3-1 against Clarke County in an away game. The Mustangs face Madison County High at 5:30 p.m. this Thursday, April 2, before spring break. The Mason varsity girls also prevailed against Clarke County 4-0. The girls team beat Madison County 5-1 last Thursday, bringing their district record to 2-0 and their overall record to 3-1-1. Sophomore Violet Miller opened the scoring for Mason with a goal on an assist from freshman Leah Roth who would later cap Mason's scoring with one of her own.
Senior Kim Kenny netted the Mustangs' second goal thanks to a helper from fellow senior Mayssa Chehata. Senior Abby Stroup followed with an unassisted goal before Kenny got back to work, hooking up with Miller for the sophomore's second goal of the night. Senior Caitlin Sickler and junior Nicole Mitchell split time as goal keepers, only surrendering one Madison goal.
"It was a good game, Madison always play hard and is very athletic," said Head Coach Jennifer Parsons. "Obviously we have a lot of returners this season, which I think is a huge advantage for our team; we already have good chemistry established so we can build on that quickly over the season. We were successful when we went to goal with speed and when we played the ball quickly; we have some outstanding talent so when the girls played with a sense of urgency they made it very difficult for Madison.
"This team definitely has a lot on the line this year; it is a very challenging task to defend not only a State Title, but also a Regional and District title, so we are trying very much to stay focused on the individual games right now and to grow from each of those experiences. In the back of my mind I absolutely want to defend our titles this year and I definitely think we have the potential as a team to do it."
The Mason girls team challenged Briar Woods High on Wednesday, and the results were too late for press time.
Boys Tennis: The Mason boys tennis team extended their undefeated 5-0 season with a victory against Freedom High last Wednesday, sweeping all nine matches. Junior Tim Goetz and senior Brian Sham duked it out against Freedom's top players and both came away with wins, 9-7 and 8-5 respectively. Senior Johnny Vroom had a convincing 8-1 win in the three spot while the backend of the top six- junior Thomas Burnett, senior Chris An and sophomore J. Rodock came through for Mason, winning their individual matches handily. Doubles pairs Goetz/Sham, Vroom/An and Burnett/Rodock all took care of business, as well. The Mustangs hold a total of 44 matches (single and double) won and seven losses. The boys reconvene on the court following spring break against Dominion High on Tuesday, April 14.
Girls Tennis: The Mason girls tennis team made a clean sweep of Freedom and North Stafford High Schools last week, upping their overall record to 7-0. The girls competed against Freedom High last Wednesday, winning 7-2. Mason dominated the singles category, winning five of the top six matches in addition to taking two of the three doubles matches. A pair of juniors, Kelsey Kane and Claire Sedmak, led the way for the Mustangs combining for four of the team's wins. Kane won her singles match 8-0 in dominating fashion on top of a 9-7 victory alongside teammate Michelle Repper in her doubles match. Sedmak had a steady 8-5 singles win as well as an 8-6 doubles win with partner Tyler Morris, also a junior. First year player, Alexa Schaffer, a junior, earned her first career varsity win in singles play. Senior Isis Hanna and Morris won their singles matches as well, 8-4 and 8-3 respectively.
Against North Stafford on Friday, despite being shorthanded, having to play without three of their top six, Mason did not miss a beat. All of the top six won their respective matches with ease. The team's number one Kane won 10-3 and Morris played extremely well in a fill-in roll in the two spot, winning 10-4. Junior Natalie Lesgourgues stepped into the number four spot filling in for Hanna. Lesgourgues dominated her match by a score of 10-0 and would come through again in the double competition. She teamed up with sophomore Aiste Azoriude to cruise to a 10-5 victory. "The team is playing extremely well and is poised for another run in the post season," said Head Coach Chris Madison. "With four returning starters from last year and two new additions in Claire Pribulka and Alexa Schaffer, the team is playing better than they ever have. The girls are working hard in practice each day to get better. The depth of this team ensures that practices will be competitive and challenging each day where players are constantly forced to improve, or get bumped by the next one in line." The girls face Dominion High after spring break on Tuesday, April 14.
George C. Marshall High
Baseball: Marshall's varsity baseball team managed a strong 11-0 win against Stone Bridge High on Wednesday, following a loss 3-2 against Langley High in a home game last Friday. Greg Goldsmith played a strong game from the mound with 14 strikeouts and allowing only three hits. The Marshall Statesmen managed two runs on five hits from Bryan Whittington (1-2B), Goldsmith (1-2B), Trey Thomas (1-HR) and Williamson (2-1B). Thomas made Marshall's first home run of the season. The Marshall team faces McLean High next in an away game at 6:30 p.m. Thursday, April 2.
Soccer: The Marshall varsity boys soccer team lost 1-0 to Woodson High in last Thursday's home game. The girls team suffered a 6-0 loss against Woodson, as well.
Softball: The Lady Statesmen lost 7-0 against Stone Bridge High in a home game. Marshall senior Elizabeth Stonehill made two of the team's three hits. Junior Olivia Ellis had the other hit. Junior Christine Grilliot allowed two earned runs during her time on the mound for Marshall. The Lady Statesmen square off against the Good Counsel Falcons today at 4 p.m. at home.
Boys Tennis: The Marshall boys tennis team lost 5-4 against rival McLean on Friday, March 27. The boys also lost 9-0 against Thomas Jefferson High on March 30.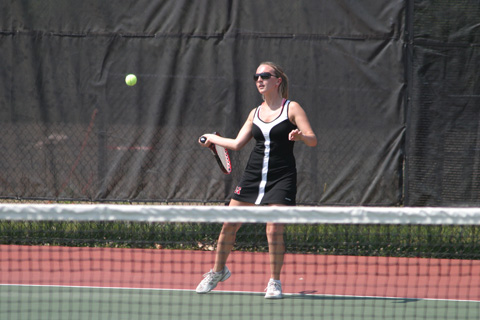 Girls Tennis: The Marshall girls tennis team continued to extend its overall season record to 8-0. On Friday, the girls played without their no. 1 player, Faby Chaillo. Winning their matches were No. 2 Ana Dominguez, 10-8; No. 3 Lauren Hopwood, 11-10; No. 4 Amanda Crider, 10-0; No. 5 Sarah Doan, 10-5; and No. 6 Kelly Crider. The girls followed up their success with a 6-3 win over Thomas Jefferson High on Monday, March 30. Marshall's No. 1 Chaillo, No. 2 Dominguez and No. 4 Amanda Crider carried the team forward with wins in their singles matches, bringing the tally to 3-3 entering doubles competition. Strong performances from No. 1 doubles team (Chaillo/Dominguez), no. 2 (Amanda Crider/Hopwood) and no. 3 (Kelly Crider/Adam) delivered the victory after 5 hours of total game play.
J.E.B. Stuart High
Baseball: The Stuart baseball team lost 16-6 against Washington-Lee last Friday, although the boys recuperated their loss with a 13-1 victory against Wakefield High in a home game on Monday.
Crew: The Stuart crew team participated in its first regatta of the season, the Polar Bear Regatta, with five boats competing. Three boats placed in the final events. The mens four finished in sixth with 5:34.8. The mens double came in second with a time of 6:12.3, while the women scored first place in 6:21.9. The next regatta will be at the Sandy Run Regional Park this Saturday, April 4.
Lacrosse: The Stuart boys lacrosse team lost 15-1 to Falls Church High on Tuesday. The girls team also lost to Falls Church 21-4, but fared better against Wakefield High with Monday's 16-4 win.
Soccer: The Stuart boys soccer team won its game 2-1 against Lee High last Wednesday and against Falls Church High on Friday, 1-0. The boys lost their away game 3-2 against Wakefield High on Tuesday. On the girls side, the Lady Raiders lost against Lee 2-1 last Wednesday, but bested Falls Church 2-1 on Friday. The girls play Washington-Lee High next in an away game at 7 p.m. this Thursday, April 2.
Softball: The Stuart Lady Raiders lost 17-6 against George Mason High last Wednesday, and 6-1 against Gar-Field High on Friday. The girls won 10-7 in an away game against Wakefield High on Monday.
McLean High
Baseball: The McLean Highlanders baseball team brought their season record to 3-1 with two wins last week. The Highlanders beat Thomas Jefferson High on Friday with an impressive 10-0, and crushed South Lakes High 9-1 on Monday. McLean challenges Marshall High this Thursday, April 2 in a home game.
Boys Lacrosse: The McLean boys lacrosse team faced double losses last week against Langley High (14-0) on Wednesday and South Lakes High (14-5) on Friday. The boys look to redeem their losses against Woodson High at 7:15 p.m. this Thursday, April 2, in a home game.
Girls Lacrosse: The Highlanders girls lacrosse team began last week with a 17-5 loss against Langley High. Seniors Maggie Streeten and Hannah Zegler made two goals each, and Molly Welch contributed another point. Junior Hannah Longwell made 14 saves overall. The girls followed up their loss with a 13-3 win over South Lakes High on Friday. Zegler led with four goals and one assist. Longwell also had a great game with 14 saves and one interception. Freshman Bridget Smith scored her first goal of the season early in game play, along with freshman Rummer Bershtein and senior Alexis Koeppen. Sarah Park played strong defense with three forced and two interceptions.
Soccer: The Highlanders boys soccer team extended their season tally to 4-2 with two wins last week against Madison High (4-0) on Thursday and Stone Bridge (2-1) on Monday. The girls also performed well, winning their respective games against Madison and Stone Bridge 2-1. The McLean girls soccer team holds an undefeated season record of 6-0.
Softball: The Lady Highlanders bested Thomas Jefferson 7-5 in a close game last Friday, and lost 8-6 at the Hylton High Spring Break Tournament held on Monday. The girls face Marshall in a home game this Thursday, April 2 at 6:30 p.m.
Boys Tennis: The McLean boys tennis team won 7-2 against South Lakes at home last Wednesday, winning all of three doubles matches. Singles wins included: No. 2 Sameli Sivonen, 10-3; No. 3 Louis Gruber, 11-10; No. 4 George Kennedy, 10-7 and No. 5 Robert Koch, 10-8. The boys repeated their success against Marshall High on Friday, with a closer 5-4 win. Points came from four singles matches and one doubles win by No. 1 team Scott Richardson/Andrew Cole, 10-4. The singles matches were: Richardson, 10-5; Gruber, 10-5; Koch, 10-4 and No. 6 Justin Burnam, 10-7.
Girls Tennis: The McLean girls tennis team managed a strong 8-1 win against South Lakes last Wednesday, but lost against Marshall on Friday, 6-3, and all of their matches against Woodson High on Monday, 0-9.