The prospect of a light rail line extending the length of Route 7, through the City of Falls Church, from Bailey's Crossroads to Tysons Corner was the focus of U.S. Rep. Jim Moran's remarks to the F.C. City Council Monday.
Moran, whose 8th District of Virginia includes Falls Church, said that federal funds for a planning study of the plan, which would also extend down Columbia Pike to the Alexandria waterfront, may become available in the coming year.
"I like the idea a whole lot," he told the Council. "It will be more efficient than a bus, linking the many businesses, retailers and large resident complexes along Route 7. It won't be easy, but it would be worth the effort."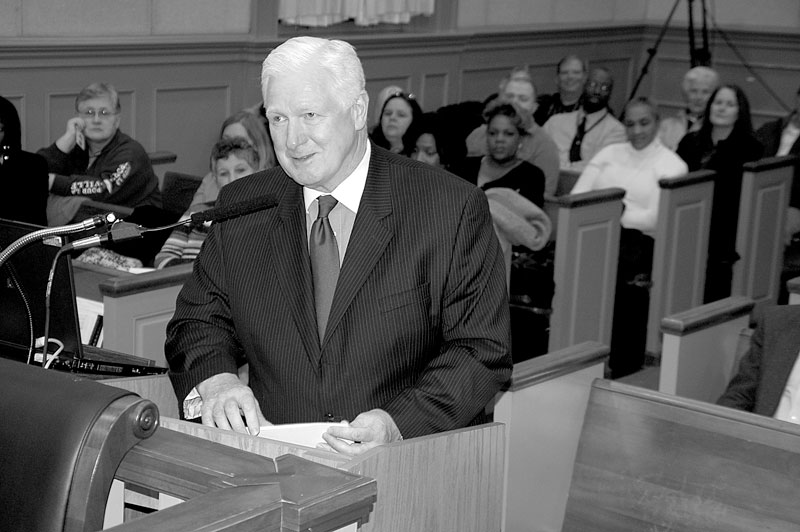 The proposed project "is central to long-term planning and economic development in the region," he said, noting that Falls Church will benefit from it by making the city more competitive with Tysons Corner. In Tysons, Moran noted, there are three large cul-de-sac commercial developments planned along Route 7, similar to the one in the Clarendon section of Arlington.
Falls Church Mayor Robin Gardner told Moran she hopes the economy rebounds in time for Falls Church to gain a "competitive edge," given the City has already approved a number of projects that will be ready to go as soon as there's a recovery.
But Moran was not optimistic about fulfilling the City's wishes for federal money for a multi-modal transportation center near the intersection of Routes 7 and 29. The City has asked for $1.8 million for the project, but Moran said that "it will be tough to get more than $100,000 for this."
That's because of, he said, not only the bad economy in general, but the fact that there's a "lot of hostility toward earmarks" in Washington now, and that President Obama doesn't want earmarks.
Four other projects the City hopes will get federal support are also not likely to get help, Moran added, although he noted that the City did "very well" in securing federal funds in the omnibus budget bill that recently passed Congress.
"Falls Church might have gotten more dollars per capita in earmarks than any other area, outside of Alaska or a military center" in that budget, Moran quipped.
He said there was $500,000 included for daylighting storm drains and connecting subpumps to sewer lines, water management improvements he said were "not sexy but definitely helpful."
There was also funding at $190,000 for Falls Church's affordable housing efforts, at $25,000 for youth mentoring and at $500,000 for Homestretch, the F.C.-based non-profit, to assist its efforts to help women and children who are victims of domestic violence.
They're all worthy efforts, he noted, musing that there "are no 'bridges to nowhere,' because there is no 'nowhere' in Falls Church."
On the light rail proposal, Moran said it would be critical for all the involved jurisdictions to be in complete agreement on how to move forward, including the Northern Virginia Transportation Commission. Then, he added, the financial resources must become available, whether through federal stimulus funds or other means, and there needs to remain a "compelling case" for continuing with it.
He noted that among the biggest challenges will be designing a way for the rail to come through Seven Corners. "It may need to be elevated at that point," he remarked.