Fourteen members of the George Mason swim team, accompanied by sophomore diver Rachel Hassan, traveled to the University of Virginia in Charlottesville this weekend to compete in the Virginia A/AA State Championship Meet.
The Girls team posted 36 points at the meet which landed them 17th out of the 43 schools in competition. A plethora of stiff competition on the Boys side kept the Mason boys from advancing past the preliminaries in any of the events, thus preventing them from scoring any points to put them in the standings.
Overall, Mason swimmers set seven new team records at the meet, maintaining their reputation as one of the top Single A schools in the state. Despite the outcomes in the standings at the State Meet among predominately Double A schools from the Tidewater District, both Mason squads finished 12-0 in team meets this season in what was their most successful combined year in the program's short history.
Mason's top performers at the meet were Hassan, who qualified for the meet as a diver, and junior Kelley Frank. Hassan placed eighth in the diving category while Frank led Mason swimmers qualifying for four events at the meet, including a pair of individual events and two relays. She was one of two Mustangs to earn a medal at the meet, earning sixth place in the girls 50-yard Freestyle in addition to competing in the Girls 100-yard Butterfly where she barely missed the cut to advance to the finals.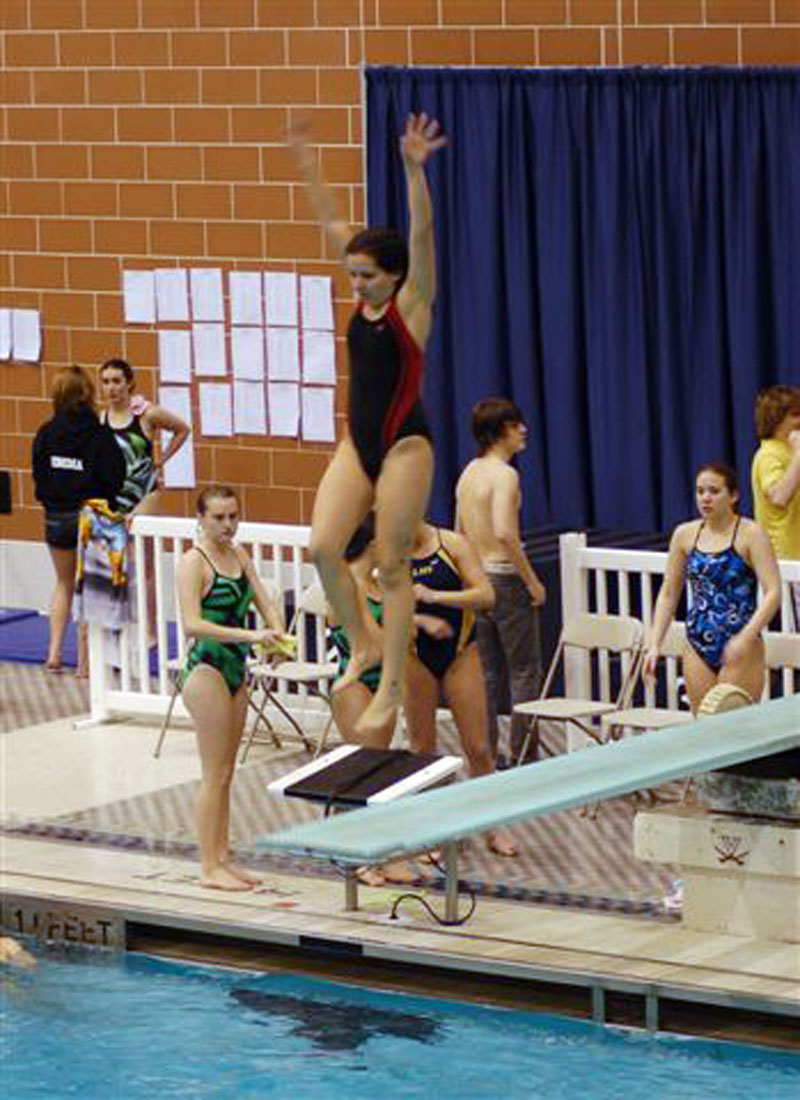 Frank also advanced to the finals alongside freshman Carolyn Schmitt and juniors Brandy Arredondo and Karen Hamill in the girls 200-yard Freestyle Relay. The group swam a solid relay, posting a time of 1:46.47, which would have landed them in 11th if not for an alleged early take-off which disqualified the team for the event.
Freshman Gen Jordan, Schmitt, Frank and Hamill experienced more bad luck in the 200-yard Medley Relay where they were once again disqualified because of an illegal turn going by USA regulations, though the group was still awarded points for the race because the turn was deemed legal by VHSL standards.
Notable performances on the boys side included senior Carlos Clark who placed 27th out of 39 in the Boys 200-yard Individual Medley with a time of 2:13.21 and sophomore Sam Butler, who missed the cut to advance to the final in the Boys 50-yard Freestyle by just a quarter of a second, placing 23rd out of a collection of 50 swimmers. Senior Jack Cashin capped off his storied career in the Mason swim program with a 35th place finish in the Boys 100-yard Freestyle touching with a time of 55.53.