For bands releasing their first LP and trying to break out, there are likely easier approaches than the one taken by New Hampshire-based Wild Light.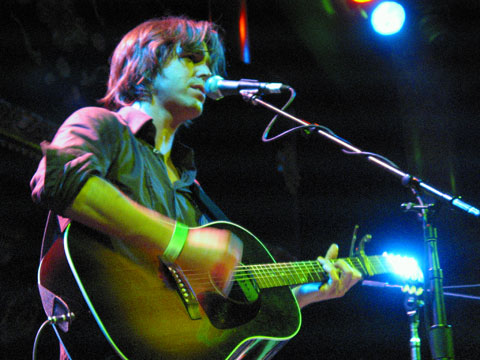 When seeking to expand your fan base, most bands try to cast their nets as wide as possible, making themselves as listener-friendly as possible. Wild Light on the other hand cut its first single, "California On My Mind" with so many swear words they basically guaranteed themselves no time on the FCC-patrolled radio waves. And that curse word-heavy chorus ("F— today. F— San Francisco. F— California."), manages to directly slander the most populous state in the nation and specifically slight the country's 13th, biggest city.
It would seem that with their first big song, Wild Light has stacked the odds significantly against themselves. But despite the long odds, the band has rapidly risen on the industry radar and popped up on the hot lists of media outlets like the Los Angeles Times and Boston Globe. In December, the band was named "Outstanding Rock Act" at the Boston Music Awards.
Perhaps the quartet's success can best be explained by the scene at their one San Francisco show to date, a territory that could have been less-than-thrilled to hear their hometown and state disparaged.
"They loved it," says Jordan Alexander, who elaborates that the song's origins were more the manifestation of a bad day than any serious criticism of the state. "Maybe they were tired about all the songs saying how great California is and thought it a needed a good kick in the pants."
Seems safe to say that the San Franciscan crowd might have heard the same quality that the critics in the aforementioned outlets have come to appreciate — authenticity.
Alexander and his bandmates — Timothy Kyle, Seth Pitman and Seth Kasper — are savvy enough to know how to pretty themselves up, beautifying their image to both listeners and labels. But with "California On My Mind" and the other hook-heavy tracks on debut LP Adult Nights (due out March 3), they bypass the beauty contest and step right into the sort of no-frills, honest Rock 'n Roll that has earned scores of fans for groups like Tapes N' Tapes, Band of Horses and, notably, Arcade Fire.
If you've caught Wild Light's name in print before, it was likely attached in some context to that latter group. While the bands' sound bears some similarity, that connection dates back farther than recent music reviews. Alexander and Arcade Fire frontman Win Butler roomed together in high school at the Phillips Exeter Academy. Kyle later moved to Canada and became a founding member of Butler's since-sainted outfit before taking his leave to rejoin Alexander and form Wild Lights.
"At first we kind of bristled about the comparison to Arcade Fire because we wanted to establish our own identity, but we've moved past that," Alexander says. "Win and I grew up together. We had the same influences, the same taste in music. Of course, we're going to write similarly. I'm not really concerned with the comparisons anymore, especially since everything they [Arcade Fire] touch seems to turn to gold."
Despite the link to one of the most popular acts out there and the recent heat from the media, Wild Light isn't above marketing itself. Trying to remedy the lack of radio-friendliness of "California On My Mind" the group re-recorded an edited, FCC-friendly remix. Though he calls the censored version, ironically, "the sh—y version," Alexander is happy their manager made them do it.
"Even with the digital age and the popularity of the Internet, there's a terrific history between music and radio play," he says. "It is pretty cool to be part of that tradition."
And besides, there's no reason to make things harder on yourself than they have to be.
• Wild Light plays the Rock N' Roll Hotel in D.C. on Feb. 27 with Tapes 'N Tapes. Tickets are $15. For more on Wild Light, visit www.myspace.com/wildlight.