When you have a bad day in most sports your teammates are able to cover for you and carry you through, but in wrestling when things go bad they are powerless to help.
And so it was at the Bull Run District Tournament on Saturday Feb. 7, that while David Ray and Jake Schwind stormed to District titles they could only watch helplessly with the rest of the Mason wrestlers as Tim Hillegass, the third member of Mason's trio of talented and successful seniors, had one of those rare bad days that every athlete dreads. While everything seemed to go just right for Ray and Schwind, the opposite befell Hillegass, who was eliminated from further postseason competition. Ranked fifth in the state in Group A, Hillegass could not overcome an unfortunate seeding draw where he first faced 3rd ranked Justin Sager of Strasburg, and then sixth-ranked Isaac Velasquez of Manassas Park. And now the trio is a duo.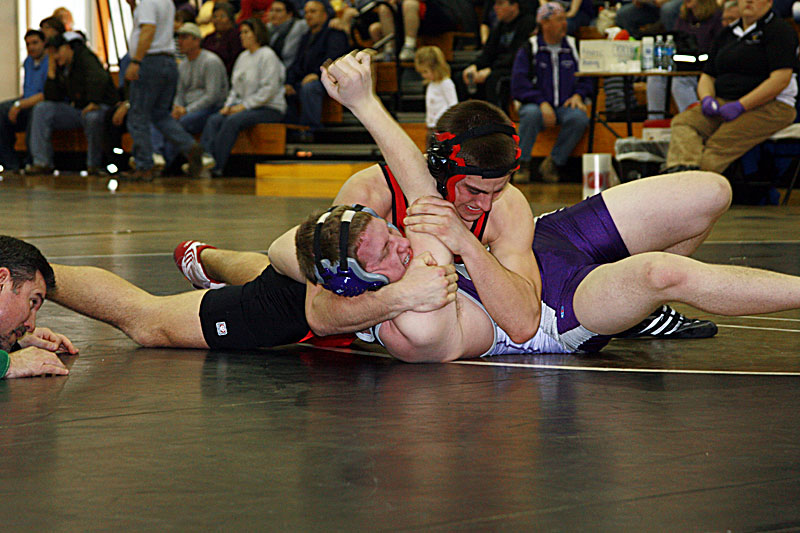 In addition to Ray and Schwind there were other successes however as Manuel Veiga-Diaz finished second at 189, Teddy Rueckert (160) and Sam Dittmar (215) each took third and Jackson Thomas snagged fourth at 119. All six advance outright to the Region B tournament next Saturday at Cumberland HS. At stake there is the right to move on to the state tournament, something only the top four finishers will do.
In the team scoring race Mason placed fourth, sending six on to the Region tournament, three of whom were in the District finals. To secure his spot in the finals Ray faced a tough Rob Howe of Manassas Park in the semi-finals. Howe was able to hold Ray to only nine points but the final 9-1 score didn't really reflect Ray's total domination of the match-up. In the finals, Ray faced Andrew Riner of Madison County, and this time there was no holding him back. Riner lasted until the 3:05 minute mark of the match and was trailing 14-0 before the fall ended his evening. Schwind had a similar route to his championship. He decked Strasburg's Koby Bly in the semis in only 33 seconds and took all of 2:40 to flatten Clarke's Teddy Long in the finals. Veiga_Diaz had a bit rougher time of it having to go to the entire match in this semi final bout before besting Kenny Moore of Manassas Park. In the finals he faced off against Strasburg's top-ranked Jonathan Wilson and was no match for the Ram wrestler, falling at the 2:40 mark.
Rueckert, Dittmar, and Thomas round out the Mason contingent which is heading to Cumberland HS for Saturday's Region B showdown. Coach Bryan Harris was his usual circumspect self when asked to make predictions about how his charges would fare. "Predictions are tough in wrestling since so much depends on a wrestler's state of mind and confidence level going into each match. We know Jake has the state's top ranked wrestler in his weight class but Jake has proved over the course of his career that he is pretty good himself. David just has to wrestle as he has all year and he'll be OK. As for the others, it is their first time in a Regional tournament so nerves could come into play. They are all wrestling well at this time however so I am confident they are in a position to be successful," said Harris.
The action begins at 10 a.m. Saturday, Feb. 14. A $6 fee covers the entire day.