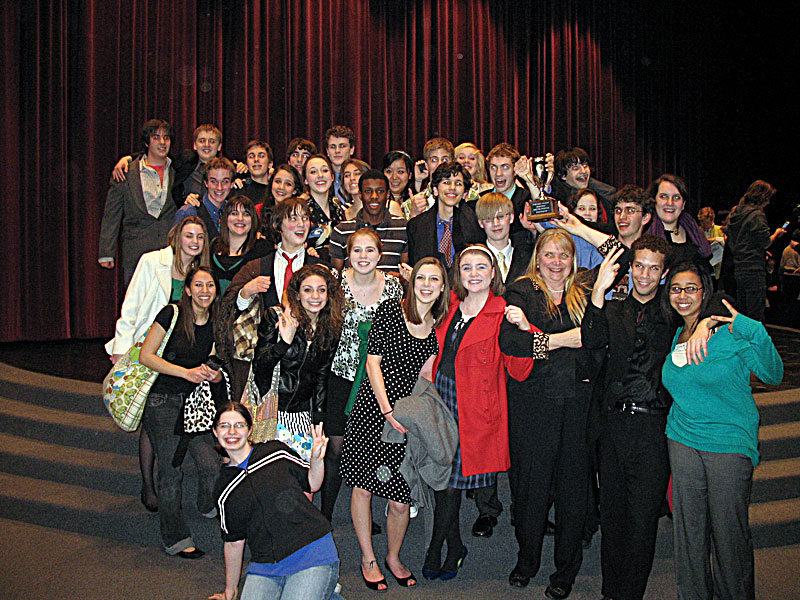 George C. Marshall High School's Theater troupe catapulted to the state championships after coming in second place at the Northern Region One Act Play Competition, held by the Virginia High School League on Jan. 31 at Lake Braddock Secondary School in Burke, Va.
Marshall students acted and directed in Douglas Craven's comic satire "Reflex Action," directed by Curtis Cooper, Zach Popkin-Hall and Trena Weiss-Null, who is Marshall's Theater Department Director.
"Reflex Action," which earned Marshall actor Michael Bradford a nomination for Best Actor and Orla Conway the medal for Best Actress Runner-Up, will take up the limelight against first-place Yorktown High School, whic
h won the regional competition with its rendition of "The Imaginary Invalid."
Now Marshall and Yorktown's theater troupes head to Charlottesville on March 21, where they will compete against high schools from across Virginia.
Other high schools in the competition were Chantilly, Fairfax, Hayfield, South County, Stone Bridge and Thomas A. Edison.
Craven, a Canadian playwright, wrote the musical comedy "Reflex Action," described as a fast, witty satire of theatrical conventions. The plot revolves around Itchy and Knee (played by Scott Anderson and Bradford) as they discuss the myste
rious Woodpecker Plateau and await their archenemy, Professor Unfrenabulous. During the course of the one act, Itchy and Knee encounter choruses, tableau, dreams, Shakespeare, Pinter, among other ordeals.
The Marshall cast included Anderson, Bradford, Michael Breger, Keith Boylan, Ryan Campbell, Jullta Cardenas, Ellen Chapin, Robin Crigler, Conway, Conor Dinan, Elizabeth Gray, Kelsey Kolbe, Veronica Lowe, Meara O'Malley, Brian Potter, Hannah Rak, Allie Rosenbluth, Natalie Scavuzzo, Mace Smith, Nic Sticinski, Takia Taylor, Adam Treece, Alyssa Tsantee and Maddie Zack.
Behind the scenes, crew members handled the care of costumes, makeup, props, lighting, sound and all aspects of the technical production. The crew included Stage Manager Jordan Butz, Yara Alami, Keith Boylan, Shannon Brown, Natalie Bui, Cambridge Dorman, Johnny Hargrove, Brittany Harris, Jack Meredith, Gina Repole and Lauren Smith.