TJHSST Students Named Semifinalists by Intel
Fifteen students from Thomas Jefferson High School for Science and Technology (TJHSST) have been named semifinalists in the 2009 Intel Science Talent Search – Varun Bansal, Kevin Casto, Sudha Guttikonda, Jared Hallett, Lily Hsiang, Rishi Iyengar, Alexandar Kim, David Kim, Joy Lee, Jessica Liu, Manchali Madduri, Sumit Malik, Christopher Olund, Divya Srinivasan and Narendra Tallapragada.
TJHSST has more semifinalists in the 2009 Intel Science Talent Search than any other high school in the country. The 300 semifinalists were chosen from among 1,608 entrants and will receive matching awards of $1,000 along with their schools.
Forty finalists will be announced on Wednesday, Jan. 28. Those chosen will attend the week-long finals Intel Science Institute in Washington, D.C. in March and will compete for college scholarships. Finalists will also compete for a grand prize of $100,000.
State Board of Education Awards F.C. Schools
Public schools in Falls Church City are being recognized for excellence by the Virginia Board of Education. George Mason High School and Thomas Jefferson Elementary School earned the Board of Education Excellence Award.
The honor is awarded to schools that meet all state and federal accountability benchmarks for at least two consecutive years. Schools that receive this award have also demonstrated significant progress toward goals for increased student achievement and for expanded educational opportunities set by Gov. Timothy Kaine and the state board.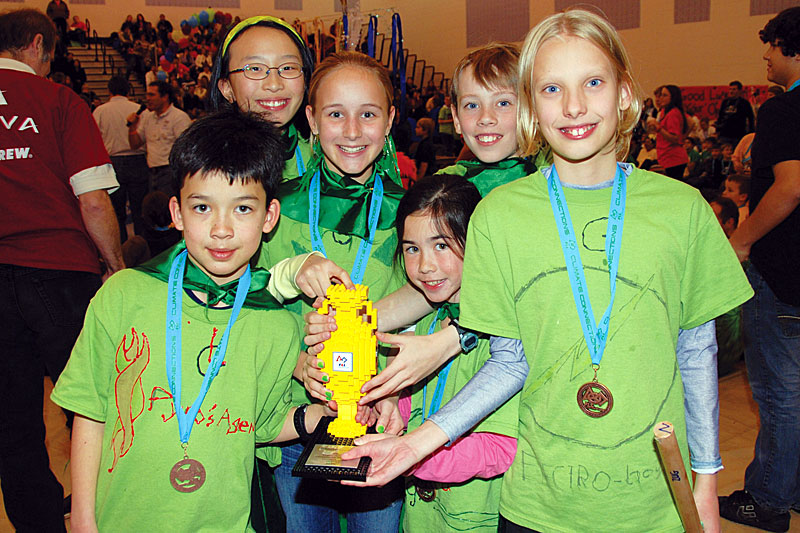 Haycock Students Put the 'Team' in 'Teamwork'
Haycock Elementary School students JP Stapleton, Alexander Wendt, Stephanie Do, Patrick Do, Maddie Zug and Jeong In Seo recently won first place for Teamwork at both the Regional First Lego League Competition last November and the State First Lego League Competition last December. Each team member of "The Green League" adopted a super hero identity with "green" planet ideals, which the judges loved.
The students, who've been faithfully working around sports and school to meet twice a week for the past two years, took Division II First Place out of about 40 teams for Teamwork last year also. The team was coached by Nhan Do, Ned Stapleton and Jim Wendt. First Lego League is a program designed to engage and challenge kids in science and technology.
Trinity School to Perform Classic Whodunit
The Trinity School at Meadow View's extracurricular acting troupe, Rhapsodes, will perform Agatha Christie's classic whodunit, "The Mousetrap," on Saturday, Jan. 24 at 7:30 p.m. Rhapsodes, which consists of 7 – 10th graders, performs two productions per year. The students' spring production will take place in May. Both productions are open to the public and are free of charge, though donations are always welcome. Saturday's performance will take place in the visitor center auditorium at Frying Pan Farm Park (2907 West Ox Rd., Herndon). For more information, call the Falls Church-based school at 703-876-1920.
McLean H.S. Hosts AP Classes Info Session
McLean High School will host an information session on the school's Advanced Placement (AP) courses for 9 – 11th grade Highlanders and their parents on Thursday, Jan. 22 from 7 – 8:30 p.m. in the school's cafeteria (1633 Davidson Rd., McLean). During the session, all AP classes will be described, students will be able to get a feel for typical assignments and glance at the textbooks. Teachers of AP classes at McLean will be on hand as well to answer any questions. For more information, call the school at 703-714-5700.
G.C.M. Students Win Big At Thespian Conference
Three George C. Marshall High School students won a Superior rating, the highest level, at the Virginia State Thespian Conference last weekend at Christopher Newport University (CNU) in Newport News, Va. The Superior
rating includes an invitation to compete on the National Level at this summer's National Thespian Conference in Lincoln, Neb.
Ellen Chapin won in the Individual Event of Solo Musical Theatre for her rendition of Woman from the musical "Pirate Queen." Scott Anderson and Michael Bradford won for Duet Acting for their portrayal of Othello and Desdemona. Trena Weiss-Null is the Director of the Marshall Theatre Department.
In addition to the thespians who performed in individual competitions, the Marshall thespians performed "Reflex Action," a one-act satirical play on Jan. 11 at CNU. A free encore performance of this comedy will occur on Friday, Jan. 23 at 7:30 p.m. and again on Saturday, Jan. 24 during the Virginia High School League One-Act Competition, starting at 10 a.m.