McLean Girls Basketball Racks up 2 Consecutive Wins
With two victories last week, McLean High's girls varsity basketball team brought their record to nine and five, four and two in the Liberty District.
On Friday, Jan. 16, the second victory came when the Highlanders took on the George C. Marshall Statesmen, and won 37-28. McLean played a solid game leading 18-15 at half time. Caity Flint led the way with 14 points, along with Melissa Wilson's nine. Caitlin Baker and Lauren Sutherland each contributed four points.
This win followed a previous victory claimed on Tuesday, Jan. 13 when the girls beat the Stone Bridge Bulldogs 49-40 after going into overtime. McLean held the half-time lead 20-16 and built as much as a 10-point advantage in the second half, only to see it whittled away by the Bulldogs who tied the game at 39 with two seconds remaining. However, McLean took control in overtime for a Liberty District win. Andy Romness led all scorers with 18 points. Flint and Baker each contributed seven, Wilson had six and sophomore Erin Mundy played very well off the bench adding four points.
Madison Breaks Colonials' Hoops Winning Streak
The Thomas Jefferson (T.J.) Colonials lost to James Madison High at home on Friday, Jan. 16, halting T.J.'s three-game, Liberty-District winning streak. Coming off of Tuesday's win over W.T. Woodson High, T.J. sprinted to a half-time lead of 24-13. Spencer De Mars of Falls Church scored 16 of his game-high 21 points in the first half. Madison mounted a stiff defense in the third quarter. After catching up to T.J., Madison went into a stall mode during much of the fourth quarter to eventually prevail 37-33. T.J. scoring was De Mars, 21; Mike Ross of Vienna, 6; Daniel Barnes of Springfield, 2; Sean Ji of Alexandria, 2 and Karl Sofinowski of Burke, 2.
Mason Mustangs Outscore Manassas Basketball
George Mason High School boys varsity basketball team outscored Manassas Park 41-21 in the second half to break open a close game, propelling the Mustangs to a 68-45 Bull Run District win at Mary Ellen Henderson Middle School on Thursday, Jan. 15. Senior Joel Chandler led Mason in scoring with 15 to pace a balanced attack. Anthony Andrianarison and Mike Wolfe both scored 10 for the home team, and Jordan Cheney added 9.
Mason (4-11, 2-2) is off until Jan. 28, when the 'Stangs will travel to Madison County to play the Mountaineers, the top ranked Group-A team in the state.
T.J. Gymnastic Team Defeats District Rival
The Thomas Jefferson High School for Science and Technology's (T.J.) gymnastics team defeated Liberty District rival Stone Bridge 136.275 to 131.825 at its last home meet of the season on Jan. 13. Also competing were third-place McLean High (102.025), four-place Mt. Vernon High (90.750), fifth-place South Lakes High (72.950), and sixth Marshall High.
T.J. gymnasts competing were seniors Ariel Coronel of Oakton, Chrissy Franzel of Burke, Mary Linnell of McLean and Kelly Watson of Alexandria, junior Amanda Gilbert of Fairfax and sophomores Hailey Johnson of Springfield and Nikki Pangilinan of Alexandria.
Gymnasts from T.J. who placed were Watson (Floor: 9.2, first; Vault: 9.2, second; Bars: 8.025, fifth; Beam: 9.25, first and AA: 35.675, first), Franzel (Floor: 8.8, second; Vault: 9.3, first; Bars: 8.1, third; Beam: 8.65, fifth and AA: 34.85, third), Gilbert (Floor: 8.4; Vault: 8.9, fourth; Bars: 8.05, fourth; Beam: 8.8, fourth and AA: 34.15, fourth) and Linnell (Floor: 7.4; Vault: 8.8, fifth; Bars: 7.5; Beam: 7.9 and AA: 31.6, seventh).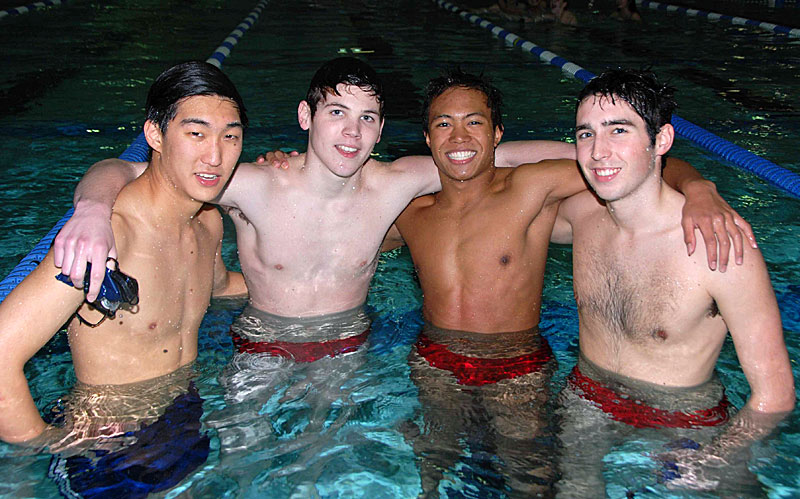 South Lakes H.S. Defeated By Swimming Colonials

The Thomas Jefferson (T.J.) boys and girls swim and dive teams both won their dual meets against Liberty District opponent South Lakes High School. The boys won 190-122, while the girls won 206-108.
Leading the way for the T.J. girls was the quartet of Brenna Ferris of Herndon, Katie Bennett of Arlington, Lauren Laffosse of Burke and Jae Sim of Reston. First, they combined to win both the medley and 200 freestyle relays. Then, Ferris won the 200 freestyle and butterfly. Laffosse won the individual medley and 500 freestyle, Sim won the 50 and 100 freestyles, and Bennett captured the backstroke and added a second-place finish in the 100 freestyle. Christina Wallin of Fairfax won the girls diving with a score that qualifies her for the Northern Region Championship meet, and Aedan Collins of McLean won the breaststroke. Other top-three finishers were Amanda Blair of McLean in the 200 freestyle, Brianna Kim of Fairfax in the individual medley and butterfly, Leah Gonzalez of McLean and Megan Sagurton of Annandale in the 50 freestyle, Emily Saitta of Springfield in diving, Grace Wang of Annandale in butterfly, Mary Kate Dilworth of Clifton in the 500 freestyle, Anna Lan of McLean in backstroke and Claire Cundiff of Arlington in breaststroke.
For the boys, Wade Gong of Herndon, Zachary Batts of Reston, Alex Dona of Alexandria, Matt Callahan of Vienna, Joey Bouchard of Annandale, Sam Spears of McLean and Andrew Hong of Fairfax Station all contributed to T.J. wins in all three relays. Dona won the 200 freestyle and earned a Northern Region qualifying time in the 500 freestyle, while Gong won the individual medley and had a Northern Region qualifying time in the butterfly. John Walsh of Burke won the diving and Callahan won the 100 freestyle.
Other top-three finishers were Peter Ballen of Arlington in the 200 and 500 freestyles, Hong in the individual medley and backstroke, Speers in the 50 freestyle, Sam Prestwood of McLean and Steven Tan of McLean in diving, Jack Borsi of Herndon in the 100 freestyle, Callahan in backstroke, and Steven Howard of Oakton and William Bergan of Springfield in breaststroke.
Wrestlers Out Sick Hinder Mason's Chances at Bull Run
Illness and inexperience combined to lay a double whammy on the George Mason wrestling team this past weekend during the Bull Run District Duals at Strasburg High School. With four of their most reliable starters out sick, the Mustangs were defeated in four of five duals against their Bull Run rivals. Their only dual win came against an even more depleted Rappahannock County team. Without starters Natan Lailari, Tim Hillegass, Teddy Rueckert, and Sam Dittmar, Mason was forced to rely on their veteran duo of David Ray and Jake Schwind, plus a group of first-year wrestlers against several of the top Group-A teams in the state. Ray and Schwind did their part, each going a perfect 5-0, and Manuel Veiga-Diaz was 3-2, but beyond that there was not much winning of the individual matchups.
"The effort was there, but the guys were basically over matched by some very experienced and accomplished opponents," said head coach Bryan Harris. "We'll get back to work and hopefully they can turn it up a notch before the post season and surprise a few people at the District tournament."
Even Harris was not convinced the presence of his four missing wrestlers would have altered the ultimate outcome of the day.
"The other District teams are very good. Strasburg is ranked number 1 in Single A and Manassas Park, Madison, and Clarke are in the top ten, so we would have had a tough time beating them at full strength. It certainly would have been more competitive however," said Harris.
Mason wrestles again Saturday, Jan. 24 in a triple meet in Bethesda, Md. at noon.