In this modern era of music, hardware like laptops and software like GarageBand has made recording more flexible and user friendly for musicians.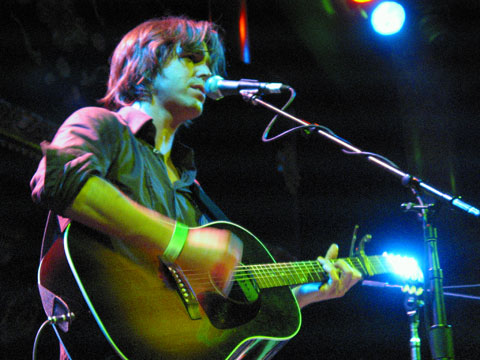 However, Greg Laswell's unique method takes the recording revolution a little further.
"When I get inspired I usually call my cell phone and leave myself voice mails with melodies," the L.A.-based Laswell says. "Then when I start recording, I just sort through the messages and pull from there."
It's a unique method to be sure, but it certainly seems effective, as evidenced by Laswell's latest album, Three Flights From Alto Nido, his second LP release. Three Flights hit stores in August and since then has won over lovers of sweeping soundscapes and lyrics that are as confessional and intimate as they are universal. In addition to the plethora of TV programs that have added his songs to their soundtrack, Evangeline Lilly, of ABC's hit series "Lost," counts Laswell among her favorites. She recently placed his minute-long song, "Sweet Dreams," among those on her celebrity playlist, along with the likes of Morrissey, Portishead and Damien Rice.
Laswell's compositions remind of those artists, and also fit the ubiquitous – but no less accurate – comparisons to Coldplay and Snow Patrol. In similar fashion to the two latter bands, Laswell has a knack for building out a tune on Three Flights. Slowly and softly, the first waves of the song lap against you, but as you wade deeper and deeper they begin to build upon one another, crashing over you with a weight that commands your attention and leaves you dripping with its memory hours, if not days, later.
Laswell says he didn't specifically seek to create such a big sound. Instead, it's the product of "treating the songs how [he] thought they should exist."
The heft of the album comes from an overarching sentiment of lingering sadness, first displayed on solo debut Through Toledo.
"It's the second step of getting over pain I think," Laswell says. "The first album is really about heartbreak, and I think this one is as well, but this one is about getting better and realizing you're getting better."
It's a theme that resonates closely with Laswell, who says nearly all of his friends and family had a rough go of it in 2008. The ripples of that theme spread out from two main tracks, "Comes and Goes In Waves" and "How the Day Sounds." The second tune brims with a born-again-each-dawn optimism that Laswell says stems from the fact he penned it when he first realized he was feeling better. For Laswell, taking notice of his upswing was such a happy revelation, he wanted to spread it out over his new album.
"It's like when you're sick, for three or four days and then you get better. When you realize it, that is a really short moment," Laswell says. "You go back to your life and you don't think about being sick anymore. But when you're sick, that's all you can think about. It's a very short instant and I wanted to draw that moment out as long as I could and celebrate it."
Hopefully for Laswell, those happy moments will come more frequently in 2009. As his songs continue to find homes on TV shows like "Grey's Anatomy," "True Blood," "Damages" and "Cold Case," the economic downturn has at least by-passed him. Beginning this week, he'll look to spread some of his sympathetic songs around on tour. That run brings him to Washington, D.C. for a show at DC9 on Thursday, Jan. 15.