Feeling swept up in the winds of change? Welcome the woman with a whirlwind… Amy Marx shows her latest images of tornadic activity in a three-person show at Plan B, along with abstracts by Andrew Wapinski and urban landscapes by Eric Westbrook.
The exhibit runs through Feb. 8 at the Gallery Plan B (1530 14 St. NW, Washington D.C.). The gallery hours are noon – 7 p.m., Wednesday – Saturday; 1 – 5 p.m. on Sundays. For more information, call 202-234-2711 or visit www.galleryplanb.com.
"Tools for Change: Selections from the Hechinger Collection," at the International Arts & Artists' Hillyer Art Space (9 Hillyer Court NW, Washington D.C., behind the Phillips Collection). This exhibit runs through Feb. 27. The gallery hours are Monday, 10 a.m. – 5 p.m., Tuesday – Friday, 10 a.m. – 7 p.m. and Saturday 11 a.m. – 4 p.m. For more information, call 202-338-0680 or visit www.artsandartists.org/artspace.html.
Tools are the basis for man's rise from the primordial ooze. They are in a great sense what makes civilization possible. Tools, even simple hand tools, give us superhuman strengths and capacities to modify and shape the world around us. Without tools, and the ability to use them, we'd be a bunch of filthy, grunting dirt scratchers.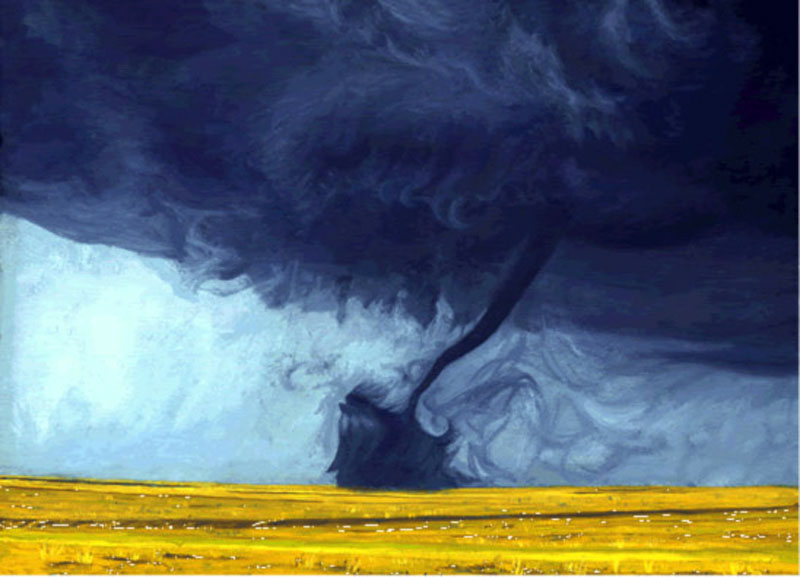 Artists are craftsmen of one sort or another by nature, so artists celebrating tools seems quite appropriate. When local hardware giant Hechinger moved into new offices in 1978, John Hechinger had a light bulb moment, and decided to decorate the place with hardware-themed art. The local hardware chain, like almost all other hardware outlets, has long since succumbed to the Home Depot-ification of widgets and thingamabobs. While corporate life is short, art is long: the Hechinger Corporation may be long since dead, but it lives on through the Hechinger Collection, which thrives under the auspices of International Arts & Artists.
The collection now consists of some 375 works by 250 artists. Some world famous, others whose fame is of a decidedly more local nature. Portions of the collection travel the world in various shows as opportunities dictate. A portion of the collection decorates the Hillyer Art Space offices just as it did the Hechinger offices years ago.
Currently on view in the main gallery space are 18 works by artists such as Jim Dine, Claus Oldenburg, William Eggelston and Howard Finster. My personal favorite here is a pithy engraving and aquatint print of a folded ladder leaning against a wall. Rendered with appropriately dense and substantial blacks, the ladder has a solid weighty feel to it. There is a wonderful moment of transformation in the forward leg at the bottom right of the image. Here we find a flipping of positive and negative space as the white background becomes the white "blown out" highlight of the ladder itself. There is in that moment a sense of the ladder's role in construction, and thus the crafting of substance and structure where once there was nothing.
Focus Exhibitions, at the Greater Reston Arts Center (12001 Market St., Suite 103, Reston). This exhibit runs through Feb. 14. The gallery hours are 11 a.m. – 5 p.m., Tuesday – Saturday. For further information, call 703-471-9242, or visit www.restonarts.org.
Speaking of transformation and ladders, the Focus Exhibition features three artists: Erin Antognoli, Marcia Wolfson Ray and Joy Every. Each one works with multimedia collage, encaustic and traditional painting techniques, combining and varying the mix there of as the piece dictates. At times abstract, representational or floating between the two in a semi-surrealistic view of the world.
Sculptress Marcia Wolfson Ray works with natural found materials. Her matrices of twigs and reeds typically establish a binding scaffold like superstructure within and around which she works collections of hay, bark, straw, and the like. Some pieces seem to find exuberant freedom in outwardly thrusting sprays. Yet other pieces offer a sense of capture in tightly bound bundles of material rhythmically placed within their scaffolding. The works take different slants on the contrasting themes of capture and escape. The best of which seem to address the farthest points on that spectrum.
Erin Antognoli has a collection of multi-exposure black and white photos. Using a low quality plastic Holga camera loaded with 2¼" film, Antognoli crafts in-camera multiple exposures. The resulting images come out surprisingly well composed considering the monumental fudge factor in this guesswork, heavy working method. The photos have an expanded sense of time and place as all multiple exposure works do. It's tough to pick best out of this high quality lot, but the ladder photo seems especially noteworthy as it takes a near cubist stab at simultaneously showing us both sides of a ladder leaning against a house.
Winter Group Exhibit, at the Fraser Gallery Bethesda (7700 Wisconsin Ave., Suite E, Bethesda, Md.). This exhibit runs through Feb. 7. The gallery hours are 11:30 a.m. – 6 p.m., Tuesday – Saturday. For more information, call 301-718-9651 or visit www.thefrasergallery.com.
Fraser Gallery hosts a pair of Charlottesville, Va. artists, who also happen to be VCU grads; loosely speaking, both artists work in a trompe l'oeil fashion. Tim O'Kane takes the notion to the extreme in his photo realistic renderings comparing rock striations with folded and crumpled paper laid flat again. They are masterfully rendered with an Eastern embracing of texture and imperfection. Michael Fitts, the younger of the two, takes an edgier and far more playful take on it all. Fitts renders objects on top of distressed metal stapled over stretchers. The best of the lot is an old metal newspaper plate from the 1970s on which he's painted a box of crayons. It's the little kid in us that wants to take the crayons out and start drawing all over the metal newspaper page. But the crayons aren't real, so the impromptu coloring session remains in our mind, leaving us with a long forgotten childhood memory suddenly made palatable once again.