The engines of state are in full gear this week, as the U.S. capital region prepares for the Inauguration of the 44th U.S. president, Barack Obama, as millions of Americans will leave their car engines off and take to the sidewalks and Metro stops for a place in history.
With tens of thousands clogging Congressional offices with e-mails and voice messages, hot on the pursuit for coveted tickets to next Tuesday's Inauguration Ceremony, national and local governments have engaged in extensive planning to avoid logistical nightmares.
Both U.S. representatives of the Falls Church area have reported enormous interest in ticket
requests, which would earn the lucky spectator a seat or standing room in close proximity of the West view of the U.S. Capitol, the central stage for next Tuesday's action.
The offices of 8th district U.S. Rep. Jim Moran and 11th district U.S. Rep Gerry Connolly said that ticket requests numbered in the tens of thousands, with Moran's office reporting more than 17,000 ticket requests. "We've had more than 10,000 requests," said George Burke, the Communications Director for Connolly's D.C. office. "But there were only a couple hundred tickets."
Connolly's office distributed the select pool of tickets via a lottery that awarded two tickets per lottery winner, with a limit of one entry per 11th district household. In all, along with several tens of thousands of ticket-holders, Inauguration planners are expecting upwards of two to four million visitors.
With all Virginia-side bridges closed to cars after 2 a.m. Tuesday and heavy restrictions on all non-essential and non-mass transit traffic, millions of commuters will turn to the Metrorail and bus mass transit system, which include buses in Falls Church City and Fairfax County. "There has been talk of 20-mile back-ups along Route 66," said Barbara Gordon, Communications Director for the City of Falls Church, reporting plans from the Virginia Department of Transportation, which has acted with regional transportation authorities to alleviate the expected stresses on the road system.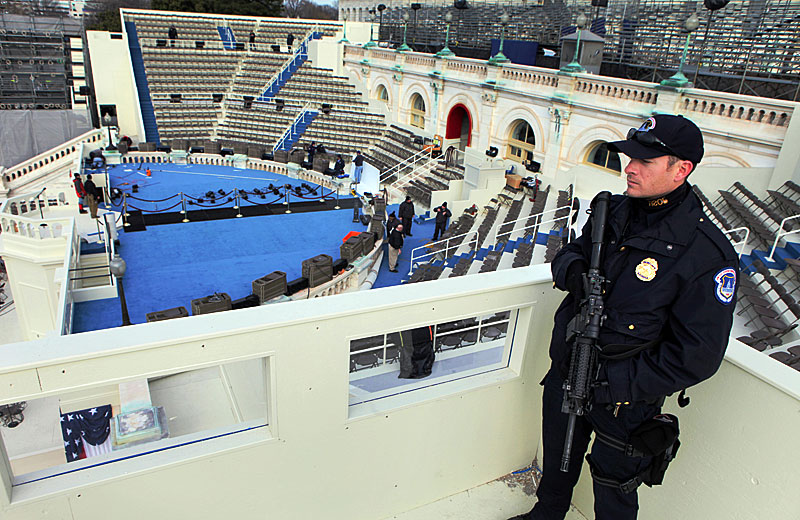 Falls Church's GEORGE bus system, which operates between 6 a.m. and 7 p.m. within the City of Falls Church between the West and East Falls Church Metrorail stations, and the Fairfax Connector, which will provide enhanced widespread coverage across the county from 4 a.m. – midnight, will run at no cost to commuters on Tuesday. For a detailed schedule and list of free parking bus stops in Falls Church and Fairfax, visit the bus systems' web sites, respectively at www.fallschurchva.gov/content/culturerecreation/faresandschedules.aspx and www.fairfaxconnector.com. Other Virginia area buses that stop at Metrorail stations will also be free on Inauguration Day.
Metrorail will begin operation at 4 a.m. on Tuesday, as well.
The Washington Area Bicyclist Association has organized free valet parking at two locations in D.C. for incoming bicyclists. "In addition to making it easier for people to travel by bike on that day, we hope that bike valets will demonstrate the important role biking plays in our transportation system as a new Congress and president take office," said Caron Whitaker, Campaign Director of America Bikes, in a statement to the press. For more information, travelers can visit WABA online at www.waba.org.
There are many Inaugural balls and parties that begin on Saturday, but for Falls Church denizens who can't or won't brave the multitude, and who don't have plans to don the black-tie or fancy threads for an official Ball, the State Theatre is furnishing two alternatives closer to home. The State Theatre kicks off the Inaugural week at 7:30 p.m. Sunday, Jan. 18, with a Grassroots Gala and Fund Raiser for the Arlington Food Assistance Center, at a much lower cost than downtown district galas – $50 to enter, and a donation of non-perishable groceries is encouraged, too. The gala will feature live music with Nobody's business and food and drink.
At 8:30 p.m. Tuesday, Jan. 20, the big day itself, the music venue welcomes all to "an Inauguration Bash" with live music provided by musical-virtuosos Donna the Buffalo and The Bridge. The twilight fest is providing live footage from the Inaugural celebrations within D.C. Both State Theatre events are for ages 18 and up.
Wherever the throng of Inauguration partygoers make it, Burke encouraged the journey. "People want to participate in this unprecedented moment," he said. "It's going to be a mob scene, as most of the tickets, all but a few of which are seated, are standing room."
Even so, Burke said, the National Mall, which has been off limits during previous Inaugurations to store parade floats, will be open for the first time to millions of non-ticket holders. "People in the ticketed standing room are going to be cheek to cheek corralled in there. There will be more mobility in the Mall," Burke added, saying, too, that Mall spectators will have the luxury of six Jumbotron screens to witness the action better than some with tickets.
"People do need to realize, if they want to go to Inauguration," Burke said, "they should make an effort." Parties of this nature, and the madhouse traffic woes, won't be around these parts for at least another four years.