While most students were catching up on their sleep during the holiday break, George Mason High School's varsity wrestler David Ray was adding to his collection of championship medals.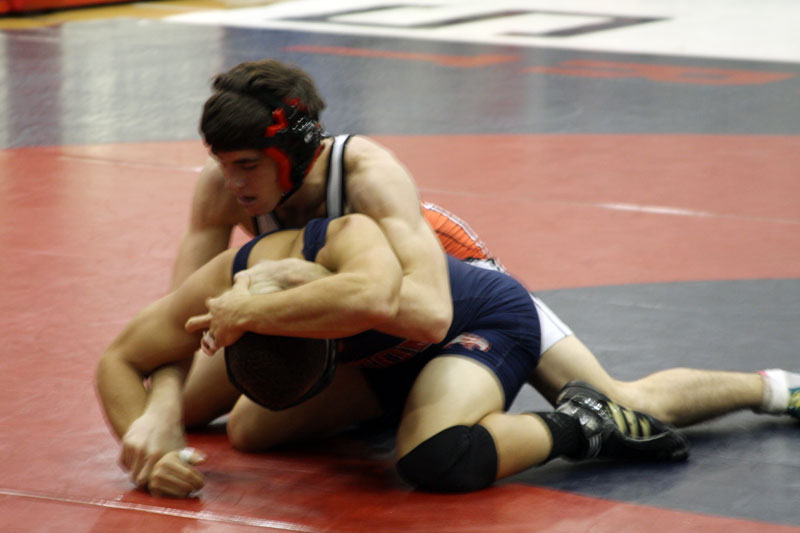 In what is becoming an increasingly familiar occurrence, Ray captured first place at another wrestling tournament. This time it was the Battle of the Bridge held at Woodbridge High School. In doing so, Ray secured his fourth tournament championship and ran his season record to 17-0 and in the process has set himself firmly but quietly, on the path to one of the finest seasons in school history.
The journey is far from complete, however, and Ray, who is ranked No. 1 in the state in Group A at 152 lbs., has no intention of letting up now in his quest to gain the title that eluded him last year, when he finished third. In pursuit of the state title the undefeated streak has just been a happy side effect.
"Sure it would be nice to be undefeated, but I am looking for the best competition to prepare myself for a run at the championship, so I may lose a match here and there in doing so. The state championship is my goal," said Ray when asked about being undefeated at this point in the season.
Coach Bryan Harris was a bit more circumspect. "It's like a no hitter in baseball," said Harris. "Only he can talk about it at this point."
While he has dominated most opponents, Ray's string of victories has not been without a close match or two. His very first match of the season was an 8-7 squeaker against Matt Smith from Woodbridge. Coincidentally, it was Smith that Ray defeated in the finals at Woodbridge last week, this time by a convincing 9-2 tally. The toughest match of the year by far however proved to be the semi final match of the Woodbridge tournament against Patrick Budd of Forest Park, where Ray was losing 7-5 with 10 seconds remaining. Somehow he managed to take Budd down and put him to his back before the buzzer and pull out a dramatic 9-7 victory.
"I couldn't begin to tell you how I did it," said Ray. "I saw there was very little time left and I thought I better try something fast so I did. I may get a better idea when I see the film of the match."
This time when asked to comment, Harris was more expansive. "That's David for you. His style of wrestling is very aggressive and also very quirky. Some guys are methodical and straight forward but David is a scramble wrestler. He can score points very quickly and in bunches using a variety of unorthodox moves. One second you are doing OK against him and the next you are on your back."
While most of his schoolmates may not know of what Ray has accomplished on the mats, there are those who do. Several colleges have been in touch with him about continuing to wrestle after high school.
"Definitely!"said Ray when asked if college wrestling is in his plans. "I really want to go D1. Drexel has talked to me but I am not sure I am that much of a city boy. I am looking toward somewhere in the Midwest or West. I'll have to sit down at the end of this season and sort it out. The better I do, the more choices I'll have."
Ray is not the only Mason wrestler doing well this season. Teammate and fellow senior Jake Schwind, who placed seventh at the Group A state tournament last year, is currently 18-5 and has the championship of the J.E.B. Stuart Raider tournament and a runner up finish at the NOVA Classic under his belt. Tim Hillegass, the third senior on the squad, placed seventh at NOVA and is 14-7 and steadily improving, as is Manuel Veiga-Diaz who placed second at the Stuart tournament prior to the Christmas break.
Lately, both Jackson Thomas and Teddy Reuckert have been coming on strong and Coach Harris is excited about their prospects.
"I think the success of our seniors had a great effect on the rest of the team" said Harris. "Except for the three seniors, no one on our team has been wrestling for much longer than a year, but they see what the hard work and dedication can lead to so they are really working hard to overcome their lack of experience."
This Saturday, Jan. 10, Ray and the rest of the Mason squad will get a chance to add to their victory totals as they host 4 teams for a dual meet extravaganza at the GM Pit in one of the Mustang's two home events. There will be five matches during the day starting at 10 and 11:30 a.m., as well as 1, 2:30 and 4 p.m. One $5 admission fee gets you into all matches.