For D.C.-based songsmith Eric Scott, it's all about the groove. Maybe it's the fact that his musical career was born and bred with a bass in his hands. Maybe it's a deeper inner craving that's only pacified by a head-bobbing, booty-shaking bass-line. Maybe it's just about the ladies …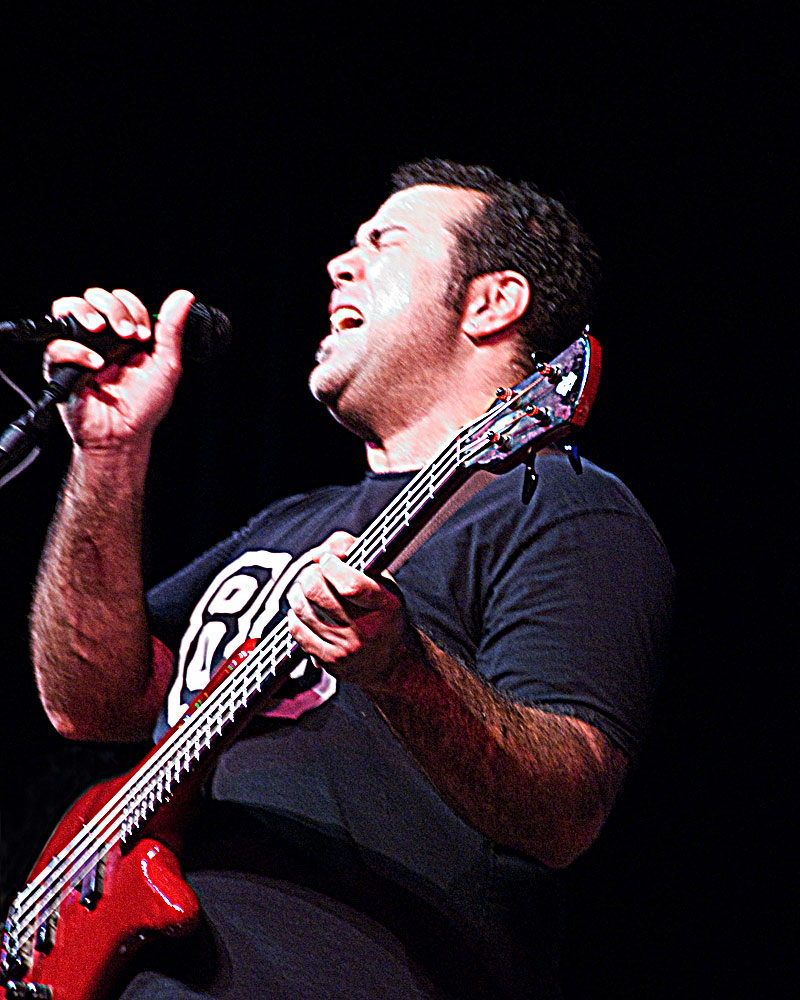 "When I was playing cover songs we'd always think about, what song will get the girls grooving," Scott says. "We knew that if we played a song and a bunch of girls got up and started dancing, we had something."
Whatever the reason for the affinity, Scott has focused on finding his groove since the very start of his music career. Back in 1994, he made the leap to playing music full time, partnering with a pal to play the aforementioned cover shows at local clubs and restaurants.
"My first gigs were at a Chinese restaurant called Young Chow in Maryland. We would play Tuesday nights for $150," Scott recalls.
In 1995, Scott started down the road to his current solo career, joining up with renowned local blues woman Deanna Bogart. As the bassist in Bogart's band, Scott studied at her side for 13 years, learning the tricks of the professional trade while drastically upgrading the venues in which he performed.
"I went from playing small clubs to literally touring around the world," Scott says.
As he branched out and launched his solo career, Scott implemented much of the wisdom he gained from Bogart.
"I learned how to be a leader. She was a very good band leader," Scotts says. "She taught me to know what you do and who you are musically. And when you do gigs, do that, stick to your guns – no matter what type of environment you're in. I always was impressed by the way she did that. She knew who she was and she didn't compromise that. Now, I think I've arrived at a place musically that makes sense for me and I try to follow that."
Scott's present place centers around the August 2007 release of his latest solo album, Red. It's a record on which he believes he's finally pinned down the groove-oriented compositions for which he has always striven, even if it is a bit of a departure from the comfort zone of his previous work that earned him a 2007 Billboard World Songwriting award.
"My previous record [Let's Hear it for the Fools] was really just pop and rock radio branded. Red was just a really personal record for me. The first two records, even though I'm proud of them, I was still searching for the sound that really came together on Red."
That sound flaunts shades of soulful artists like Ben Harper on tracks like, "I'm Into You." That tune shows off Scott's R&B-influenced vocals, which he performs over his playful bass line. Those same smooth vocals can be sampled on the John Mayer-esque, make-up-after-the-break-up track "Do Over."
Those songs, along with the album's title track – an artistic examination of race – grabbed the ears of the judges for the Washington Area Music Awards, who bestowed the album with the prize for "Best Urban Contemporary Vocalist."
With the mounting momentum, Scott feels that he has, finally, found his groove. In the New Year he hopes to hire a manager and introduce himself to fans outside of the Mid-Atlantic. In the immediate future, those in the D.C. area can hear him at Jammin' Java on Jan. 9. Tickets are $12.
For more information on Eric Scott, visit www.ericscottmusic.com.