With a non-district schedule loaded with some of the top talent in the Northern Virginia area, the George Mason High School Varsity Boys basketball team has found little room to gain any momentum.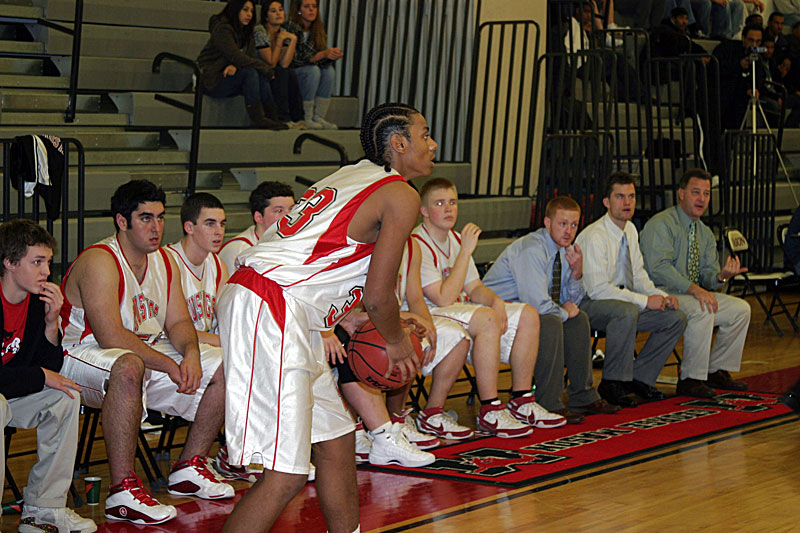 Given the chance to score a big upset and gain confidence going into this weekend's Chantilly Pohanka Classic, Mason reverted back to its old tricks, stumbling out of the blocks with a sluggish first half only to find its groove when the game was out of reach in a 64-49 loss to Word of Life Academy on Friday night.
The Ambassadors (6-3), who swept Mason last year in their two meetings, brought a loaded lineup into Mary Ellen Henderson Gym, led by the 6-foot, 8-inches Tristan Spurlock. Spurlock, a UVA signee, netted 18 points on a series of acrobatic dunks throughout the night, but was held well below his season average of 22.4. However, whenever Mason honed in on stopping Spurlock, they left other players wide open, as all five WOLA starters finished with double-digit point totals.
"It was truly a case of everyone wanting to know where [Spurlock] was at all times," Mason coach Chris Capannola said. "I think sometimes we got caught watching. Once we realized that we could play with this team with the extra pass and good defense, it was too late because we were down by 18."
From the end of the first quarter on, Mason hung with the Ambassadors, as the score in the final 24 minutes was knotted at 42 apiece. However, the first period ended with a 22-7 WOLA lead, something equal play down the stretch could not overcome. The Mustangs whittled the lead down twice to 12 points in the fourth quarter, but could get no closer as WOLA staved off a late rally.
"We just have to learn from games like this," senior Anthony Andrianarison said. "We were a little bit intimidated tonight I think, because this is the best player we're going to see all year. Now, we have the mentality that even though we're a small school, we hung with a team that is that good, and it makes other games that much easier."
Senior Mark Beale added 12 points to compliment Spurlock, while junior Champion Slye tacked on 11. Senior David Jerkins provided the spark on the perimeter, nailing two three-pointers for 10 points, while classmate Jon Palacios added 11, all on wide-open lay-ups in the post off transition breaks for WOLA.
"Our guards were always getting to the basket, but then we had no one getting back," Capannola said. "Then, they leaked their own guards out for easy lay-ups. It was like rec ball tonight.
"It's demoralizing, it really is. They just blindly throw the ball 80 feet and get wide-open lay-ups. 27 of the 32 minutes tonight were even, and that's a positive, but it's a refrain. We have bad starts, and that one bad stretch just cripples us."
The lone counter Mason had to WOLA in the post, junior Jordan Cheney, fouled out with 5:06 left in the third quarter on a touch foul on Spurlock, who promptly deposited a reverse dunk to emphasize Cheney's exit. Even when he was in the game, Cheney scored only six points and seemed to be drawn away from the basket, knocked out of the post game that has been a staple of the Second-Team All-District selection.
"When Anthony was off tonight, we needed people like Jordan to pick him up," Capannola said. "Instead, he had lazy, reach-in and slap-down fouls, and he has to stop doing that. He's our lone inside presence, and when he's on, he dominates."
On the offensive end, Mason was led by senior Joel Chandler, who catalyzed a Mason comeback in the second half, finishing with 16 points. Andrianarison continued his stellar play as of late, tacking on 15 points.
The offensive woes for Mason continued last Wednesday, as they fell at home to AA Dulles District opponent Dominion High School, 61-52. The Mustangs started the contest scoreless in their first ten attempts from the field, but still managed to shoot out to a five-point lead at the end of the first quarter.
Reigning District Player of the Year DeAndre Albritton gave Dominion its first lead of the game with 1:30 left in the first half as well as the momentum heading into the break. When coming out in the second half, the patented lapse of play reared its ugly head for Mason, as the Titans' full-court press resulted in two quick buckets for Dominion and a lead they would never relinquish.
Dominion opened up the third quarter with a 10-0 run and the fourth with a 10-2 run, surging ahead to a margin that later Mason runs could not overcome. Aided by a pair of huge Cheney blocks, Mason cut the lead to five in the fourth quarter after Chandler sliced through the lane for an acrobatic basket. The final two minutes lent itself to a see-saw battle between the two squads, as the Mustangs were never able to come within five points. Key free-throws down the stretch iced the win for the Titans.
Albritton finished with 25 points for Dominion, while Mason countered with Cheney's 16 and Chandler's 12. Cheney took control of the paint on both ends of the floor, finishing with a season-high seven blocks and 11 rebounds. Chander added nine rebounds to his stat line, while classmate Josh Brew dished out five assists. Andrianarison tacked on nine to round out the top scorers for Mason.
A slow start has seemed to be a trend for the Mustangs, even dating back to two seasons ago, when Capannola took over as head coach. With the Bull Run District season fast approaching in January, Mason is in dire need of a quick fix.
"This was the sixth game it took us too long to come out," Capannola said. "We've always had notoriously bad starts, and maybe we have to change something in our warm-up routine, I don't know what it is. We're just definitely not ready to play."
"Coming out slow every game, that's just an intensity thing," Andrianarison said. "It starts with us, the seniors, because people need to feed off of us. The potential is there, it just needs to come out."
Mason puts their 2-6 non-district record to test this weekend as they take part in the Pohanka Chantilly Classic. The Mustangs' opponent this Saturday, host Chantilly High School, defeated Mason last year, 73-27, and bring back a roster of strong players, headed by senior Justin May and sophomore 6-foot, 10-inches center John Manning. In order to be ready for the tournament and the ensuing Bull Run District opener on Jan. 6, Capannola says that he will continue to run pressure defensive drills and shooting drills to become more consistent on both ends of the floor.
"We just need to work and get the team fired up to play Chantilly this Saturday, remembering what they did to us last year" Andrianarison said. "As long as we play our game the best we can, it'll show in the future in the District. We just need to show our identity and reveal who we truly are."
"I've been very pleased that how hard we've played, how we're scrapping so hard, Capannola said. ". Once the Bull Run season comes along, we'll be fine. We just need that one three-pointer when we're down eight to get back in the game. When we don't get that, you just feel the air go out of the balloon. I'm frustrated for them, not at them."