The 19th Annual Falls Church News-Press Holiday Party drew another festive crowd on Dec. 15, continuing a tradition of live music, great catering and good company at the fellowship hall of the Center for Spiritual Enlightenment, formerly the Falls Church Congregational Church, the Falls Church City Hall and the Women's Club.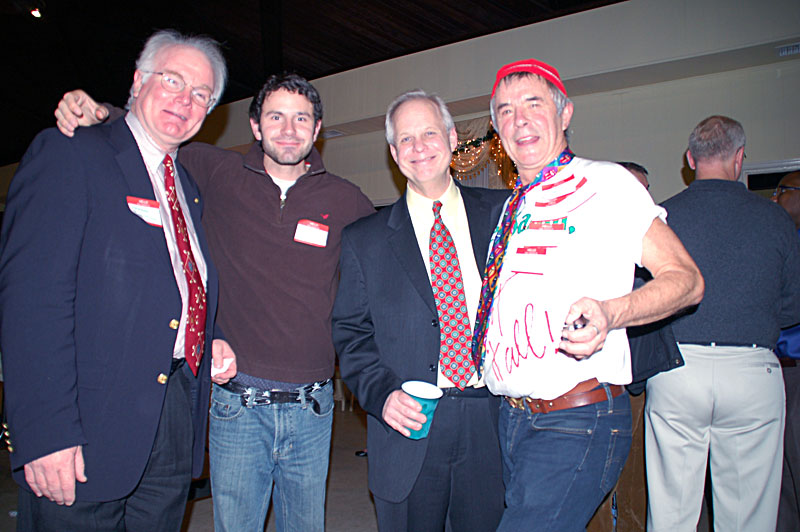 Teams of instrumentalists from George Mason High School kept the atmosphere lively with tunes of the season, and Anthony's Pizza catered for the first time, to the great delight of all.
State Delegates Jim Scott, Bob Hull and Adam Ebbin led the long list of celebrities who attended, including Falls Church Mayor Robin Gardner, City Manager Wyatt Shields, City Council members Dan Maller, Hal Lippman, Commissioner of the Revenue Tom Clinton, Treasurer Cathy Kaye, City Council members Hal Lippman, Nader Baroukh, Dan Maller, David Snyder and Lawrence Webb, The Hill editor Al Eisele, F.C. School Superintendent Dr. Lois Berlin, Dulin Methodist Pastor Dave Kirkland, F.C. Housing Commission heavies Dr. Steve Rogers and Carol Jackson, Planning Commissioners Lindy Hockenberry and Melissa Teates, former F.C. Dem Committee honchos Edna Frady and Ed Strait, F.C. Chamber of Commerce bosses Sally Cole, Paul Barkley, Mark Werblood, Deborah Thompson, Gary LaPorta, Hap Day, Ralph Perrino, Bob Young, Judge Karen Hennenberg, former F.C. City Manager and City Attorney David Lasso, "Flower Building" Architect Jack Wilbern, the F.C. League of Women Voters' Sara Fitzgerald and Joan Lewis, Entertainers Miles Butler and James Jelasic, News-Press columnists Tom Whipple, Richard Barton and Kevin Mellema, F.C. busy bodies Bob Burnett, Stacy Hennessey, Phil Duncan, Roger Neighborgall and Tom Devlin, First Friday's Tom Gittins, the Education Foundation's Donna Englander, F.C. Arts' Eileen Levy and Shaun Van Steyn, F.C. Film Festival's Simon Van Steyn, Creative Cauldron's Laura Hull, business owners Matt Smith and Joe Smith, the F.C. Historical Commission's Ric Terman, the Veterans Commons' Len Michalowski, School Board member Susan Kearney, former member Jerry Barrett, the whole News-Press crew including alum Lucas Hardi with Letty and baby Oliver, and a big bunch of other happy people.
{gallery}/843/holidayparty{/gallery}