Young Local Makes 'Global Impact'
Vanessa Hatcher, 22, of Falls Church returned home last week from a two-week trip to Zambia, sponsored by the Global Impact ministry of McLean Bible Church, located in Vienna. Hatcher, along with 11 other young adults from the church, spent 10 days in Choma, Zambia, where they partnered with World Hope International to serve and assist communities affected by the HIV/AIDS crisis.
The team spent most of their time in the village of Sikwaba, helping villagers with such tasks as farming, building piggeries and educating them about AIDS prevention.
"The most beautiful thing I experienced was the Zambians' genuine love of life and unbelievable contentment with what they had, which is not much according to the standards of such a city as Falls Church," said Hatcher. "The trip showed me just how blessed I am to have what I have, and to come back home in the middle of the Christmas season makes me embrace the spirit of giving more than I ever have before."
'Suits' Dress Fellow Veterans to the Nines
The Vietnam Veterans of America Inc. Chapter 227 of Northern Virginia and MITRE Corporation employees have formed a partnership, "Suits for Veterans," to provide new and used business attire for severely-wounded men and women service members who are completing their medical rehabilitation at the Walter Reed Army Medical Center and the Bethesda Naval Medical Center.
The program provides a $500 gift card to JoS. A. Bank, where the individual receives a generous discount and customized tailoring to provide an air of confidence and professional appearance for employment interviews, college interviews, public events and personal activities. Mr. Boudi Hayek, Store Manager of the Reston store, is instrumental in the program's initial development and continued success. The hospital administration determines the eligibility of each recipient, most of whom are amputees.
The late Dr. Bob Shepherd, of the MITRE Corporation started the program in 2004 in response to his neighbor's request, Jeannie Lehowicz, who works with wounded soldiers at Walter Reedand Bethesda Hospitals. Rick Micker, Tom Tierney, Doug Hoff and Theda Parrish continued the program after Dr. Shepherd's death. Chuck Harris, a MITRE employee and member of Chapter 227, initiated the partnership.
Used business attire donations can be arranged by contacting Chuck Harris at 703-729-5665. The Suits for Veterans program fulfills the chapter's national pledge, "Never Again Will One Generation of Veterans Abandon Another."
Falls Church Native is Music to Many Ears
Falls Church native Dayl Burnett, a trombonist and graduate teaching assistant at the University of Miami's Frost School of Music, was invited to fill in with the internationally-famous Empire Brass Quintet last week. Burnett is principal trombonist with the Roanoke Symphony Orchestra and is on leave while he finishes his Doctorate of Musical Arts in instrumental performance.
Some of his private teachers include David Maser, James Sochinski and Bernie Schnieder. He was a member of the U.S. Air Force Military Airlift Command Band at Scott Air Force Base and with the U.S. Air Force Academy band. In addition to playing with orchestras, he's performed in other venues and is currently a student of Tim Conner.
GEORGE Bus to Stop Accepting Paper Transfers
Beginning on Jan. 4, the City of Falls Church's GEORGE Bus will not issue or accept paper transfers. To get the rail-to-bus discount or to transfer from bus to bus, travelers must use a SmarTrip card. For more information, visit www.MetroOpensDoors.com or call 202-637-7000.
Falls Church 'Watch Night' To Bring in 2009
Fun for the whole family, the City of Falls Church Watch Night will kick off at 7 p.m. this New Year's Eve, Wednesday, Dec. 31. Festivities include, but aren't limited to karaoke, a light and music show, balloon sculptures, carousel rides, dance lessons and more. Set to perform are Nu Era, Northern Lights and Big Daddy Breedlove, among other performers and live entertainment.
Ample free parking will be available and all the action is set to go down on Broad Street to Park Avenue between Maple Avenue and Washington Street in the City of Falls Church. Watch Night is co-sponsored by the City of Falls Church, the Falls Church Economic Development Authority, the Tinner Hill Heritage Foundation, Acacia Federal Savings and the Falls Church Chamber of Commerce. For more information, visit www.fallschurchvirginia.gov and click on the Watch Night logo. For a video clip from last year's spectacular, visit www.fallschurchcity.tv.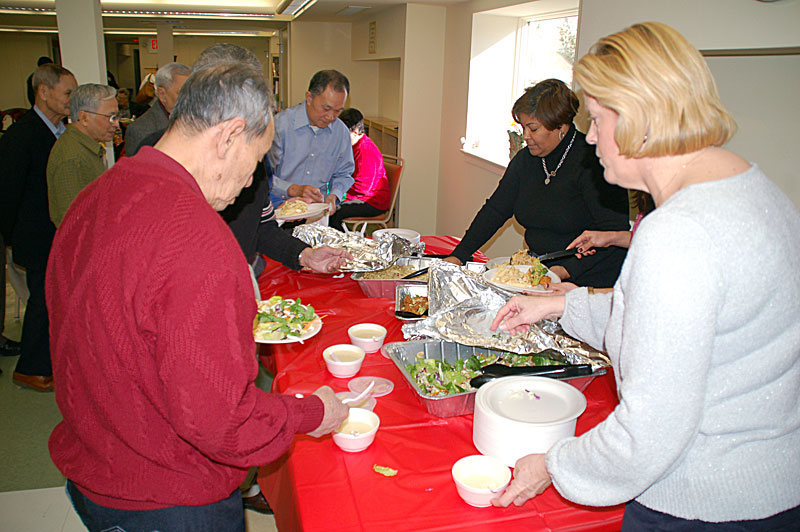 City Crews to Collect Leaves This Week
The Falls Church City crews are collecting loose leaves through Dec. 31, except for holidays. Residents who wish to have their loose leaves collected by the City are advised to rake their leaves to the curb, but avoid gutters and sidewalks wherever possible. Crews will continue to pass through areas until the Dec. 31 cutoff date.
Residents must keep all other collection material at least five feet away from leaf piles and are advised to not mix brush or other items with leaves. These items have the ability to injure City crews, damage equipment, damage private property and cause delays.
For more information, call the Operations Division at 703-248-5281.
Middle Schoolers Invited To Celebrate 2009 Safely
The Falls Church City Community Center (223 Little Falls St., Falls Church) will be hosting a Middle School New Year's Eve Extravaganza. Middle-school-aged children are invited to ring in the New Year with amusement rides, games, door prizes, food and more from 9 p.m. to 1 a.m. on Wednesday, Dec. 31.
A DJ will even be on hand to keep the music going all night long for the youngsters. For more information, parents and those interested in attending are asked to call the community center at 703-248-5307.