Narita Sushi & Rice Bowl occupies a small space tucked beside a Subway in a plaza surrounded by the busy thoroughfares of the Tysons Corner area.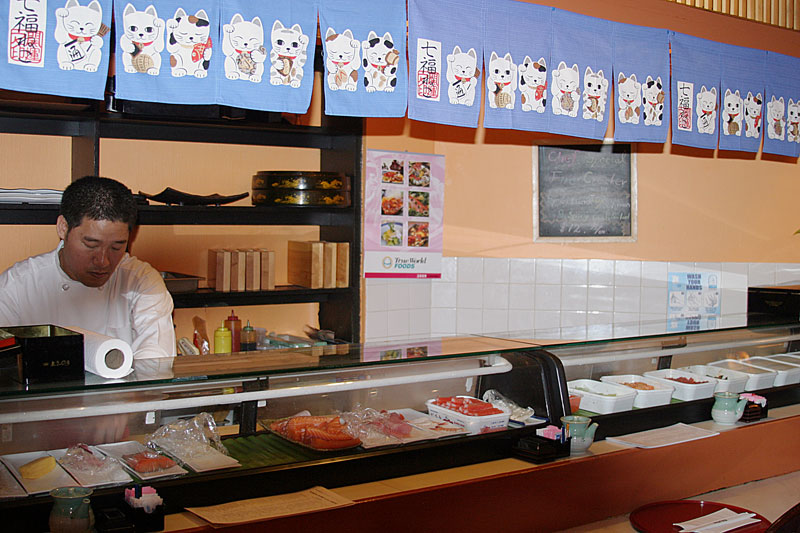 The interior of this Japanese restaurant, however, was a welcome respite from the bustling outdoors; the restaurant's subdued lighting and small staff added to the tranquility.
The dining space is also neatly furnished and simple, and that aesthetic continues around the restaurant, with a modest display of Asian artwork adorning the walls and the awning that overhangs the sushi bar.
The most action in the restaurant occurred toward the rear of the dining room, where Narita's chefs prepare a wide array of fresh sushi and sashimi. Customers may also sit at the bar, to watch as well as enjoy their dining experience.
Narita's appetizer menu leaves ample room for exploration, from the typical Japanese dishes such as agedashi tofu, or lightly fried tofu, and edamame, soybeans, to the more exceptional, like the octopus dish, takosu.
The agedashi tofu ($4.50) is a simultaneously simple and satisfying appetizer, leaving nothing too complicated to tease the palate, with tofu that has been lightly battered and then deep-fried. Narita's batter is exceptionally light and sticky, too, which doesn't overwhelm the beginning of the meal as other deep-fried dishes might. It's paired well with a side of tempura sauce, which is spiced soy sauce.
Edamame ($4.95) are lightly salted, boiled soy beans, eaten straight from the pod; it's another simple and classic dish.
Narita's takosu dish ($5.50) is a odd visual dish, with slices of fresh octopus tentacle atop a bed of seaweed salad and finely sliced cucumbers in a simple vinaigrette. Nothing was particularly outstanding about the dish, but the octopus was satisfying and not difficult to chew.
Known for its sushi, Narita offers a decent selection. Its sushi special ($11.95) includes seven pieces of various fish sushi and a California roll – a common item these days at sushi markets. Narita's sushi is as pleasingly delicious as the selection is diverse.
For the main dish, the vegetable yakisoba ($8.25) – stir-fried Japanese noodles with an assortment of vegetables – was very delectable. The vegetables remained crisp and were well-spiced, with a stir-fry sauce and sesame seed garnishing.
The full lunch menu covers several culinary preparations – the lightly battered and deep-fried tempura, the sweetly marinated and grilled teriyaki, crisply fried katsu pork and chicken and donburi, staple Japanese rice bowls with simmered toppings.
There is also a selection of lunch "boxes," which include a choice of the different preparations and sushi or sashimi.
All lunch dishes come with a small serving of miso soup – slightly more salty than other versions I have tasted, but still enjoyable – and a side salad. The salad's house ginger dressing was thicker than most others as well, but was a definite plus.
Narita's dinner menu offers a similar spread of options, as well as some more seafood options like scallop teriyaki and larger dinner "boxes."
For the sushi enthusiast, an a la carte menu furnishes a diverse list of nigiri sushi, maki sushi, spicy rolls, hand-rolled rolls and the chef's specialties.
Narita Sushi & Rice Bowl
8417 Old Courthouse Road
Vienna, Va.
Open daily, 11 a.m. – 2:30 p.m., 4 – 10 p.m.
703-893-8009