Nathan Ward Scores Lead Role in 'Godspell'
Nathan Ward, of the George Mason High School Class of '08, has been selected to play the lead role in an upcoming production of "Godspell" at the Catholic University of America (CUA) in Washington, D.C., an extraordinary achievement for a freshman. Ward will play the role of Jesus in the musical that will be performed Feb. 20 – 22 at the CUA (620 Michigan Ave. NE, Washington, D.C.).
'It's a Wrap' for Shelter House, Inc.
Toss the Tupperware and move over Arbonne. Tysons Corner Center (TCC) is looking for women who want to gather for a better reason – helping bring a little holiday cheer to fellow women who may not receive a gift this season. On Thursday, Dec. 11 from 6 – 8 p.m., TCC will be hosting "Step Out Step Up: It's a Wrap" holiday party to help wrap 1,500 gifts, which Shelter House, Inc., a local women's and teen's rehabilitation center, will in turn distribute to economically challenged women within their Patrick Henry housing program just in time to celebrate the holidays. Those interested should meet in the Bloomingdale's Court of TCC (1961 Chain Bridge Rd., McLean).
Partnering social networking, fun and philanthropy, TCC is joining 64 of its sister shopping centers across the country to wrap more than 40,000 gifts in this single-day event. Step Out Step Up guests will be pampered at beauty bars provided by Sephora and Paul Mitchell while enjoying a girls' night out with cocktails, food and entertainment provided by the center and its many retailers. For more information and to RSVP, call 703-893-9401.
Bailey's Burlington Warms Things Up This Holiday
The Second Annual Warm Hearts & Warm Coats Drive officially kicked off Nov. 24, but continues through Jan. 16. Coats collected will be distributed free of charge to children and adults in local communities by Homestretch, Inc., a Falls Church-based homeless shelter. Anyone wishing to donate coats for men, women or children can do so in the drop-off box located in the Burlington Coat Factory store (3524 S. Jefferson Street, Falls Church). Coats should be in good condition, with working fasteners, and no rips or stains. Donors will receive a receipt for tax purposes. For more information, call 703-379-7878.
Cavin Trillin Reads from 'Deciding' at P&P
A favorite of Politics and Prose, Cavin Trillin returns to read from his new book of doggerel on Thursday, Dec. 11, this time of a decidedly political nature. The book is called "Deciding the Next Decider: The 2008 Presidential Race in Rhyme." Trillin will read at Wesley United Methodist Church (5312 Connecticut Ave. NW, Washington, D.C.). There is no charge for this event, to start at 7 p.m. For more information, call 202-364-1919.
Capital Hospice's Funk Named to CHPNA
John Funk, 55, of Nokesville, Va., a Certified Hospice and Palliative Nursing Assistant and long-time Capital Hospice aide in Falls Church, has been named to the Examination Development Committee of the National Board for Certification of Hospice (CHPNA) and Palliative Nursing Assistants. The much-sought CHPNA designation signifies successful completion of advanced training in hospice and palliative care. Funk's two-year term begins on Jan. 1, 2009.
"We are extremely proud of John," said Malene Davis, president and CEO of Capital Hospice in a recent press release. "He not only is loved and respected by his patients and his colleagues, he is currently one of only about a dozen Certified Nursing Assistants in the State of Virginia who've completed the highest level of training available – and he did so with a perfect score on his exam."
Funk began his hospice career at Hospice of Northern Virginia, now known as Capital Hospice, in 1991. Capital Hospice, a Falls Church-based nonprofit organization, has been providing end-of-life care since 1977.
Pet Food Drive Aides Animal Companions
For some seniors, getting around easily is not an option. Often, their best friend and only companion is a loving dog or cat. Helping keep these companion pets well-fed, healthy and part of the family for as long as possible became the motivating factor behind the partnership among Banfield the Pet Hospital, the Banfield Charitable Trust and Meals On Wheels Association of America. To help feed the pets of needy seniors in the local community, Banfield the Pet Hospital (6100, Arlington Blvd., Falls Church) will collect pet food and monetary donations now through Dec. 31. For more information, call 703-237-5610.
Ford Lets Rod Puppets Do the Talking in McLean
Master puppeteer Hobey Ford and his Golden Rod Puppets will present "Tales of Light" on Saturday, Dec. 13 at 2 p.m. at the McLean Community Center (1234 Ingleside Ave., McLean). Through the use of shadow and rod puppets and his own special "foamies" style of puppetry, Ford will present three Native American tales. General admission costs $12, or $8 for McLean district residents.
Following the show, at 3:30 p.m., Hobey will teach a puppet workshop for children at $8 per child, ages five and up. Participants will learn about shadow puppetry performance techniques and folktales through construction of their own shadow puppet. Siblings will not be allowed without a paid workshop ticket. For more information, call 703-790-0123.
Howling in the Holidays For Good Apples
Those looking for something a little out of the ordinary this holiday season can chant to the apple trees over at The Claude Moore Colonial Farm at Turkey Run (6310 Georgetown Pike, McLean). On Sunday, Dec. 14 from 1 – 4 p.m., the farm will host an 18th century-style Colonial Christmas Wassail, where willing participants will gather in the orchard to wassail the trees with singing, dancing and chants to ensure a "howling crop." Enjoy hot spiced cider, sugar cakes, a bonfire and 18th century games. For more information, call 703-442-7557.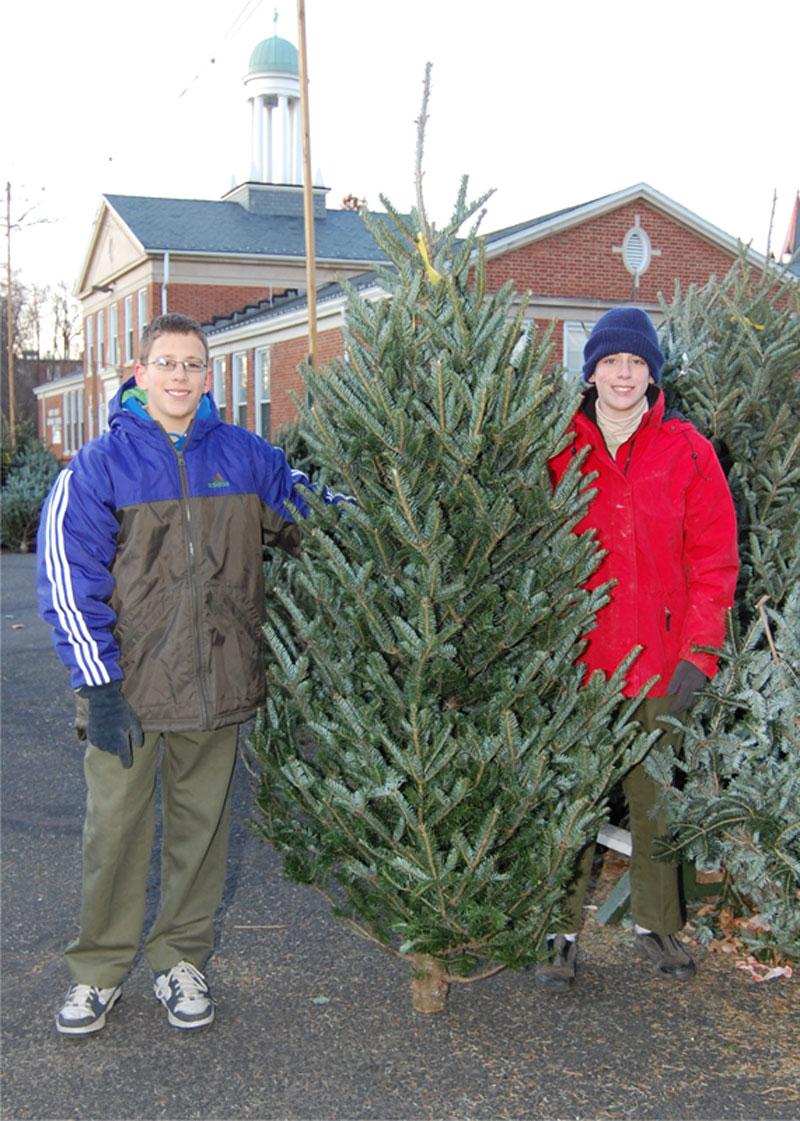 Aladdin's Lamp Tells Holiday Tales to Children
Children ages 2 – 6 years old are invited to hear holiday story readings at Aladdin's Lamp Children's Bookstore (2499 N. Harrison St., Ste. 10, Arlington) on Saturday, Dec. 13 at 11 a.m. Welcome the holiday season with festive stories including "There Was an Old Lady Who Swallowed a Bell" by Lucille Colandro, "Hanukkah Haiku" by Harriet Ziefert, "Where Did They Hide My Presents?" by Alan Katz and "A Very Marley Christmas" by John Grogan. For more information, call 703-241-8281.
Sacred Well Offers Yoga Freebie for Newbies
On Sunday, Dec. 14, Sacred Well Yoga Studio (450 W. Broad St., Ste. 320, Falls Church) will be hosting a free Introductory Yoga class for new students from 2 – 3:15 p.m. All levels and abilities are welcome, and Sacred Well will provide some mats for use. Though there is no charge for the event, registration is required. For more information and to make a reservation, call 703-989-8316 or e-mail swyoga@gmail.com.
State Theatre Rocks with Santa to Help Homeless
In a creative attempt to help the needy this holiday, the State Theatre (220 N. Washington St., Falls Church) will be hosting Santa Jam 12 on Thursday, Dec. 11, with doors opening at 7 p.m. Proceeds will benefit homeless women and children and victims of domestic violence. Northern Virginia Shelters, Doorways (a temporary shelter) and the Fairfax County Women's Shelters benefit from Santa Jam every year. This year's jam will feature Mary Ann Redmond, Tommy Lepson, Tom Principato, Generation Vinyl and Soul Gravity.
Admission is a minimum donation of $10. Also, concertgoers are asked to please bring an unwrapped child's Christmas gift. Not only are the toys brought to shelters, but the cash is converted to $10 gift certificates from Target. This way the individual families or the shelters can purchase food, clothing, and toys that are distributed throughout the entire year as they're needed. Children receive and use the unwrapped toys for holidays, birthdays and upon arrival. For more information, call 703-237-0300.
Holiday Clothing Drive Benefits Needy Children
Starting now through Jan. 6, 2009, New to You, Inc. is collecting brand new hats, gloves and other items for the Horton's Kids program.
New to You is a women's designer clothes resale shop located in Falls Church since 1992. This year's program with Horton's Kids, which will provide the donations to needy children in the Anacostia, Md. neighborhood, aims to help around 130 boys and girls between pre-kindergarten and 12th grade. "I love the idea of helping these beautiful children keep warm, as well as keeping them stylish at the same time," said Christina Novak, owner of New to You.
Donations can be delivered to New to You (108 W. Broad St., Falls Church) during business hours, between 10 a.m. – 6 p.m., Tuesday – Saturday. The store is closed on Sundays and Mondays. For more information, call 703-533-1251 or e-mail info@newtoyou.net.