The Italian Café's interior is reminiscent of an old family bistro in which you gather around a magnificently set table with close relatives and old friends, dining on rich, meaty pasta dishes served with heavy sauces.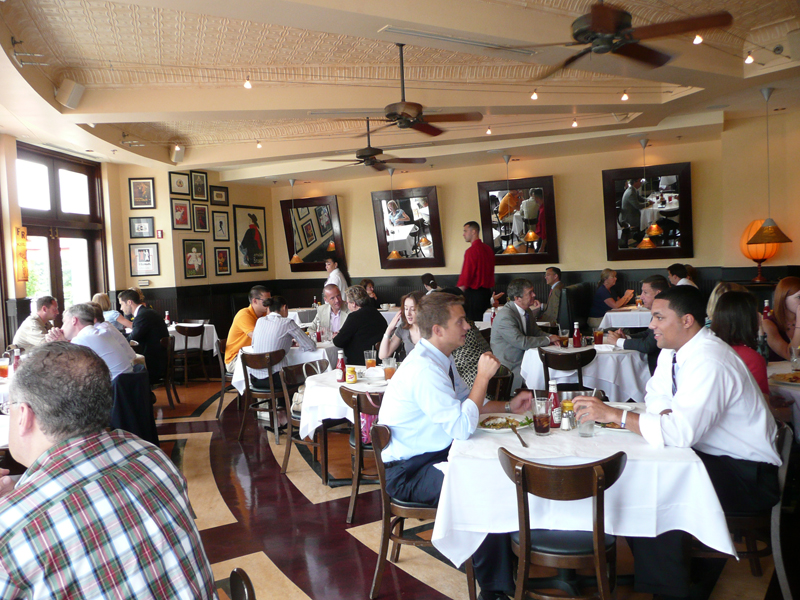 The quaint, comfortable atmosphere is accented by the restaurant's cozy, small spaces, its thick red carpet and sturdy, elegant dark wood tables and chairs. Paintings of Italy's coastlines hang on the walls, and the chandeliers cast a dim, golden glow. Wooden racks filled with different bottles of wine line the walls in the seating area. The restaurant also features dark, cream colored booths and a large bar. The friendly and attentive staff also set the tone for a pleasurable experience.
True to form, the Café's menu features an extensive menu of distinctly Italian dishes, combining fresh elements from the sea and the garden with classic pastas, meats and bread. Appetizers include heavy dishes such as mussels marinara and fried calamari, with healthier alternatives like the Italian staple Minestrone soup, a dense mix of vegetables in thick broth; Caesar, garden or antipasto salads. "Antipasto," Italian for "before the meal," is a rich salad that combines cured meats, marinated vegetables, olives and different cheeses in a salad as a precursor to the main course. For a very light appetizer, the menu also offers sautéed mushrooms or green peppers served solo.
The Italian Café cooks up sumptuous cuisine, from complex dishes like Vitello Scallopine – veal sautéed with butter and mushrooms and a touch of wine, drizzled in a light brown sauce – to basic dishes like spaghetti and meatballs.
Pasta combinations include the penne puttanesca, with penne pasta and a Mediterranean sauce that blends the flavors of fresh tomatoes, onions, garlic, capers and anchovies. The baked lasagna is multi-layered with meat and cheese and covered in a homemade tomato sauce. Try the canneloni – meat and cheese stuffed noodles drenched in red or white wine sauce – or the classic but never-forgotten Fettucini Alfredo.
Each meal is served with a small dinner salad and bread, brought out before the main course. Prices range from $14 for pasta with or without chicken, to $16-18 for pasta with beef or seafood. Twelve and 16-inch pizzas are also available for around $9-12, along with a children's menu with items priced at $5.
The Italian Sausage pasta dish consists of three well done sausages covered in marinara sauce over a heap of spaghetti, served in a large white bowl. The sausages are slightly spicy and are contrasted by the more subtly flavored marinara sauce, and the spaghetti noodles are al dente. For the bread, salad and hearty portion of pasta, $13 seems a reasonable price to pay.
The dessert menu is impressive. Tiramisu, a sweet Italian layer cake made with espresso liqueur and topped with thick mascarpone cream and a touch of espresso powder; New York cheesecake, served on a graham cracker crust and cannoli, a fried cookie shell filled with Italian cream and chocolate chips, are all available for under $5 each.
The drinks menu features domestic beers like Samuel Adams, Miller Lite and Budweiser. Amstel Lite, Moretti and St. Paulie Girl are among the listed imported beers. Specialty coffee drinks include Cappuccino L'Amour, coffee laced with Amaretto; Cappuccino Irlandese, which blends coffee with Irish whiskey and coffee liqueur; Cappuccino Romano, coffee mixed with Anisette, and to round off the specialties, the Italian standard, the straight espresso.
The Italian Café's delicious food and old world charm are evident in the hospitality of the staff, the care put into cooking every dish and the close, easygoing atmosphere that invites guests to gather together and break bread.
The Italian Café
Lunch Mon. – Fri. 11:30 a.m. – 3 p.m.
Dinner Mon. – Sun. 4:30 – 10:30 p.m.
7161 Lee Highway
Falls Church
703-241-1829