Instead of chasing crushes and living up the end of his senior year at Thomas Jefferson High School for Science and Technology, 18-year-old Drew Tener decided to focus his time and energy on something a little more proactive – he's teaching struggling first and second-grade boys how to read.
He founded a six-week, free-of-charge program, coined Easy Readers, that teaches reading through hands-on activities, such as treasure hunts or food preparation.
"At our family table, we had a few discussions about how boys are increasingly dropping out of high school and once I read studies about how serious it was, it really hit home," said Tener. "Growing up, I can attest to the fact that boys don't learn the same way as girls do and I figured 'Why not do something about it?'"
So, he did, and was recently honored for his efforts. Tener and his fellow high-school-aged volunteers – all of whom are close friends – were recognized by Acacia Federal Savings Bank with the Horizons Award, part of the company's Nice Guys awards ceremony that honors locals who give back to their community through volunteer efforts. Along with the award, $1,000 was given to a charity of the boys' choice, which they, in turn, gave to the folks who helped them start it all – the Friends of the Oakton Library.
Youth Services Manager of Oakton Library, Nancy Bronez, said, "We lose a lot of young male readers around fifth grade, so for me, this program was really ideal."
For over a year now, young boys have been meeting with their student mentors to make "Dirt Cake" from whipped cream and gummy worms and go on scavenger hunts – all the while learning to read recipe and clue cards – what Bronez calls examples of the cornerstone of everyday communication.
"Boys in particular like to read factual information, which is 95 percent of the content we take in on a daily basis," said Bronez of things like news and directions. "Non-fiction's just dessert on the bedside table."
When Tener was first getting the program off the ground, he visited five local elementary schools to pass out fliers that urged those schools' reading specialists to recommend boys they felt would benefit from the program. Currently, during the second running year of Easy Readers, Oakton Library oversees the program, hosting it in one of its meeting rooms.
"We aimed to get kids who would benefit the most from it," said Tener, who noted that one of the boys recommended arrived shy but eventually was revealed as a quite talented reader.
"His teachers were like 'Gosh, we had no idea he was this good,'" Tener told the News-Press.
According to Tener, surveys sent out to the parents of the children have come back with overwhelmingly positive feedback. Shelley Radomski has already seen noticeable improvements in her son Connor's attitude towards reading.
"Now he sees reading as something that's fun and the teenage mentors have made it just that with the planned activities instead of having the younger boys just sit there," said Radomski.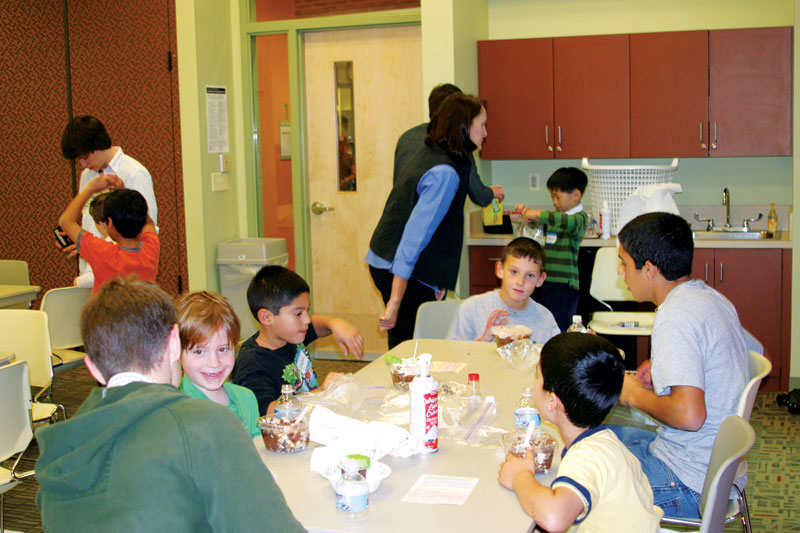 Youth Services Assistant at Oakton, Vicky Soto, is impressed with the leaders' involvement as well, saying that she wouldn't be surprised if the children remember their mentors for years to come. Tener said he hopes for just that.
"Our mentor Mike Meadows' kid liked him so much that he asked his parents to tutor him and that's the idea – for these kids to remember their leaders and form bonds with them," said Tener.
The leaders make their ice-breaking first impression during Week One of the program when they dress up in costumes resembling book characters for the children, all the way from "Star Wars" to "Clifford," the big red dog. It's interactions like these that easily-distracted young boys need in order to get excited long enough to grasp the benefits.
"It's not rocket science; the way to improve literacy is through reading," said Bronez. "When you immerse a child in a concept, they can't help but coming out smelling like it."
Tener graduates from high school next spring and plans to take the program with him wherever he attends college, while his friends Danny Luciani and Drew Harrington make sure the program continues here locally.
"I'd love to spread this program all over the world. Every day I come here, I have fun with the kids and that's why the volunteers come back each time," said Tener. "And the activities – the older guys may not admit they like them but they do [laughs]."
Then again, what's not to like about gummy worms and hunting for hidden treasure?