Vienna Steelers Finish Season Undefeated, 9-0
The Vienna Steelers finished their football season by beating the Chantilly Eagles 27-0 to win the 2008 Fairfax County Championship Game for the Ankelbiter Division on Saturday, Nov. 8th.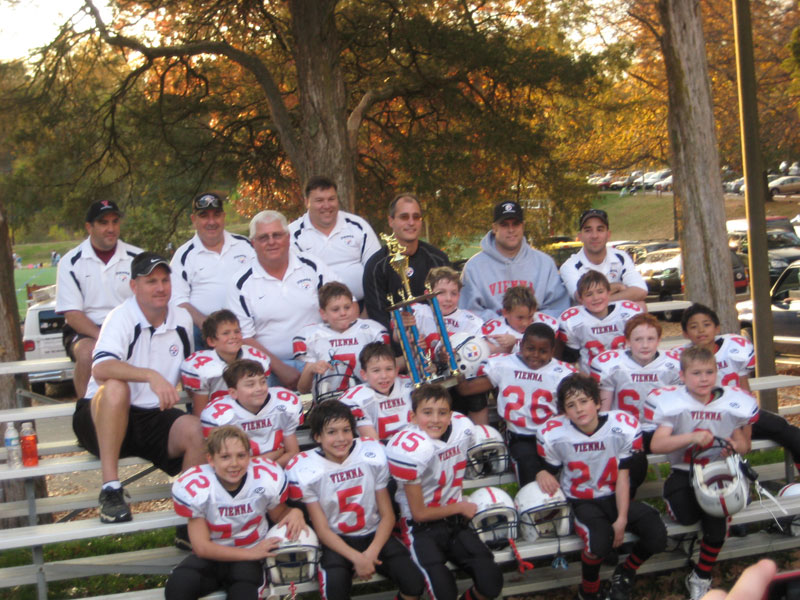 The team finished their 9-0 season with 279 total points scored and only allowed 36 points total. The team was coached by Todd Casey, George Casey, David Friedman, Joel Friedman, David Buckingham, Paul Campo, Michael DeChristopher, Mike Godwin and Mike Turner. The players on the squad are Jimmy Glenn, Paul Campo, Matthew Ziegelbauer, Isaiah Turner, Nicholas DeChristopher, Kevin Lanzas, Patrick Casey, Nick Evan, Joseph Schaffer, Bennett Jackins, Jack Felgar, Ethan Robertson, Tucker Mitchell, Mark Godwin and Vincent Pizzano.
Jefferson XC Girls Place 3rd, Boys 7th, at States
Thomas Jefferson High School for Science and Technology's Girls Cross Country team managed a third-place finish at the Virginia State AAA Cross Country Championship held at Great Meadows. Running without one of their top runners, Lisa Junta of Springfield, Jefferson finished with 128 points – just two points behind runner-up Maggie Walker, who scored 126 points. The girls' title went to Midlothian for the fourth year in a row with 76 points.
Sarah Stites of Reston, who placed fourth and earned All-State Honors, paced the Jefferson girls. Stites' earned the highest finish for a Jefferson girl at states since 2000, running the 5k course in 18:30. Stites was followed by Stephanie Marzen of McLean for 27th at 19:15, Katherine Sheridan of Vienna for 29th at 19:18, Neesha Schnepf of McLean for 51st at 19:46, Rekha Schnepf of McLean for 70th at 20:12, Sarah Nielsen of Reston for 90th at 20:39 and Kathleen Ryan of McLean for 113th at 21:24, respectively.
For Jefferson's boys, the seventh-place slot was championed in a very competitive field. They were led by Colin Maloney of Fairfax, who was 37th at 16:39. Maloney was followed by Timmy Galvin of Burke in 44th place at 16:42, Alex Witko of Springfield for 48th at 16:45, Joey Jachowski of Alexandria for 65th at 16:57, Logan Gates of Vienna for 73rd at 17:04, Jimmy Wu of Great Falls for 74th at 17:05 and Max Dreo of Vienna for 84th at 17:13. The Jefferson boys were making their eighth-consecutive appearance at the Virginia State AAA Championship. For the Jefferson girls, it was their first return to the championship race since 2002.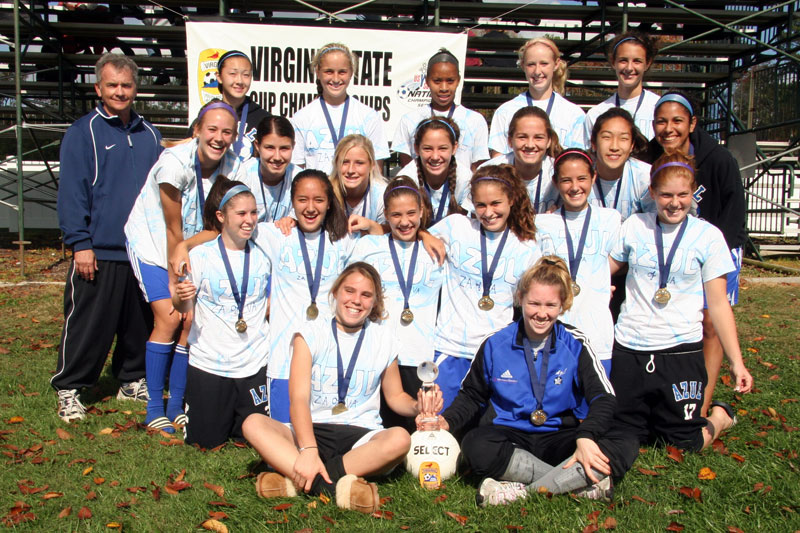 F.C. Local's Soccer Team Wins State Cup Title
Violet Miller, a sophomore studying at George Mason High School in Falls Church, juggles her commitment to a travel soccer team as well – a team that just won their fifth-straight Virginia State Cup title. The BRYC Azul, a U-16 girls travel soccer team, garnered the title in a 4-0 win against Virginia Beach's Beach FC Piranhas in Richmond on Oct. 26. The BRYC Azul is made up of girls from all over Northern Virginia, including some here in the City of Falls Church. Next up for Azul is the Region-1 Championship Tournament in July of next year, to be held in West Virginia. There, the girls will play the state cup champion teams from states all along the East Coast – from Virginia up through Maine.
District, Regional Honors Given to T.J. Field Hockey
Field hockey players from Thomas Jefferson High School for Science and Technology recently garnered an impressive string of district and regional recognition for their overall performance. First-team, All-District honors was given to Nadya Muchoney of Alexandria, Bobbie Pelham-Webb of Great Falls and Hope Smith of Annandale. In addition, Toby Loewenstein of Fairfax and Allison Smedberg of Fairfax Station were awarded Second-Team, All-District honors.
Muchoney also snagged the First-Team, All-Region award, along with her teammates' double-wins. Pelham-Webb was distinguished a Second-Team, All-Region honoree, as Loewenstein added Region, All-tournament team honors to her list of things of which to be proud.