Warner in Exclusive N-P Chat
Despite poll numbers showing Democratic Presidential candidate Sen. Barack Obama with a solid lead over his Republican rival Sen. John McCain in Virginia, and nationally, the army of organizers and volunteers for the Obama campaign insist they are taking nothing for granted going into the final days before the election next Tuesday, Nov. 4.
A "get out the vote" rally has been set up for tonight, Thursday, Oct. 30, in the gym at George Mason High School in Falls Church, which will feature Gov. Bill Richardson of New Mexico, beginning at 7:30 p.m. It is expected to be filled to overflowing.
In southern Fairfax County Saturday, McCain, battling to keep Virginia in the GOP presidential column as it has been for 40 years, will appear at a rally at 11 a.m. on Rolling Road in Springfield.
The slated Obama rally is not far from Obama's Falls Church headquarters on S. Washington St., volunteers continue to jam the large ground floor office space, flooding the region with phone calls about tonight's rally, information about absentee voting and Tuesday's election, and lining up leafleting and other activities at the Metro station and other locations.
Organizers there report that more than 800 new registered voters have been signed up in the City of Falls Church, proper, an 11.6 percent increase among the jurisdiction's 11,000 citizens. It's a remarkable number in a city where voter turnout is already historically the highest in the state.
Absentee voting has also been at far higher levels than usual, according to Falls Church's voter registrar office at City Hall. The ability to vote absentee continues through this Saturday, Nov. 1, at 5 p.m. at City Hall in Falls Church and at all eight district government centers in Fairfax County.
On Tuesday, polls will be open from 6 a.m. to 7 p.m., and long lines are expected throughout the day. Very preliminary forecasts are for sunny weather. The City of Falls Church's five polling places will be at their usual locations: Thomas Jefferson Elementary School at 601 S. Oak St., the Boy Scout House at 128 S. Spring St., the Oakwood Apartments at 501 Roosevelt Blvd., the American Legion Hall at 400 N. Oak St. and the Community Center at 223 Little Falls St.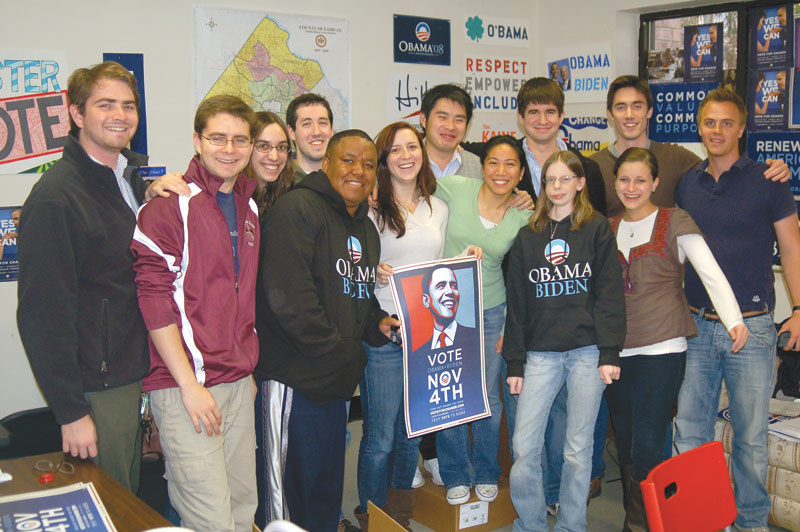 The Falls Church League of Women Voters have produced a Voter's Guide with profiles and position statements of all the candidates on the ballot in Falls Church, as well as voting information, and can be accessed at www.lwvfallschurch.org.
In addition to President of the U.S., voters will decide who will replace retiring Sen. John Warner in the U.S. Senate between former Virginia governors Mark Warner, the Democrat, and Jim Gilmore, the Republican, and who will represent them in the U.S. House of Representatives.
In Northern Virginia, for the 8th Congressional District that includes mostly Arlington and the City of Falls Church, Rep. Jim Moran will be seeking a 10th two-year term against Republican challenger Mark Ellmore. In the 10th District including parts of McLean and Loudoun County, GOP incumbent Frank Wolf is facing a challenge from Democrat Judy Feder, and in the 11th District of eastern and southern Fairfax County, (which The Hill newspaper claims is, based on census data, the wealthiest district in the nation) Democrat Gerry Connolly is vying with Republican Keith Fimian to fill the seat being vacated by Rep. Tom Davis.
In addition to Democratic and Republican candidates, minority party and independent candidates are also on Tuesday's ballot. For U.S. President, they include with their running mates Independent Green candidate Chuck Baldwin, Libertarian Party candidate Bob Barr, Green Party candidate Cynthia McKinney and independent Ralph Nader. For U.S. Senate they include Independent Green candidate Glenda Gail Parker and Libertarian candidate William B. Redpath. In the 8th District House race, Independent Green J. Ron Fisher is also on the ballot, in the 10th District independent Neeraj Nigam is on the ballot, and in the 11th District Independent Green Joseph Oddo is on the ballot.
The News-Press has endorsed Obama for President, Warner for Senate and Moran, Connolly and Feder in the three Congressional districts of its primary circulation (see Editorial, on Page 2 of this edition).
Warner is given a large lead in statewide polls over Gilmore, and the level of activity in each's Northern Virginia office is reflective of that. Gilmore's Alexandria campaign office was manned by one person when visited by the News-Press last week, while Warner's Alexandria office was teeming with dozens of volunteers.
In that office, Warner met with the News-Press for an exclusive interview earlier this month, citing five priorities for domestic economic recovery action and growth in the coming period, including education, technological and scientific innovation, expanded health care coverage, infrastructure development and energy independence.
On the latter, he advocated a three-year program to demand of, and incentivize, the nation's auto industry to produce vehicles capable of going 100 miles on a gallon of gas.
Warner said he's also supportive of immediate action to place stiff limits on federal spending, institution of a new version of national service, and more innovative ideas to "shake things up." He said he wants more attention paid to high-speed rail, broadband, ports and intermodal transportation, noting that "no holistic approach" to domestic infrastructure priorities currently exists.
There needs to be a "more comprehensive view," he said, adding that a "new mindset on all these issues" is required.
Warner also laid out his priorities for addressing the banking, financial and mortgage crises in the 30-minute exchange.
Warner was slated to march in the annual Vienna Halloween Parade last night, and will host a Democratic victory party at the McLean Hilton next Tuesday night.
However, for many of the volunteers jamming the Falls Church Obama headquarters every day, and their supporters, their preference may be for the victory party slated for the Dogwood Tavern in downtown Falls Church when the polls close Tuesday.