TJHSST Cross Country Girls Race to First Place
After easily winning the Oatlands Invite's Girls Varsity B race in Leesburg, Va., the Thomas Jefferson High School for Science and Technology Girls Cross Country Team continued their winning streak with a dramatic victory in the Girls Reebok Challenge Race over some of the top girls teams from Pennsylvania at the Carlisle Invite in Carlisle, Penn., this past Saturday.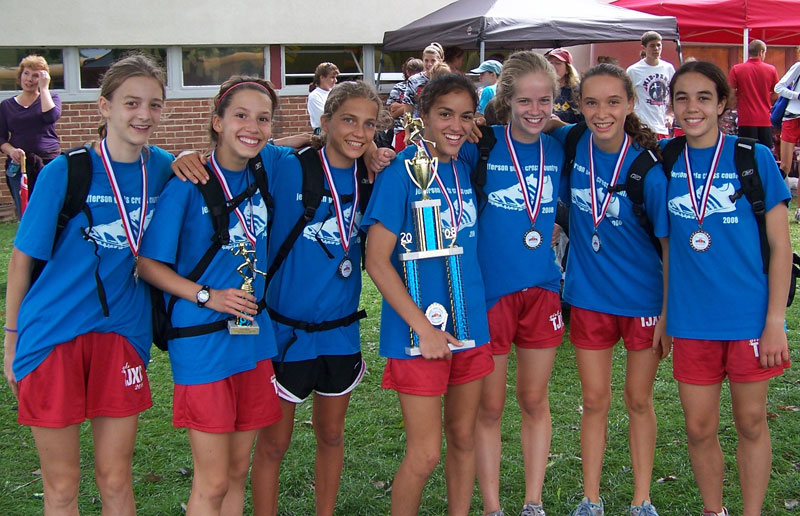 Jefferson outran 27 teams including second place Cumberland Valley High School by a score of 118 versus 129.
Jefferson was led by their freshman runner Sarah Stites of Reston who finished the five-kilometer course in ninth place with a time of 19:13. Also placing for Jefferson were Stephanie Marzen of Mclean (21st in 19:47), Lisa Junta of Springfield (31st in 19:55), Katherine Sheridan of Vienna (34th in 20:04) and Neesha Schnepf of McLean (43rd in 20:13). The Jefferson Girls J.V. team placed second in their race and was paced by freshman Rekha Schnepf of McLean (20:47), who claimed first place out of nearly 300 runners. The Jefferson boys varsity and J.V. teams placed 13th and third, respectively at Carlisle.
Marshall H.S. Makes Up for Stone Bridge Debacle
George C. Marshall High School Varsity Football Team garnered an impressive 28-0 win over J.E.B. Stuart High School last Friday, following their quite-the-contrary 63-0 fallout versus Stone Bridge High. The win comes on the heels of the previous week's upset at Langley. While last Friday's game was previously scheduled as a home game for Stuart, the rainy weather caused for a last minute location change to the Statesmen turf. Marshall's Freshmen and J.V. teams also won their pigskin battles over the Raiders. Next up for the Statesmen is tomorrow night's Homecoming game against McLean High School. Kick off is at 7:30.
Golfing Highlanders Snag Third Place
The McLean High School Boys Golf Team came in third place in the Liberty District tournament at Herndon Centennial. Senior Thomas Harris and Sophomore Sam Nelson qualified for the Regional tournament, to be held Oct. 6 – 7 at Fairfax National Golf Club.
Madison H.S. Suffers Field Hockey Loss
Thomas Jefferson High School for Science and Technology won a close contest decided in overtime. The game against Madison High was played with a lot of energy but remained scoreless at the end of regulation. TJ's defense turned away several Madison attacks in the second half. The Colonials went into overtime with renewed purpose, keeping pressure on the Madison defense. The offense kept the ball in Madison's circle and the winning goal was scored by Lauren Wendlberger of Fairfax Station about midway through the first overtime.
Mustangs Finish Second at Bull Run Tourney
This past Monday, Sept. 29, the George Mason High School Co-ed Golf Team placed second at 339 overall at the Bull Run District Tournament, held at the Jackson Chase Golf Club. A sweet ending to their undefeated season, this was the second collaborative dual for the Mustangs, though a large improvement from their last where they placed 20th overall. Next up for the Mustangs is next Monday's Region B Tournament at The Manor Golf Club.