NoVa (D)evolution
"Documenting the New Northern Virginia," at the Annandale Campus of Northern Virginia Community College (NVCC) (8333 Little River Turnpike, Annandale).
Runs through Sept. 10 in the Verizon Galleries, Ernst Cultural Center (Building "CE"). Gallery Hours are: Monday – Friday, 9 a.m. – 5 p.m. Opening reception is from 5:30 – 7 p.m. on Sept. 5.
"New Northern Virginia" displays the work of 39 photography students from the Alexandria and Woodbridge campuses of NVCC. As such, the perspective is somewhat skewed towards those areas of "NoVA."
The strong points here deal with traffic congestion, the immigrant population and, of course, urban sprawl.
Probably the strongest image here is Paul Sposari's photo of the Springfield Mixing Bowl. Shot beside a Jersey Barrier on one of the multitudinous ramps that make up the I-395/495/95 interchange complex. It's a fairly horrifying manmade landscape of concrete arches and asphalt – a bit of sky above is the only evidence of the natural world that has been obliterated by this structure from hell. As the saying goes, "Lord, Mr. Ford, what have you done?"
A similar, but far more generic image of traffic congestion is seen in Brendon Converse's photo of I-395 traffic come to a standstill. Shot from the disappearing median between roadway and on-ramp, you get the pinched sense of space that is the very essence of congestion and lack of personal space in an over-populated environment.
Both of these guys get a pat on the back for stepping into harm's way to get the shot. It's what it often takes to get the job done, though it's not always a safe thing to do. This from a former motor-sports shooter. Be careful out there, and know what's going on around you at all times.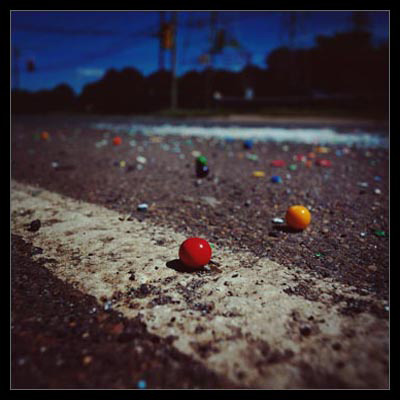 A more sedentary photo by Anne Brink documents the housing boom around the old Lorton prison complex. Here a lone guard tower bears witness to this generic beige vinyl-siding housing development's more colorful past. Even more historical view points are provided by Sean Floars' morphed combinations of black and white historical photos, and the present-day color images of the exact same spot.
Interesting as they are, these images seem to remark that the more things change, the more they stay the same. Buildings as long as they stand don't change too much unless they've undergone serious renovation. Some of Floars' images meld together so smoothly, you have to hunt for the seam between past and present.
My favorite was an image online, but not, as I recall, in the actual show: Lyric Theatre from the 1940s, and today. The historical image carries a ghostly presence of a man looking directly at us – reminding us once again that we pass through the space, while the buildings define the space as long as they stand.
It's a technique that seems begging to be pushed further.
It may not work as well, but it would be interesting to see what happens when you take the original Brown's Hardware store here in Falls Church, and mix it with the present-day image of the same business some 125 years later.
Kelly Dean provides us with a glimpse back in time with her image of the all but gone kitsch road side architecture in Dinosaurland. The giant maw of this T-Rex (we assume) greets customers to this old business in White Post, Va.
Janet Schrader provides an image of mindless suburban affluence in her humorous photo of a bling-bling lap dog at the Super Pet Expo at Dulles Expo Center.
Possibly the most poignant image of all is online, though missing from the show is Melissa Handy's testament to the concept of residential "tear downs." We're all too familiar with this common phenomenon – perfectly decent homes are destroyed and replaced with lot filling McMansions, replaced simply because the kitchen wasn't as big as the living room, which is now as big as the backyard, which is now … oh, who needs a backyard when you have a big screen TV?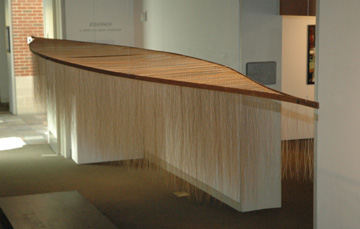 Handy's photo shows a tree-shaded 1930s Del Ray bungalow next to a sunlit McMansion. Then again, there is no place left for trees to grow, so how could it be anything but sunlit? No worries; we have air conditioning now. In the inimitable words of Lurch: "Unghhhhhh."
Images not seen in the show can be found at
www.nvcc.edu/woodbridge/documentnewnv/
Kreeger Museum's Free Open House, at 2401 Foxhall Road NW, Washington, D.C. The even is this from 11 a.m. – 4 p.m. on Sept. 7.
Featured activities include art and music (e.g., drumming) workshops for kids and adults, along with specialized tours of the museum, free ice cream, a raffle, etc. For a complete list of activities and details see www.kreegermuseum.org/programs/special_events.asp. Call 202-337-3050.
Normally, admission here is $10 per person, so this free event is a good time to see the museum if you haven't done so.
Artist Opportunities
Go Figure, Falls Church Arts, at Art and Frame, 111 Park Ave., Falls Church) host an open figure drawing session from 7 – 9:30 p.m. every Wednesday night throughout September. $8 per session in advance, or drop by and it's $10. Visit www.fallschurcharts.org.
McLean Project for the Arts start their Tuesday evening and Thursday afternoon figure drawing groups and other art classes the last week of September. See www.mpaart.org/learnadult.php.
Open Call for Falls Church Arts juried October art show. Entry deadline is Sept. 19. Entry fee is $15 for members, and $20 for non-members. For complete details and application, see www.fallschurcharts.org.