Local Wedding Announcement
Miriam Leonard and David Horgan are happy to announce that they will be married on Saturday, Sept. 20 on the lawn of the University of Virginia in Charlottesville, Va. Leonard is the daughter of Eugene and Carol Leonard of Falls Church. Horgan is the son of Cornelius and Myra Horgan, originally of Ireland, and now of Charlottesville, Va. The couple first met at the University of Virginia 10 years ago, and now live in Falls Church.
F.C. Resident Accepted to American University
Falls Church resident, Eric Revollo, has accepted an offer to be a first-year student at American University this fall. Revollo graduated from Bishop Denis J.O'Connell High School and also is a recipient of the Frederick Douglass Scholarship. Revollo will be part of the largest class in the university's history, with approximately 1,550 first-year students predicted to enroll this fall. The students accepted at American, as the class of 2012, average a 3.8 high school GPA and a median range of 1210-1360 on the SAT.
Volunteer Management Boot Camp
Volunteer Fairfax's 2008 Nonprofit Training Series is offering a workshop in Reston geared toward volunteer managers, coordinators and leaders. Volunteer Management Boot Camp is a beginner-level session taught by Emily Gibbs, Volunteer Fairfax's Training and Special Events Manager. The session teaches procedure on planning, recruitment, retention and supervision. The workshop will take place on Sept. 9, 2008 from 9 a.m. – noon. To register or for information, visit www.volunteerfairfax.org.
Crime and Punishment Has New Attraction
A new victim has been unveiled at the National Museum of Crime and Punishment in their CSI lab: "Dead Fred." The museum presents this victim to illustrate the forensics of investigations to museum-goers. Along with the more realistic features and textures of this mock-corpse model, the museum is now offering a simulation of a fully intact crime scene where patrons can search for clues to determine what happened. There is also and interactive CSI lab where patrons are able to learn how to solve crimes through such forensic technologies as fingerprinting, DNA testing, dental identifications and facial reconstruction. For more information, visit www.crimemuseum.org.
Falls Church Sunset Cinema Kicks Off
The Falls Church Community Center will be showing free family-friendly films on Fridays throughout the month, starting Sept. 5, at 8:30 p.m. The showings will take place at the City Community Center (223 Little Falls St., Falls Church) Other dates include Fridays, Sept. 19 and 26.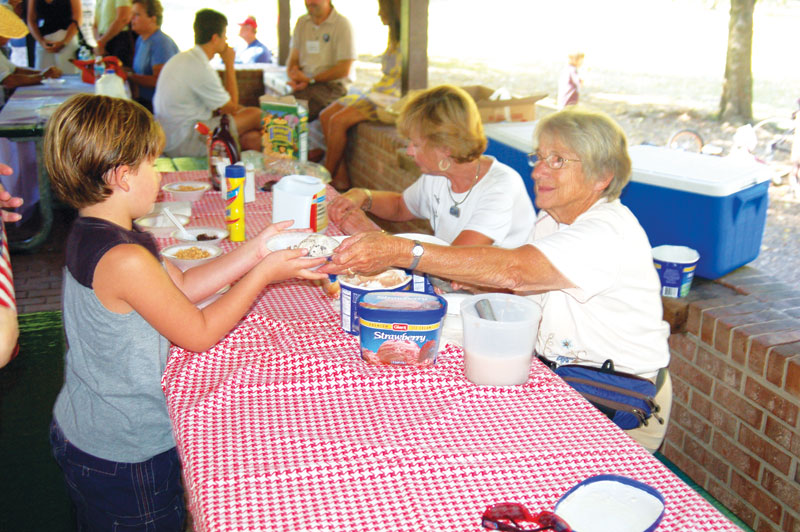 Recycling Extravaganza Held for F.C. Residents
The Falls Church Recycling Center and Property Yard (217 Gordon Rd., Falls Church), are holding a Recycling Extravaganza to give F.C. residents a chance to recycle of electronics, cell phones, clothing and textiles, bicycles, printer cartridges, eyeglasses, hearing aids, and medical supplies to name a few. PNC Bank will also be offering free secure paper shredding for up to three file boxes. The event will be from 9 a.m. – 2 p.m. and will be for F.C. residents only. For more information, call 703-248-5176 (TTY 711) or visit www.fallschurchva.gov.
Levine School of Music Presents Concert Series
Pianist Jeffrey Chappell will be playing original compositions and works by Chopin and Bartok, on Tuesday, Sept. 9, 2008, at 12:10 p.m. at the Church of the Epiphany (1317 G St. NW, Washington, D.C.). This is the first concert in the Levine School of Music's 2008-2009 concert series. Admission is free. For more information, call 202-686-8000 or visit www.levineschool.org.
A New Kind of Family Event in Vienna
Jammin' Java, in Vienna, presents Cathy & Marcy's Family Jamboree: A new kind of family event-concert turns jam session. Featuring new young artists Nick & Jeff Rosenberg with Shelley Brown, the concert will be on Saturday, Sept. 6, from 5 – 6 p.m., and an open jam session for all guests will be held from 6 – 7 p.m. Tickets are $10 and locals are encouraged to bring their families and all instruments. For more information, visit www.jamminjava.com.
Meet the Authors at Dupont Circle
Josh Frank and Louis Bayard will be at Olsson's Books and Records (1307 19th St. NW, D.C) Wednesday, Sept. 10, at 7 p.m., in Dupont Circle, to talk about his book "In Heaven Everything Is Fine: The Unsolved Life of Peter
Ivers and the Lost History of New Wave Theatre." For more information, call 202-785-1133.
Virginia Mac Users Group to Hold Meeting
The Virginia Macintosh Users Group (VMUG) will hold its monthly meeting on Sept. 8 at the Walter Reed Community Center, (2909 16th Street South, Arlington) at 6:30 p.m. September's topic will be "iPhoto and Photobooks using iPhoto." Come to explore all the capabilities of the Macintosh computer; guests are welcome. For more information, email vmugpr@vmug.org.
F.C. Expands Recycling for Residents
Residents can recycle more than ever, now that new items can all go in the same bin through the single-stream system that was just approved Sept. 2. New additions have been made to the types of plastics and metals allowed as recyclables, and the City will continue to collect all regular items as well. The contracts with Bates Trucking allow collection of recycling materials from 18-gallon curbside bins and the recyclables may be mixed. For more information, visit www.fallschurchva.gov.
Brazilian Independence Day Party at Zanzibar
On Sunday, Sept. 7, Zanzibar (700 Water St. SW, Washington, D.C.) is holding a Brazilian Independence Day, from 8 p.m. – 2 a.m. Price is $15 at the door.
Music will include Brazilian, Bossa Nova, Forro, Samba, Pagode, Axe da Bahia and more. For more information on this event, visit: www.clubzone.com/events.
Yorktown High School Band Car Wash
The Marching Patriots Band of Yorktown High School will sponsor a car wash from 10 a.m. – 2 p.m., on Saturday, Sept. 13, at the Shell gas station (5630 Lee Hwy., Arlington). Proceeds from the event will be used to help fund band activities throughout the school year. For further information, please call 703-533-1206.
Book Signing with Author Warren Brown
Barnes and Noble (7851 Tysons Corner Center, McLean) is holding an afternoon book signing event at 5 p.m. on Saturday, Sept. 13, 2008 with attorney, author, and entrepreneur, Warren Brown and his new dessert cookbook CakeLove. Adults and children are invited to this free event.
Fairfax County Elderhostel Alumni Meeting
The Elderhostel Alumni will hold a meeting Sunday, Sept. 14, 2008 at the George Mason Public Library (7001 Little River Turnpike, Annandale) from 2:00 – 4:00 p.m. The meeting will consist of a slide presentation of the breathtaking scenery of formations in Zion, Bryce Canyon National Parks, Grand Canyon and Lake Powell and a retired ranger led Elderhostel whirlwind tour of Colorado Parks and more. Visitors are welcome, reservations are required, but admission is free. For more information, call Rebecca Prather at 703-534-2274.