Virginia's Vital Election Role In Spotlight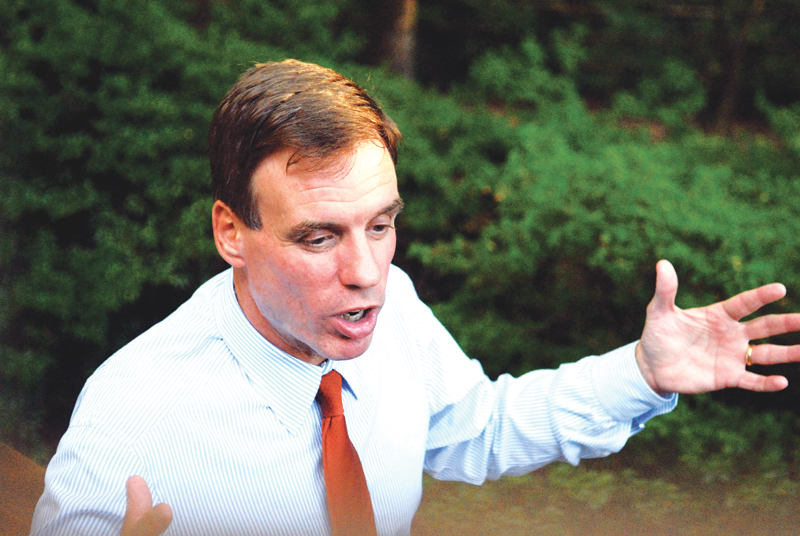 Wrapping himself in the legacy of Thomas Jefferson, former Virginia Governor and U.S. Senate candidate Mark Warner touted the merits of science and a focus on the future as he delivered the keynote speech to the Democratic National Convention in Denver Tuesday night.
Warner's spotlight role at the convention was clear evidence of the importance that Democrats are assigning to Virginia in the November presidential election.
The state has not gone for a Democrat in a presidential race since 1964, but it is considered a key "battleground" state in what many feel will be a very tight race this fall. CNN has characterized Virginia as one of 11 "toss up" states in the election, and the campaign of Democratic presidential nominee Barack Obama has opened over 30 offices to compete for the state's 13 electoral votes.
This key role is also being reflected this week by the "front row center" placement of the Virginia delegation to the convention.
Quoting Jefferson, Warner concluded his speech by saying, "I prefer the dreams of the future better than the history of the past."
"The race for the future is on," he said, "The status quo just won't cut it. If you think there have been dramatic changes in the world and in technology over the last ten years, you ain't seen nothing yet. The race is on, and if you watched the Olympics, you know China's going for the gold."
Warner relegated Republican presidential candidate Sen. John McCain to the ideas and mistakes of the past, linking him to President George Bush.
"McCain promises more of the same," he said. "A plan that would explode the deficit that will be passed onto our kids. No real plan to invest in our infrastructure. And his plan would continue spending $10 billion a month in Iraq. That's four more years that we just can't afford."
On health care, Warner intoned, "Just think about this: in six months we will have an administration that actually believes in science," adding, "Then we can again lead the world in life-saving and life-changing cures."
Some of Warner's keynote remarks were also delivered by him at a Falls Church fundraising event last Friday hosted by the Virginia Partisans Gay and Lesbian Democratic Club at a home in the Lake Barcroft area. In his senate race against former Virginia Governor Jim Gilmore, Warner is given strong odds in his effort to turn the seat held by retiring Sen. John Warner from Republican to Democrat.
His pro-science and technology, pro-future orientation has been a hallmark of his campaigns from over a decade ago, articulated in an interview he held in the office of the News-Press in 1996, and were key in his forging a bipartisan alliance to get elected governor of Virginia in 2000 and passing measures in Richmond to bring the state's fiscal house in order.
In another major political event in Falls Church last weekend, Obama's Falls Church headquarters was officially opened to a mass of enthusiastic supporters Saturday afternoon.
Free hot dogs were handed out, and a reported 866 people signed up to volunteer for the campaign. U.S. Rep. Jim Moran, in his own race for a tenth term, delivered fiery remarks in support of the Obama-Sen. Joe Biden ticket.
On Sunday, an annual cookout held at the home of Del. Jim Scott featured Democratic congressional candidate Gerry Connolly, currently chair of the Fairfax County Board of Supervisors. He's also given strong odds to turn the 11th District, currently represented by retiring Rep. Tom Davis, from Republican to Democrat.
Republican candidates were nowhere to be found in Northern Virginia the past week. McCain's only campaign offices in Virginia, to date, are located in Virginia Beach and Roanoke. Connolly's GOP opponent Keith Fimian limited his public activity to blast e-mails to the media.
Tonight, the Obama campaign has rented the State Theatre and its giant screen for a public showing of Obama's acceptance speech from Denver on TV.
On Labor Day, Falls Church Democrats will host an ice cream social in Cherry Hill Park at 3 p.m., and Mark Warner's next major appearance in the area will be at a debate with Gilmore hosted by the Fairfax County Chamber of Commerce on Sept. 18.