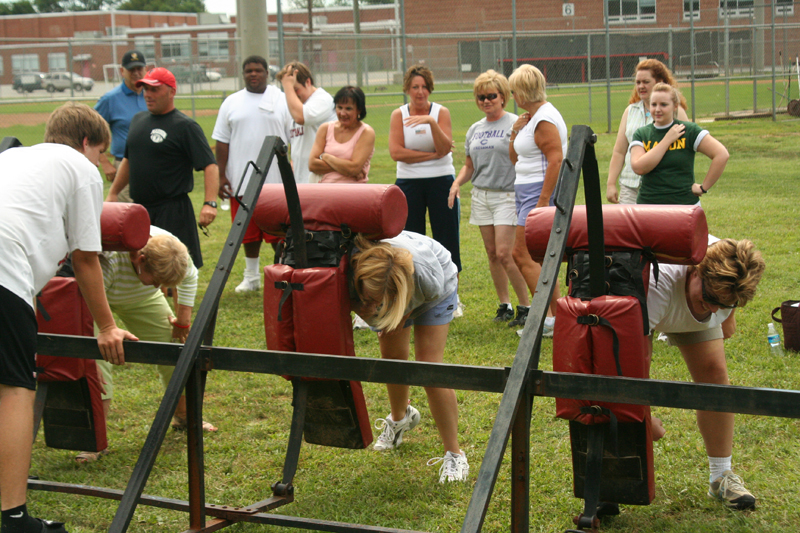 School's about to be back in session and local jocks aren't the only ones feeling the rigorous burn from two-a-day style drills lately – their moms are right out there with them.
Earlier this month, some Fairfax County football mommas gave up their Saturday morning, usually set aside for shopping and pedicures, to spend four plus hours sweating it out with the best of them at the fourth annual Football 101 for Women Clinic, hosted by James Madison High School in Vienna, Va. this year.
"It was fun to watch some of the women get so into it. It was kind of like we were the kids [laughs]," said George C. Marshall High School football mom Claudia Richards.
Richards, whose sophomore son Tim Richards plays tight end offense on this year's Marshall J.V. football team, was one of nearly forty women to attend the clinic, sponsored by National Capital Region Chapter (NCRC) of the National Football Foundation. A relatively new chapter to the area, the NCRC's president Greg Oliver says he wanted to gain the support of area schools and coaches by offering something a little different from just the usual athletics banquet.
"We wanted to kick off football season here locally by offering women in the area an opportunity to see first hand the X's and O's of football, as well as a behind-the-scenes look at motherhood and football," said Oliver.
Mary Ramseyer, wife of Bill Ramseyer, the former head football coach of both The University of Virginia's College at Wise and Wilmington College, spoke to the women about being married to the game as an avid supporter of her husband's coaching, only missing two games during his whole career. Ramseyer reminded the women to not only cheer on their son, but also the players on the team who don't have an active parent attending the games.
"I really loved Mary's comments about supporting every player on the team, even the ones who don't get to play, because it really is a team effort to win. I appreciated the total picture of the sport, just really positive," said Richards.
Not alone in the task of learning the sport, Richards brought along fellow football mom Dalal Hamad, whose sophomore son Raikin Hamad plays defensive tackle and offensive guard alongside Tim on Marshall's J.V. team. Somewhat of a team mom, Karen Newcomb sent out an e-mail to the Marshall women about the clinic. Richards, who heard word the Sunday prior to the clinic, didn't have to spend too much time convincing Hamad to join her.
"I found out about it from Claudia and I thought 'Oh, it's about time!' I couldn't wait until I learned more about it," said Hamad.
And football they did learn. Everything short of shoulder pads and helmets, the women divided themselves into teams representing the position their son played to perform the exact drills their children go through during the dog-day heat of summer. Once the drills were complete, and following a catered lunch full of giggles and chatter, the women were back at it to face each other head to head in a series of single-down, role-playing scrimmages. Some frequented the water cooler, some playfully talked trash to the referee and others ran touchdowns so intense, it likely made onlookers wonder why there isn't a mom-only league already in place. Mothers walked away with a new appreciation for what their sons go through.
"I think anytime you step inside someone's shoes you see a lot more, you see what they're up against and experience some the of the feelings that they have. I knew [what my son does] was hard, but I really didn't know how hard," said Richards.
"I think having us play our sons' positions was wonderful because I definitely saw what he sees inside his helmet and had never really anticipated anything like what it was," said Hamad.
Female campers waiting their turn on the sidelines weren't the only ones who got a kick out of watching forty grown women shed any apprehensions of looking silly to give it their all on the field. One woman gave so much that she walked away from the clinic on crutches, a battle wound inflicted from legitimate dedication, but with a grin from ear to ear. Volunteer coaches carried the injured mom queen-style, lifting her chair into the air and over to where the team photo was being taken towards the end of the clinic.
"All of us were just delighted to see ladies be such good sports and take to the field, exposing themselves for their perhaps limited knowledge. It just really didn't bother them – they were seemingly happy with an opportunity to support their own sons' efforts by familiarizing themselves with the basics of this game," said Oliver.
Off the field, women were lectured by a certified referee and given explanations for every hand single he throws into the air during the game. For some, it was a chance to see the ref in a light separate from his often vilified position as someone out to get their son, or to intentionally overlook a bad play by the opposition. Realizing this, Richards believes she's gained a new understanding of the ref's goal, opposite from being the bad guy.
"It personalized him. I never really considered the fact that they go through training and, while we have this bird's eye view from the stands, they're strategically placed on the field," said Richards.
The moms returned home to impress their sons with a bank of football knowledge, all the way from terminology to being able to call penalties from the stands. Hamad says her son Raikin laughed his head off when he heard his mom was off to football camp.
"He's still laughing," Hamad joked. "He quizzed me when I got back about what I had learned and he even felt that some things they taught us went above and beyond the basics of the game. Some of the things I learned, he didn't even know."
Perhaps the laughing stopped when Hamad went home to show off the moves she'd learned to her son.
"I definitely had a few things to show my son. He didn't even believe I knew how to do a stance," said Hamad.
Richards' son Tim, the younger of his two brothers, was equally impressed to hear his mom would be attending the clinic.
"He seemed happy, in a teenage boy sort of way [laughs], that I was showing so much interest," said Richards. "For me to go, it was another way to show my support."
Her family, six of which are children, had previously lived overseas, where opportunities to play sports like American football were not always at her kids' disposal. One of Tim's brothers played basketball and another was into music, making football a whole new playing field, literally, for Richards and her husband to learn.
"This is a new experience for us; we've been learning about sports for a long time, but not football," said Richards.
Though Richards noticed that her son's enthusiasm for the game never faltered, the freshman J.V. football team at Marshall, on which Tim played last year, played an unfortunate season that garnered the team only one win.
"As a parent, it was really hard to watch but he'd come home excited about one play he did right and I always thought that was such a great perspective," said Richards. "Now, knowing a little more about the game, I can see exactly where he's coming from, that he played his part good and helped the team overall as a contributor."
It wasn't just a new appreciation or the accomplishment of burnt calories that the women left the clinic with. They also walked away with pink t-shirts and tote bags in tow that read "X's and O's Are More Than Hugs and Kisses," specially designed by Ramseyer herself.
"Overall, I love the feeling that it was a good cause and that there was a unified purpose," said Richards. "Being on there on the field with the other women, it felt like we were a team ourselves."
The NCRC will be hosting another Football 101 for Women Clinic next year on Aug. 8, 2009. For more information on how you can attend, contact Greg Oliver at 703-707-9414.