The News-Press takes a look at George Marshall, George Mason, Falls Church and J.E.B. Stuart's 2008 football teams.
George C. Marshall
2007 was a good season for the Statesmen. They went 8-4 overall and made their first playoff appearance in 14 years. While last year showed signs of Marshall possibly reinserting itself as a contender in the competitive Liberty District, Head Coach J.T. Biddison knows that they have to start all over again this season.
"We are a completely different team this season", noted Biddison. "The only carry-over effect last year may have is building on a tradition and raising expectations."
With only five returning starters, Marshall truly is an entirely different team so Biddison is forced to use two-a-days primarily as "teaching days" where players regularly attend position meetings and film sessions.
One of Marshall's five returning starters is third-year quarterback Harold Sweet, entering his senior season as the centerpiece of Marshall's offense.
"Harold should have his best season yet," said Biddison of his quarterback. "He's a great leader and will get the team to rally around him."
Even though the season is fast approaching, Biddison is more interested in his own team than their first opponent right now. There is a position battle at nearly every spot on the field, and no one has been able to rise up and snag a starting job. The Marshall coaches know they have a starting quarterback in Sweet, a shutdown corner with Senior Jamie Clear and two starting linemen in Collin Newcomb and Andy Embree but everywhere else there are holes to fill. Probably the most vital will be the receiver position. Both Sweet and Biddison have committed to the passing game, and are still in search of a dependable set of hands.
Marshall plays Hayfield on Aug. 28 at home in their first ever game on brand new field turf. While Biddison admits this game is on his mind, he will not let his coaching staff or his team get too far ahead of themselves.
"Our biggest challenge this year is staying focused on our next game, and not letting ourselves get caught up in last year's success," he said.
Marshall is a truly intriguing football team this year because they are going into a season where they are expected to win for the first time in years. They are coming off their first playoff win in over two decades, and have a returning senior quarterback. However, other than a few slots the starting lineup is almost entirely undecided despite the regular season being right around the corner. In order to avoid a meltdown with his young players, Biddison said he plans to take one game at a time, and only focus on the game they are playing that week. The Statesmen scrimmage Dominion Thursday, Aug. 21 at Dominion before taking on Hayfield the following week.
George Mason
George Mason is a football program known for being able to get the most out of the small number of bodies they have. Nearly every player has to know how to play several positions, and be able to play both sides of the ball. Year in, year out the coaches stretch the talent they have to a max, and put together a winning season. This year appears to be more of the same.
The Mustangs began this season with less than thirty varsity players, all with a wide range of sizes and talent levels. Head Coach Tom Horn compared his team to a ladder that has steps on the top and steps on the bottom, but empty space in the middle. Horn knows he has a handful of players he can count on to play 48 minutes every Friday night, but he also knows that he has another group of players that have almost no varsity football experience.
"We have a big gap, and right now our focus is to get those kids at the bottom varsity football ready," said Horn.
One of these playrs is Junior DB/RB Chris Saraus. Saraus was promptly thrown into the fire at Mason's first scrimmage, a four way scrimmage against Loudoun County, Wakefield and Kettle Run. While it was clear Saraus was still getting used to the speed of the game, Horn liked what he saw.
"Chris doesn't shy away from reps, and he doesn't just want to play; he wants to be good."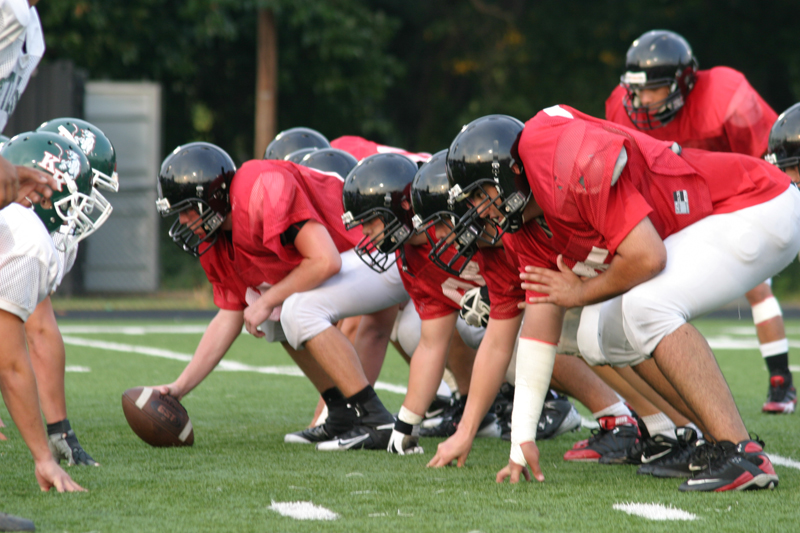 Mason lost six first string linemen to graduation this year, and will be considerably smaller up front. Junior Misael Benitez and Senior Kyle Newman have stepped in at right and left guard, the two most important positions in Horn's double wing offense. Senior leader Andrew Lieber is by far the most experienced linemen, and will be counted on more than ever this season. In past seasons Lieber has been exclusively a center, but this year he has become a smarter and more versatile player, and will likely be used at several different positions on offense including tight end.
George Mason plays a compact, run oriented offense focused on misdirection and deception. This type of offense allows for several running backs to get close to equal carries as opposed to a featured tailback. The Mustangs enter this season with the same three-headed monster that pounded away at Bull Run defenses all of last season. Joel Chandler, and brothers John and Charlie Mann are entering their senior season as Mason's featured backs.
On the defensive side, Mason will be counting on the same group of stars. Chandler, the reigning defensive player of the year in the Bull Run District will remain at safety while Junior Matt Palmieri and C. Mann anchor the linebackers. Senior Kevin Millard has stepped up to assume a starting cornerback role, and Horn also expects Saraus to eventually become a starter in the secondary.
One of Mason's biggest holes to fill will be that of Mike Schwengel, the Mustangs starting quarterback the past two seasons. Horn plans to take pressure off his young quarterbacks by moving to a four running back set where one the backs receives the snap directly from the center.
One thing that could potentially derail the Mustangs would be the injury bug. Since they have so few bodies, one or two key injuries could cost them some games.
The 2008 Mustangs are an even smaller bunch than most years, but Horn sees no reason why they can't continue their success as long as they remain healthy. The Mustangs open their season against cross town rival J.E.B. Stuart at home, a game in which Mason has dominated the past few years.
Falls Church
Unlike Marshall, Falls Church has the luxury of being an experienced team this season. The Jaguars will be bringing back the majority of their starters from last year, 15 of the 22 to be exact. Eight of these returning starters are juniors who were able to receive significant playing time as sophomores. Just a year ago this team was considered a young and inexperienced group because they were playing so many sophomores. Head Coach Anthony Parker believes his seasoned group of juniors, and seven returning seniors can give Falls Church their first winning season since 2005 and their first playoff berth in over 20 years.
Coach Parker has taken a conservative approach to two-a-days this year, using conditioning and drills that do not involve a lot of hitting.
"When you have the numbers we have, your biggest concerns is to avoid injuries," said Parker. "There's a fine line in how you go about practice, making sure you practice hard but you do so in smart manner."
Coming off a 3-7 season, there are obviously a bunch of areas the Jaguars are looking to improve in. Parker believes his seniors will be much improved from last year, and that the players who started as sophomores last year will develop into leaders as juniors.
Parker has high expectations from junior running back Marcus Hughes whose power running style will force opposing defenses to stack the box.
Falls Church's junior class yields several other strongmen including C/DE Kyle Ruttkay, and OT/DE Patrick Williams who has been learning how to use all of his 285 pounds to clog holes up front.
Quarterback is an interesting situation for the Jaguars. Like George Mason, Falls Church graduated a starting quarterback in 2007. '07 quarterback Yousef Khatib's departure caused Parker to have to make a tough decision. With no clear choice as to who the quarterback of the future would be, he decided to put one of his best athletes behind center, a guy who will be able to make plays with his legs as well as with his arm – Senior Sam Gerima. Germia played quarterback as a sophomore before switching to wide receiver last year, where he was one of the Jaguars' go-to guys. Being involved in the passing game last year will help Germia re-learn the position, but Parker noted he still mentally has a lot to learn about running the offense. Physically, Parker believes Germia has all the tools to be a great quarterback for Falls Church. His arm strength and instincts are good, and his playmaking ability is off the charts.
"We have high hopes for Sam this year. We feel he will be the most athletic quarterback we've had since 2002," said Parker. Defensively, Falls Church is a big, yet fast and aggressive, group. Despite the loss of stopper Travis Garrett up front, the Jaguars have several big men on the interior of the defensive line to stop the run as well as some quick feet at the defensive end position. The linebacking core is both athletic and experienced. Jeremy Jones is a battle tested senior who has excellent speed for a linebacker, and knows the system well. Vang Pham, another senior also knows the system well and should be one of the Jaguars tackle leaders.
Also parallel to George Mason, Falls Church is a team that lacks depth. Falls Church is one of the smaller AAA schools, and does not have nearly the roster size as some teams in their district. Parker has been very careful about what he puts his players through to avoid any injuries, and to keep his players who will have to be on the field for 48 minutes fresh for the regular season. However, he realizes that football is a physical game and that players are bound to go down.
The Jaguars first challenge is an away game at Thomas Jefferson. With a lot of experienced players, the Jaguars have the luxury of being able to focus on team drills and scout opponents now rather than having to learn plays and techniques. Even during mid-August practice Falls Church has started to game plan for their debut against T.J.
"[Thomas Jefferson] is our only focus," said Parker. "As I tell the players the scrimmages are just practice, we need to be ready for our opening ball game. I had an opportunity to watch them scrimmage and they play hard so we need to be ready."
J.E.B. Stuart
For years, the J.E.B. Stuart Raiders have been the doormat of the National District, but this season has a different feeling to it. With a new coach, new system and an entirely new mentality, the Raiders expect to win games and be competitive.
First-year Head Coach Roy Ferri is entering his second tenure as Stuart head coach, and has installed a brand new system. Ferri plans to use a deep threat passing attack along with a versatile running game on offense. He plans to create mismatches at as many positions as they can, and exploit opponents' weak spots as much as possible.
"We have a very solid team, and are poised to play Division 6 'smash mouth' football in a Division 5 district," said Ferri.
Senior offensive lineman Brian Savaria is one guy who has been turning heads at practice this summer. His 6′ 0″, 280 pound body moves a lot quicker than anyone would think, and his blocking ability has improved drastically.
Senior linemen Dragos Matei is the biggest of the bunch at 6′ 4″ 290, and the scariest part is that he has had a very impressive August. Matei's sudden surge seems to be a result of his new coach rubbing off on him. With his size and technique, he will likely require a double team to be contained.
While opponents will key on Matei, these double teams will open gaps for Stuart's other mammoth rushers to wreak havoc in opposing backfields. Senior Louis Rich is a high energy defensive tackle who transferred to Stuart this year from Southern California. Rich will be a key pickup for the Raiders because his motor is always running, and he will likely churn out some big plays this year.
J.E.B. Stuart has always had big players such as Saveria and Matei, but no coach has been able to get them to block or rush well. Ferri has put it on his shoulders to get his linemen to be able to do these things.
Jason Friday is entering his junior year, and first season as the varsity quarterback. Friday has been groomed to be the starter the past couple seasons through the JV squad. He proved his worth in 7-on-7 leagues earlier this summer against some of the best teams in the area. The main playmaker of the offense will once again be Terrill Hawkins as he enters his senior year as the starting tailback, but Ferri believes Hawkins is not the only player in the offense with big play potential.
"We have several talented running backs," said Ferri. "We throw the ball very well, and have size and speed at the wideout position, which will cause match-up problems for our opponents."
Senior linebacker Anthony Champ anchors the defense, and is poised to have his best season yet. While past Raider coaches may have just hoped to win a game a season, Ferri has high hopes.
"Our goal is plain and simple – to make the playoffs," said Ferri.
Along with on field success, he believes that the student body and the community will get behind the team this year to make for a special season.
Stuart looks to snap its 24 game losing streak against George Mason to start the season on Friday Aug. 29 at Mason.