There's good news and bad news about the war in Iraq as it reaches a critical turning point with the end of the so-called military surge that brought an additional 30,000 troops to Iraq 18 months ago, and as the war becomes a key issue in the U.S. presidential campaign.
The good news is that after more than five years of conflict that cost the lives of more than 4,100 American soldiers and Marines, and nearly three quarters of a trillion dollars, there are tangible signs of progress as attacks on U.S. troops have dropped sharply, Iraqi security forces have grown in size and capability and U.S. military commanders reduce the length of combat tours from 15 to 12 months and prepare for the likelihood of further reductions among the 140,000 American troops in Iraq.
The bad news is that the sectarian violence between Iraq's majority Shiite population and the minority Sunnis and Kurds continues to plague the California-sized country despite an overall drop in violence, as witnessed by deadly suicide bombings against Kurds in the northern city of Kirkuk and Shiites pilgrims in Baghdad last week that made it one of the worst days of violence in recent months.
In addition, pressure to shift U.S. troops from Iraq to battle the Taliban and Al Qaeda in Afghanistan and Pakistan, Iran's continuing support for Islamic militant forces in Iraq and new attacks by Turkey against Kurdish rebels in northern Iraq have added further uncertainty to the complex calculus of the war in Iraq.
Those are my conclusions after I accompanied Army Chief of Staff Gen. George Casey on an unannounced four-day whirlwind visit to Iraq last week – my second trip to Iraq since 2005 – during which he met with U.S. troops and their commanders in Baghdad at a half-dozen bases in northern Iraq, and with two top Iraq army officers.
Casey, who commanded multinational forces in Iraq for three years before returning to the Pentagon in April 2007, was told in briefings that I sat in on that attacks against U.S. troops and Iraqi security forces are sharply down in recent months and that the surge has provided badly needed breathing room for the Iraqi government and security forces in their fight against insurgents and Al Qaeda forces.
But he also was reminded that the apparent gains from the surge are fragile and reversible, a point reinforced by the man who succeeded him as the top U.S. commander in Iraq, Gen. David Patraeus, who is about to take over as chief of U.S. Central Command.
Casey met with Patraeus at Camp Victory, the main U.S. headquarters near the Baghdad International Airport, the morning after Patraeus met with soon-to-be Democratic presidential nominee Sen. Barack Obama of Illinois, who stopped in Baghdad during his high profile trip to Southeast Asia, Jordan, Israel, Germany, France and the U.K.
Patraeus declined to comment when I asked him about his meeting with Obama, but it was clear that he told him Iraq still faces many security challenges, as well as political, economic and diplomatic difficulties.
"This has been a very long, hard slog, and there are many, many tough miles still to go," Petraeus told National Public Radio's Debra Amos the same day I saw him. "The reality is that Iraq has been hard, is hard, and will continue to be hard. But it is a country in which there has been very significant progress."
Regarding the sensitive issue of a timetable for withdrawing U.S. troops from Iraq, as Obama has proposed and which Iraqi Prime Minister al-Maliki indicated he supports but President Bush is resisting, even while he talks about a "general time horizon." Petraeus said, "In another month or so, we can probably have an assessment that provides us the possibility of further recommendations on reductions. But again, we'll see how the conditions are at that time."
Casey did not meet with Obama, and he was careful to avoid commenting on Obama's call for setting a 16-month deadline for ending the U.S. combat role in Iraq while shifting some U.S. troops to battle the resurgent Taliban and alQaeda in Afghanistan and Pakistan. "I don't want to talk about it," he told me, the only reporter traveling with him. "I'll read about it when I get home."
And while Casey was told by every U.S. commander he met with that the level of violence, both against U.S. troops and between Iraqis, has fallen sharply in the last few months, he was also reminded that alQaeda is still a threat and that winning the support of the Iraqi people remains a huge challenge.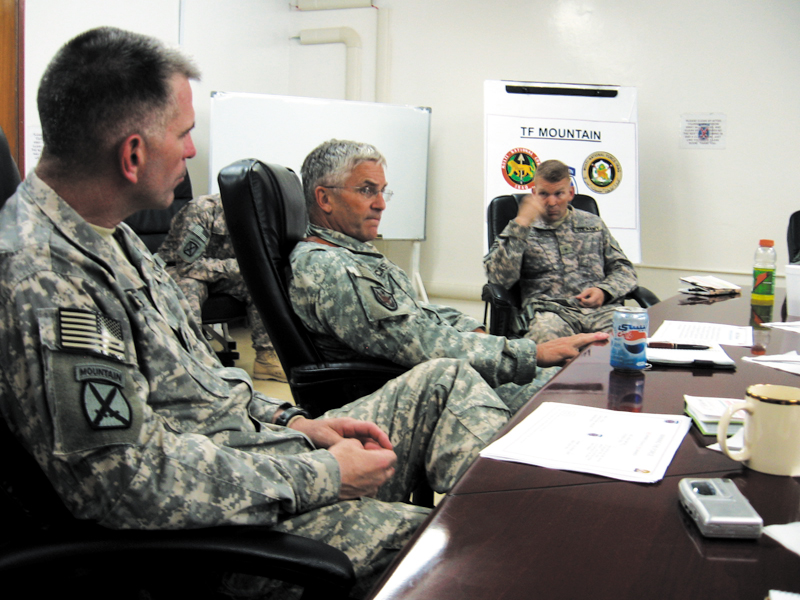 "My biggest struggle is developing the local economy," Lt. Col. Thomas Dorame, a young officer from California, told Casey during a briefing at a remote base in rural Ninevah province where the outside temperature hovered around 120 degrees Fahrenheit. "I see the indicators, I see the hope in the future. But the number one issue is that the men in the villages are not employed. They've had three years of drought and no support from the government to create employment. And as long as there's unemployment, there will be men willing to work for the insurgency."
And Maj. Gen. Mark Hertling, commander of multinational troops in northern Iraq who accompanied Casey to a number of forward operating bases in the region, said that the number of attacks by alQaeda forces in the region have gone down by half since February and many top alQueda leaders have been captured or killed. But he added, "We think 50 percent of the attacks are caused by unemployed people who are being paid to do something." Casey also was told that many young people have joined the insurgent forces, and that they are using new and more deadly kinds of weapons.
Casey reported his findings to President Bush after returning on July 23 when the president met with Secretary of Defense Robert Gates and the Joint Chiefs of Staff at the Pentagon to consider future U.S. strategy in Iraq, including the possibility of further troop reductions this fall and shifting some U.S. troops to fight the Taliban in Afghanistan and Pakistan.
While in Baghdad, Casey backed up his assertion that the security situation has improved by visiting an open market adjacent to Baghdad's Sadr City neighborhood, a sprawling slum that is the home of radical Shiite cleric Mohktar al Sadr and his Mahdi army that only recently announced a cease fire against U.S. troops. Surrounded by armed security guards, he walked a half-dozen blocks through the teeming market without incident as Iraqis looked on. One of his aides later told me, when I pointed out that any of the Iraqis could have been a suicide bomber, he conceded that the visit was "extremely dangerous."
Many of the men and women soldiers Casey met with expressed concern about the welfare of their families, their pay and benefits, their future in the Army, and whether they would have to serve additional tours of duty in Iraq. When he asked for a show of hands in a mess hall near Tikrit, two-thirds of the soldiers said they were serving their second or third tour of duty.
Casey asserted that while the surge "has been a great success," it has also stretched the army to the breaking point. "When I took this job, I was hearing a lot in the press that the Army was hollowing out," he later told me. "That's not the case yet, but we certainly are stretched thin, and it's going to take us a year or so to recover our flexibility in our personnel system."
He added, "We've been doing a lot of thinking about the type of Army the country needs, and we believe that it's an Army that has the capability of operating across the whole spectrum of conflict, from major combat operations through irregular warfare. …What I personally am seeing on this visit is how we have learned as an army over the last five years or so in our understanding of irregular warfare."
Casey, whose father was an Army general killed in Vietnam, met with a group of young men and women soldiers at a combat outpost near the giant Balud Airbase north of Baghdad, and assured them that while the war has fallen off the front pages in the U.S., the American people haven't forgotten the sacrifices they are making.
"You all may not appreciate this, but the great work that you all have done and the soldiers that came before you has really changed the way the people in the United States look at this mission. You've taken it off the front page, and you really have allowed the president to [pursue] his policies, which is very important to sustain our successes. So you really ought to feel good about that. You really have made a critical difference at a critical time in history."
He added, "There's huge support for the servicemen and women in the United States military, both in Congress and among the American people," he said. "And I can't go anyplace without people coming up and saying thanks to the men and women of the Army for what they're doing. They recognize that everywhere that I go. People seem to have found the ability to be against the war but not against the men and women of the armed forces, and they very much appreciate what you're doing for them."
Noting that he has been an "Army brat" for 60 years – he celebrated his 60th birthday at a base in Mosul last week – he said, "I have never seen this Army better in the 38 years I have been in it. And we are that way because of our values, because of our warrier ethos, and because of our people. And that's each and every one of you. And each and every one of you make this Army a little bit better every day. So good luck to you all, take care of each other, and God bless you."
When we were in Baghdad, I tried to contact Sen. Jack Reed (D-R.I.), who was traveling with Obama, but was unable to reach him. I wanted to ask him if he still feels as he did when I spent time with him in Iraq in March, 2005. Reed, a West Point graduate and former Army officer in Vietnam, told me at the time that "we've got to get it right" in Iraq. "There are things that we're doing very well and again I say that if we don't if we take our eye off the ball, we could find outselves right back where we were six months or a year ago. This place has the annoying habit of every time you turn the corner, there's another corner. We might be turning the corner, but watch out."
I would be surprised if he feels any differently.
(Editor's note: Albert Eisele, a Falls Church resident, is founding editor and editor-at-large of The Hill, a newspaper that covers Congress.)