Engagement Announcement
Richard B. Glazer and Joanna Peters of Chappaqua, N.Y., announce the engagement of Glazer's daughter, Diana Leigh Glazer to Thomas Russell Gallagher, Jr. of Potomac, Md. Diana is also the daughter of Patricia Garofalo Glazer of Tillson, N.Y.
Diana, a graduate of The University of Virginia, also attended the American University in London. She is a published author and a freelance writer. Diana currently resides in Falls Church, where she is a copy editor for the News-Press.
Gallagher's father, Thomas R. Gallagher, Sr., resides in Little Egg Harbor, N.J. with his wife Susan Gallagher. Gallagher's mother, the late Catherine Antonia Nardi Gallagher, was originally from Williamsport, Pa.
Gallagher graduated from the University of Maryland. Soon after, he attended law school at the University of Baltimore and is a member of the Maryland State Bar Association, Inc. and works as Vice President of Development at Edens & Avant in Bethesda, Md. He also served five years in the Marine Corps with the 3rd Battalion, 8th Marines and then the 2nd Force Reconnaissance Company.
State-of-the-art Dance Facility Opens
The Center Dance Company, Inc. (3443 Carlin Springs Rd., Falls Church) opened the doors of its new home in the Bailey's Crossroads area. The 20,000 square-foot center will serve students from Northern Virginia, Maryland and Washington, D.C. In addition to the extensive class schedule and training program, the facility will provide the local dance community with exceptional rehearsal, class and studio performance space by offering rental opportunities to local and national dance, arts and wellness organizations. The spacious studios, ranging in size from 865-square-feet to 2,500 square-feet, feature top of the line Harlequin sprung flooring and 16-foot ceilings. The building provides excellent access, drop off and parking in addition to being close to popular retail and restaurant establishments. The regular summer session began July 21 and enrollment is underway for classes in ballet, tap, hip-hop, modern, jazz, yoga-based stretch and Pilates. Auditions for September placement will be conducted during the summer class schedule. Prospective students should contact Carolyn Carattini, school director at cct@arldance.org to set up an audition for the academic year program.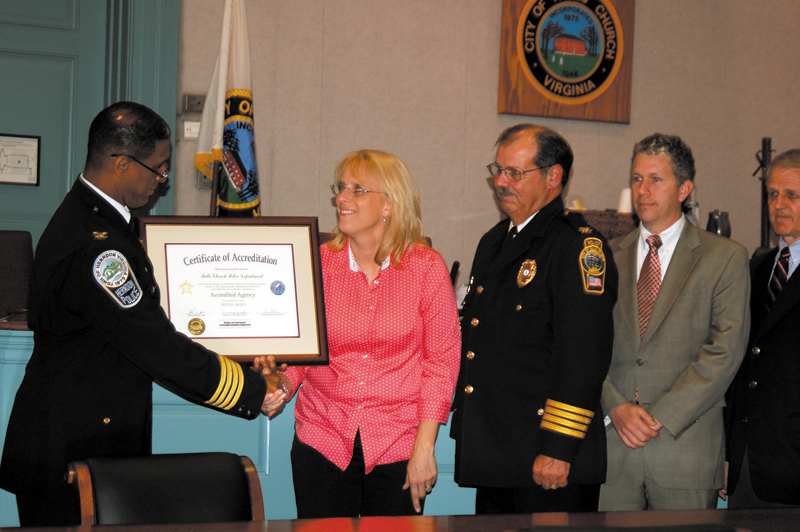 F.C. Community Services Board Elects 2008-2009 Officers
The Fairfax-Falls Church Community Services Board (CSB) elected new officers for 2008-2009 at its recent monthly meeting. CSB partners with individuals, families and the community to empower and support Fairfax-Falls Church residents with or at risk of developmental delay, intellectual disability mental illness and alcohol or drug abuse or dependency. CSB, a multi-jurisdictional agency, provides services for the residents of Falls Church and Fairfax. Mark Gross, who represents the City of Falls Church on the board, was elected vice chair. Gross, a resident of the City of Falls Church, is deputy chief of the United States Department of Justice Civil Rights Division Appellate Section. As the supervisor of 14 Appellate Section attorneys, Gross reviews briefs written for the U.S. Courts of Appeals and the U.S. Supreme Court. He is also an adjunct law professor at the Washington College of Law at American University.
Volunteer Fairfax Fall Symposium
Volunteer Fairfax is building a better community through service. As a respected leader of community service for more than 32 years, Volunteer Fairfax connects individuals, groups and corporations to volunteer opportunities in the Fairfax County area. On August 7, the organization will host a fall symposium offering three sessions from Volunteer Fairfax's 2008 training series. Sessions include, "Skills-Based Volunteering," "Get with IT" and "The Fine Art of Supervising Volunteers." Speakers will present topics on how to use volunteers' skills, utilize technology and ensure a positive volunteer experience. Training registration is available at www.volunteerfairfax.org. The fee for the symposium is $90. Lunch is not included in the fee. This workshop is geared toward volunteer managers, especially those new to their positions, those who coordinate volunteers as part of their job responsibilities, or those who lead volunteer programs.
University of Oklahoma Lists Summer 2008 Degree Candidates
Falls Church native Karen Kathleen Ortwein, is among the list of candidates that are eligible to participate in commencement ceremonies in May 2009 at the University of Oklahoma Norman campus.
Annandale HS Teachers Head for India
Two Annandale High School teachers will serve as ambassadors of education and culture in India as part of the Rotary Foundation Annual Group Study Exchange. Meredith Hedrick, who teaches English for speakers of other languages and Niki Holmes, who teaches English, were selected for the exchange program, which will take place during the coming winter.
Each year, professionals who are selected by a panel of Rotary International members are sent to various countries around the world to establish goodwill and promote peace by sharing cultures and making personal contacts. Through the Group Study Exchange, Hendrick and Holmes will develop relationships with organizations and individuals in India.
As an International Baccalaureate (IB) world school, Annandale High School offers both the IB Middle Years and the IB Diploma programs to students in grades 9-12. The IB program uses rigorous and holistic instructional methodology to promote the development of young people not only to become successful lifelong independent learners but also to become involved with and knowledgeable about the global community. When they return, Hedrick and Holmes will support the goals of the IB programs at Annandale by developing school wide community and service projects that build upon the relationships they built in India.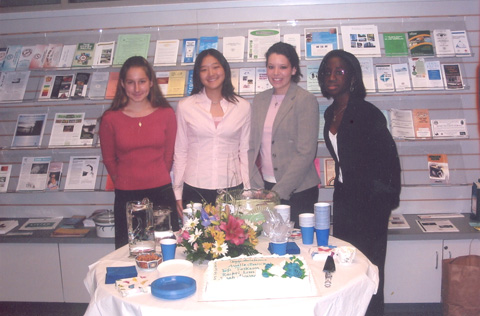 Stifel and Capra Artist Debut
New artist Kathy O'Brien debuts her South River Collection Jewelry at the always-fun First Friday of Falls Church weekend. Meet Kathy, along with other local artists; also enjoy a cool drink, yummy treats and see what is new at Stifel and Capra (210 Little Falls Street, Suite 201, Falls Church).
Grants Reach More Than 450 Students
As a result of the third year of its grant program, the Falls Church Education Foundation (FCEF) received reports from teacher grantees noting that more than 450 students, teachers and families were served through five grant projects. The reports as written by the teachers who administered the grant projects indicated that most activities were extremely successful.
The foundation distributed $5,000 for projects in the arts, mathematics and science, environmental education, physical education and fitness, early childhood literacy and parent training, to fund projects at Mt. Daniel Elementary School and George Mason High School during the 2007-2008 school year.
Many teacher grantees are already planning to build upon their experiences with this year's FCEF grant projects and expand these activities in 2008-2009.
The FCEF is a non-profit, tax-exempt organization established in 2003 to provide supplemental support for the Falls Church City public schools. The FCEF is engaged in a campaign to build a $10 million permanent Endowment Fund to help ensure that our students are prepared to meet the challenges of the 21st century.
The next round of grant applications are due by Oct. 15, 2008. For more information on the Foundation, how you can help sustain our community's commitment to strong support for public education, or to find out more about applying for a grant, contact Executive Director Donna Englander at 703-538-3381, or go to www.fcedf.org
Next Forever Young Luncheon
Enjoy a live performance by the "Sound Advice Quartet," featuring Ginger Albertson, Bonnie Ashley, Carrie Bodoh and Beth Kimlick. On Monday, August 4 at 12:30 p.m., Forever Young TV, a multi-media program featuring a 30-minute television show, will host its monthly luncheon at Fuddruckers (4300 Backlick Rd., Annandale).
FCPS Receives Exercise Equipment From Fitness Group
Fairfax County Public Schools has received $31,000 worth of cardiovascular and resistance- training equipment from Life Time Fitness. The equipment, which includes 70 pieces of cardiovascular equipment and 23 pieces of strength-training equipment, will be used in Fairfax County high schools beginning with the 2008-09 school year. The donation was made by the Life Time Fitness Foundation.
FCPS students will have access to treadmills, stair-climbing machines, step machines, and strength-training equipment as a result of the Life Time Fitness donation. Most Fairfax County high schools will receive the equipment prior to the beginning of the new school year.
Life Time Fitness is a national operator of large health and fitness centers, including three in Northern Virginia.
Travis Benton Wins Sailing Championship
Travis Benton, nephew of News-Press owner Nicholas Benton, teamed with Oliver Toole to beat out 61 other youth entries and win first place in the Club Flying Junior National Sailing Championship at the Santa Barbara, Calif. Yacht Club last week.
The team won four of seven races in a 13 foot dinghy with a sail area of 100 square-feet. The second through fourth-place finishers behind the Santa Barbara-based Benton-Toole team in the three-day competition came from yacht clubs in Newport Harbor, Long Beach and San Diego.
Yard Sale Benefits Local Baseball
On Saturday, August 2 at 8 a.m., local parents and players will host a large multi-family yard sale at 319 Grove Ave. in Falls Church to benefit the NOVA Nats baseball team. The team will play in a week long tournament in late August at the Cooperstown Dreams Park in New York. The yard sale will feature furniture, electronics, toys, books and clothing. All proceeds will be used to compensate players' costs for the tournament.