With its red sign gleaming from the side of Chain Bridge Road, Cafe Deluxe is nearly tucked away under a building. However, its location is the only thing that's partially hidden. Cafe Deluxe provides big meals with big flavor by adding its own twists on classic meals, and the restaurant combines hearty, traditional dishes with upscale ingredients to create a luxurious yet comfortable atmosphere and meal.
Cafe Deluxe has an expansive menu, and based on the variety of seafood offered, one would think it was a seaside restaurant. Seafood eaters can enjoy a seared sea scallops salad ($12.95) with baby arugula, bacon and passion fruit vinaigrette or ahi tuna mignon ($16.95) with green pepper sauce and potato au gratin. The traditional Belgian combination of steamed mussels in a white wine broth ($11.95) served with French fries typifies Cafe Deluxe: combining a rich food with something as ordinary as fries.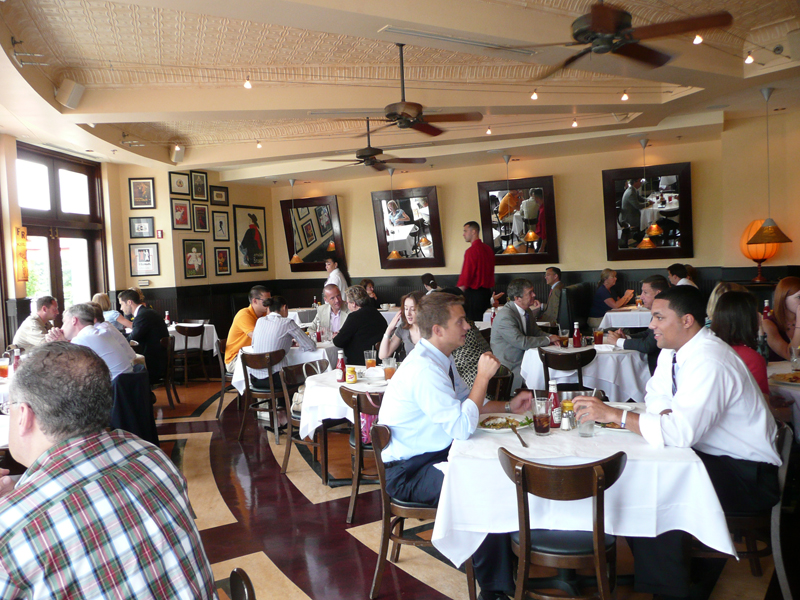 Those wary of seafood will still find plenty on the menu, including penne with chicken, chopped red peppers, asparagus and sautéed spinach in a light cream sauce ($11.95). Despite the cream sauce, the dish is not heavy and the vegetables are crisp and fresh. Even something as simple as asparagus is a highlight at Cafe Deluxe. More food for carnivores includes a roasted lamb and goat cheese sandwich ($9.95) and grilled meatloaf ($11.95). Cafe Deluxe's twist on Mom's classic meal involves a spicy Creole sauce to go with the traditional mashed potatoes and haricot vert (essentially, fancy green beans).
If neither seafood nor meat will make the cut, and sides are the most appealing, opt for a plate of four side dishes to construct a meal ($11.95). Be a little unhealthy and follow a starchy theme: have a potato-lover's dream meal – mashed potatoes, French fries, potato au gratin and Gruyere macaroni and cheese (for a little variety). Do the opposite and go green: sautéed spinach, asparagus, haricot vert and roasted tomatoes. Of course, you don't have to limit yourself to just one genre – mix and match as much as you'd like. With the care that Cafe Deluxe puts into all of their food, including their side dishes, a meal of sides will not disappoint.
The atmosphere of Cafe Deluxe is as comforting as the food. A dark mahogany bar stretches along the length of the restaurant and, though there are a few televisions to watch big games, they are overshadowed by huge mirrors all over the walls. The bar is sectioned off and seems separate from the rest of the restaurant, but if traditional bar food is what you want, Cafe Deluxe does not disappoint. Try creamed spinach dip and chips ($6.95) or crispy onion straws ($5.95) as an appetizer and follow it with a bacon cheeseburger ($9.95), which comes with fries or mixed greens. To glam up your bar food, there is a grilled tilapia BLT with lime and caper tartar sauce ($10.95) or a pizza with prosciutto, mozzarella, Roma tomatoes and basil ($9.95).
As a pleasant contrast to the mahogany interior, Cafe Deluxe features a large patio with several tables outside as well. Sitting out on the patio, it is easy to forget the behemoth mall just across the street. Diners are quickly transplanted from suburbia to a chic, cosmopolitan cafe where not even the Washington humidity can get to you.
Despite locations in Bethesda and Cleveland Park, Cafe Deluxe is far from a chain. Its attentive and friendly staff assures satisfaction. The combination of trendy neighborhood restaurant, warm atmosphere and hearty food, Cafe Deluxe is sure to please.
Cafe Deluxe
1800 International Drive
McLean, VA 22102
703-761-0600
www.cafedeluxe.com
Monday – Thursday 11:30 a.m. – 10:30 p.m.
Friday – Saturday 11:30 a.m. – 11 p.m.
Sunday 10:30 a.m. – 10 p.m.