Despite defeat, the Falls Church's (F.C.) All-Star teams finished the season with strong performances from their players, new and experienced alike. Here is the round-up of the All-Star Finals:
9 – 10-year-olds
McLean 10 – Falls Church 1: Robert Guenther threw three strikeouts, throwing to Jamie Handley for an out at first base. With strong defensive play contributed by Noah Anderson, Casey Lauer and Johnny Peterson, Falls Church held McLean at three runs early in the game. Peterson performed strongly as relief pitcher, with heads-up play by Nathaniel Scheinman at shortstop, a fly ball caught by Kiran Menon in right field, and a great throw by Marsden Davis at catcher to Thomas Beddow at second base. While F.C. couldn't catch a break, McLean scored six more runs in the next two innings. In the fifth inning, FC got on the board when Jamie Handley's line drive to center field drove in Jake Deeley.
Tuesday, July 1
Alexandria 21 – Falls Church 5: With a good start, Johnny Peterson pitched two strikeouts, and Robert Guenther made a catch at second base. Great hits by Anderson, Jamie Handley and Josh Rankin loaded the bases. Peterson nailed a three-RBI grounder up the left field foul line, taking third base. In the second inning, Alexandria's offense generated runs, taking a 9-5 lead by the third inning. Guenther recorded two outs in the third, but the F.C. defense could not contain Alexandria, which scored five more runs in the third and seven in the fourth.
Thursday, July 3
Reston 11 – Falls Church 1: Pitcher Casey Lauer started the game, holding Reston to two runs. Lauer snagged a bunt, making an out at first base. Johnny Peterson and Noah Anderson caught fly balls at third and second for the last two outs. In the second inning, Lauer's single drove in Jake Deeley, who was pinch running for Johnny Peterson after his double to left field. It was Falls Church's only run of the game. F.C.'s defense stayed strong in the second, with a strikeout by Jamie Handley, and Nathaniel Scheinman caught a pop-up at third. As a duo, catcher Marsden Davis and pitcher Scheinman tagged runners at home. Despite strong pitching by Thomas Beddow in the fourth, the F.C. fell after four innings.
11 – 12-year-olds
McLean 12 – Falls Church 9: Richard Marsh started with a walk, followed by Matthew Ledder's single, sending Marsh to third and Ledder to second. Marsh scored, and Ledder went to third on a passed ball. Another walk put runners on first and third with nobody out. McLean threw the runner out at second, with Ledder scoring. Alex Handley held McLean scoress in the first inning and doubled in the second.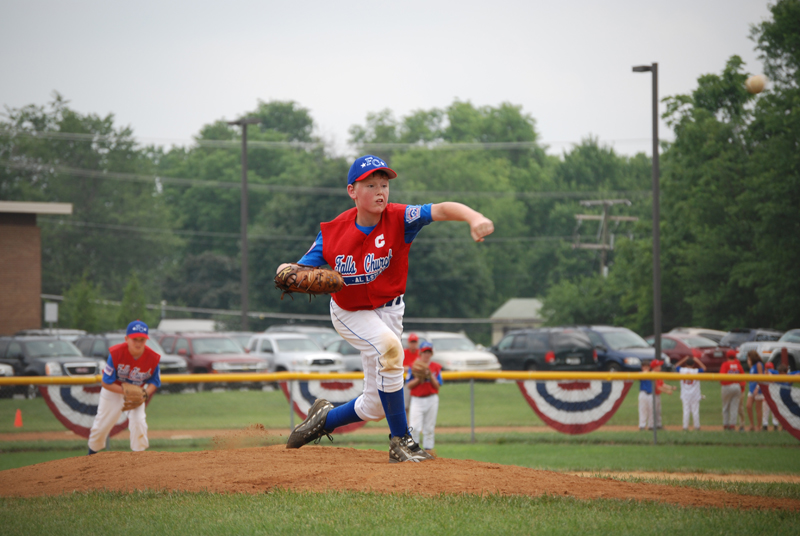 Pinch Runner Maggie Goldsmith took full advantage, scoring with passed balls. McLean surged at the bottom of the second with a single, a double and another single to score two runs in the bottom of the inning, narrowing the score to 3-2.
F.C. responded in the top of the third with a walk to Ledder and Tyler Waters' triple to score Ledder. Lucas Cherry followed with a home run. McLean scored in the bottom of the third on a single, two passed balls and a ground out. A groundball up the middle was tipped by Handley between short stop and third. Marsh's strong throw limited McLean's scoring opportunities. McLean responded with four runs in the bottom of the fourth on a home run, two singles, an error and a double to lead 7-6. Goldsmith prevented further damage with a diving catch on a short fly ball.
F.C. loaded the bases in the top of the fifth inning with two outs. Vincent Kanyan's single put Falls Church back in top at 8-7. Two walks led to a minor threat at the top of the sixth, but Mike Goldsmith's F.C. squad was only able to score one more run, with McLean holding out for the win.
10 – 11-year-olds
Falls Church 7 – Vienna 4: Before a record crowd at Westgate Park, F.C. scored a win over Vienna, who had eviscerated F.C. 33-2 in a previous game. FC pitcher Ryan Leonard turned in five innings, limiting the Vienna team to four runs. As Vienna struggled to rally in its final at-bat, F.C.'s ace reliever Daniel Schlitt turned out the lights, with strong play by second baseman Daniel Butler.
F.C. turned on the heat in the third when Leonard led with a single, Sam Selby was hit by a pitch and Chris Meador walked, bringing up the powerful Evans with the bases loaded. Evans blasted a low line drive to the fence. Before Vienna reacted, three runs had scored, with Evans moving to third. Butler proceeded to lay down a perfect bunt, scoring Evans from third with the game at 5 – 1.
F.C. was able to add two runs in the fourth making it 7-1. A combination of F.C. errors and hits by Vienna pushed the game to 7-3 through four innings. Vienna would go quietly in the fifth, Leonard's last inning of work, as the indefatigable hurler induced Vienna into two pop-ups and a third out on a fly to right, where Nate Jones snagged the ball.
F.C. threatened again in the sixth, when Evans ripped another double, but Vienna made a nice play to nail Selby. Reliever Schlitt retired the side. After one strike out, Vienna made it 7-4, with an RBI ground out to second baseman Butler.
Monday, July 7
McLean 13 – Falls Church 10: The confidence from the win against Vienna was shaken when the McLean team built up a 13-3 lead through three and a half innings, battering F.C. with sharp singles, infield hits and a three-run home run.
F.C.'s first run came on an RBI single by Patrick Evans in the first inning. In the second, Ben Torpey rapped a hard single and took second on a McLean throwing error. As the home team entered the bottom of the fourth inning, they were faced with a dire situation; if they did not score a run, the game would be over. The F.C. boys made their run after two outs. With star Ryan Leonard at the plate, the McLean pitcher worked the count to 0-2 with defeat looming. But Leonard ripped a double. Leonard was followed by center fielder Sam Selby, who blasted a line drive double to the fence in center, scoring Leonard.
With momentum shifting toward F.C., McLean's pitcher walked Christopher Meador. A new pitcher for McLean decided to try out his curve ball on the F.C.'s slugger Evans. On the third curve ball, Evans blasted the ball well over the left-centerfield fence, making the score 13-7.
Reliever Daniel Schlitt held off McLean for the rest of the game, aided by Daniel Butler, Leonard and Evans, who threw out a McLean runner on a bunt play. Over his relief stint, Schlitt struck out three and allowed no runs.
In the bottom of the fifth, F.C. made it 13-9 on a two-run home run led by Nate Thatcher. After a walk to Selby in the sixth, McLean retired the next two batters. Butler's single, however, kept the home team's chances alive. Selby scored on an ill-advised pickoff attempt on Butler at first, bringing the score to 13-10. Alas, F.C.'s comeback ended there, as the McLean shortstop went deep into the hole to make a fine stop on a sharply hit ball, then turned quickly to rifle a terrific throw that nailed the hustling F.C. batter, bringing another exciting game.