You've been to the beach. You've seen New York City. Now let the News-Press show you some attractive alternatives to the usual summer hot spots just a short drive away.
Bridge the gap to the past
Vent
uring to rural Virginia this summer may sound like a bore, but Natural Bridge (naturalbridgeva.com) attracts vacationing guests from all over the world who seek out this historically charming nook.
Located in Virginia's Shenandoah Valley, Natural Bridge's development as a retreat began when Thomas Jefferson built a two-room log cabin, with one room reserved for guests. While visitors can't crash at Jefferson's vacation pad, they can utilize some other antique accommodations – a 1926 Caboose is just one of many lodges available for rental.
After acquiring the wood-sided Chesapeake & Ohio freight car, owner Tom Bradshaw decided it would be fun to restore it to its former glory. The caboose represents an actual model as it might have appeared on the rails in the mid-1930s. The accommodations feature a bedroom, bathroom and a kitchen, refined with western red cedar walls, cherry floors, the original curved wood ceiling and is decorated with railroad memorabilia including signal lanterns and marker lights. Located two miles outside of Natural Bridge the 200 square-foot caboose can accommodate a couple or a small family ($150 per night, 540-463-2521).
Natural Bridge's history offers an array of attractions that youngsters and those young at heart are sure to admire.
Families can journey back 300 years to a one of a kind replica of a Monacan Indian Village (540-291-2121). Among the interpretive and interactive programs offered, shelter construction, hide tanning, tool-making, gardening and preparing meals are just a few recommended activities. ($13 for adults, $8 for children).
Representing the all-time best of American childhood heritage, the Toy Museum at Natural Bridge (www.awesometoymuseum.com, 540-291-9920) provides an interactive and intergenerational experience for visitors of all ages. From the first edition of G.I. Joe to the original Barbie, the museum has more than 45,000 items, which include paper doll books, electric trains and games that date back to 1740 ($10 for adults, $6 for chi
ldren).
At night, head on over to the Pink Cadillac (540-463-2621), a 1950s-style diner, for another blast from the past. Famous for its homemade chili, Pink Cadillac entertains patrons with décor that salutes its mid-century theme. Cap the evening with an era-appropriate stop at Hull's Drive-In Theater (www.hullsdrivein.com, 540-463-2621). Moviegoers can enjoy inexpensive concessions and double features all for $5. Children 11 and under are admitted free. Four-legged friends are also welcomed so long as they are leashed.
– Brittany Diggs
Stretch your summer fun
Find your inner-self this summer. Just a bit beyond the sights of Charlottesville lies a retreat known as Yogaville (yogaville.org). Located on the James River in Buckingham, Va., this relaxa
tion-oriented spiritual center is nestled among 700 acres of woodland, with the Blue Ridge Mountains rising above the distant horizon.
Yogaville is the world headquarters of Integral Yoga, a style which was created in 1966 by Sri Swami Satchidananda, with workshops offered for those new to yoga as well as for experienced teachers. The Yogaville website brags that "regardless of the time of year or topic, our program participants always return home relaxed and refreshed."
In July 1986 the Light of Truth Universal Shrine (LOTUS) opened. Dedicated to people of all faiths, the shrine was built in the shape of a lotus blossom, which according to practitioners of Integral Yoga is the "ancient symbol for the spiritual unfoldment of the soul." The surreal purple and pink-topped shrine is worth seeing just as a unique attraction.
From July 3 – 6 Yogaville is hosting a special workshop retreat, "Krishna Das: 4th of July Chanting Workshop." Krishna Das is a renowned western musician who reportedly makes kirtan (chanting of sacred sounds) fun and easy. Yogaville invites attendees to "let your participation in chanting these holy mantras elevate your mind, relax your body and open your heart."
Yogaville welcomes visitors on day trips, overnight stays, and even for longer visits. A stay at Yogaville includes three vegetarian meals a day, group meditations (3 available each day), Hatha Yoga classes (2 available each day), a tour of the LOTUS Shrine, various evening programs and hiking.
The rates for visits, including accommodations and all meals and services vary. A shared dormitory (shared room and bath) cost $65 weekdays, $75 weekends and a private dormitory (private room and bath) range in price from $85 – 150 weekdays, $110 – 185 weekends. A stay in the Lotus Guest House (private room and bath) ranges from $95 -160 weekdays, $125 – 200 weekends. A tent-site is available for campers ($45 – 70 weekdays, $55 – 80 weekends).
– Diana Glazer
Goats Gone Wild
Imagine a riverfront getaway where the serene sunrise awakens chirping birds across a gently rolling countryside. This vignette is a reality in Oak Grove, Va. (virginiaisforlovers.org), where
travelers can enjoy a setting rich in nature's beauty and a few show-stopping goats.
Westmoreland Berry Farm's (www.westmorelandberryfarm.com) renowned attraction is the "goat walk," comprised of a series of ramps and platforms looming 20 feet off the ground. The light-stepping livestock peer down from atop the scaffolding at visitors, who can pull on a rope to hoist food to the agile farm friends.
Visitors can feed themselves with an array of jams and dozens of other culinary delights, as well as pick their favorite berries, fresh area-grown fruits and vegetables on the farm.
Just down the road from Ingleside Winery (tour and tasting for $2.50, www.inglesidevineyards.com), one of the oldest and largest wineries in Virginia, Leeds Cove ($250/night, 804-224-2003) can accommodate six adults comfortably. With four bedrooms and three bathrooms, it is fully furnished and equipped for weekend rental on a year-round basis.
Tee it up at the nearby Cameron Hills (cameronhills.com) Golf Links, where an affordable weekend round at the 18-hole championship golf course is just $49, which includes a power cart.
If you just like driving those carts, you can venture out to Colonial Beach (www.colonialbeachva.net), a "Golf Cart Town," where licensed drivers can use the carts to putter down most streets.
Attractions such as Stratford Hall (www.stratfordhall.org), George Washington's birthplace, and many other popular tourist spots are only minutes away from the beach.
In addition to the scenic beauty at Colonial Beach, the Westmoreland State Park (www.dcr.virginia.gov) provides visitors with a spectacular view of the Potomac River. One of the park's special features is shark tooth hunting. Sift through gravel along the river to find pearly whites from some of Virginia's common shark species like sandbars, smooth dogfish and Atlantic sharp-noses.
Oak Grove is a hub for various attractions, which are within 15 minutes of the town. Amid wineries and historic sites, Leeds Cove is a fitting July 4 destination where vacationers can watch American Bald Eagles soar the morning skies above the Rappahannock River.
– BD
A woman's take on Williamsburg
Williamsburg, Va. (visitwilliamsburg.com) may have pigeonholed itself as a history buff's dream, but its summer snow flurries, tea parties and spas give the former boys-only snooze fest new potential for a girls weekend getaway. Stick to our fun-packed, feminine itinerary and put a new spin on the days-of-yore destination.
With bragging rights for being one of the largest candle outlets across the United States, the 300,000 sweet scents wafting out of Williamsburg's Yankee Candle Store (2200 Richmond Rd., 757-258-1002) aren't the only thing drawing customers in. Try the indoor snow showers – made from soap shavings – for starters, then move on to the homemade fudge, and end up somewhere in between dipping your own candles and strolling through the perpetual winter of Holiday Park.
Keeping things about as American as apple pie, trot on over to 10Best.com's pick Jamestown Pie Company (buyapie.com, from $6) for edible circles of all sorts – pizza pies, deep-dish pot pies and the sweet tins of blueberry, chocolate, pecan and – well, you get the point.
Not into pie? Try cake instead at the Carrot Tree Kitchen (1782 Jamestown Rd., 757-229-0957) where self-described "carrot fanatic" Debi Helseth is more than happy to whip you up a piece of her famous homemade carrot cake and other baked goodies out of her green-walled, orange-accented eatery adorned with carrot-shaped wall clocks and other quirky décor.
Instead of dropping the inevitable $200 per night hotel fee at a typical lodging spot, let those post-feast tummies settle at The Spa of Colonial Williamsburg (307 S. England St., 757-220-7720), where a "wisteria-draped pathway alongside a formal garden beckons guests to the Georgian Revival style building." Spa packages (from $209) include an hour-long massage or facial and a one-night stay.
Start your following morning at the Taste Tea Room (1915 Pocahontas Trail, 757-221-9550) in the Village Shops at Kingsmill. Savor some "Cream Tea" ($7), which includes freshly-baked scones and the tea of your choice, served in your very own tiny teapot. The setup allows for a morning gab with the gals before heading off to the finale – Williamsburg Winery (williamsburgwinery.com).
The popular 22-year-old vineyard offers guided tours and tastings with a souvenir etched stemmed glass ($8). Upgrade to the tour, tasting and lunch deal ($25) and grab a bite afterwards at the grounds' Gabriel Archer Tavern that includes a glass of wine, main course, dessert and coffee or tea.
– Natalie Bedell
Hot times: summer in the Steel City
Often overshadowed by New York and Philadelphia, Pittsburgh isn't at the top of the list when it comes to prime city destinations. However, the Steel City is ideal for history buffs, sports aficionados and everyone in between.
Pittsburgh celebrates its 250th anniversary this year, making it perfect for a July 4 getaway. The annual Three Rivers Regatta will finish up on July 4, and will feature music, racing and a fireworks show by the prestigious Zambelli Fireworks and Lightwave International (zambellifireworks.com), one of the country's oldest fireworks companies established in 1893.
Pittsburgh has no shortage of museums. Check out one of the Carnegie Museums (approximately $15 per museum, carnegiemuseums.com) – the Carnegie Museum of Art, the Carnegie Museum of Natural History, the Carnegie Science Center and the Andy Warhol Museum.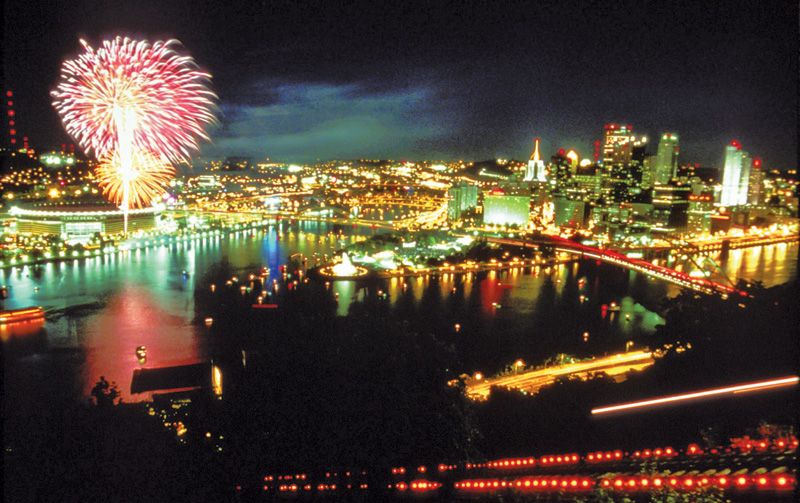 The Duquesne and Monongahela inclines ($4, incline.pghfree.net) offer must-see vistas. The cable cars take you to the top of Mt. Washington, which USA Today deemed the "No. 2 beauty spot" in their line-up of America's beautiful views.
Baseball fans may find the views at PNC Park (tickets $9-160, pirates.mlb.com) equally enchanting. The Pirates' home is one of the league's most dazzling diamonds, with the city skyline and Roberto Clemente Bridge looming beyond right field.
Also visit the Western Pennsylvania Sports Museum inside the Senator John Heinz Pittsburgh Regional History Center ($9 adults, $5 children and students, pghhistory.org) in the Strip District, just one of Pittsburgh's 89 neighborhoods, which lies along the Allegheny River. Once home to warehouses and factories, The Strip District now features vendors, shops, restaurants and a thriving nightlife scene. Check out the Firehouse Lounge (firehouse-lounge.com) and Iron City Brewing (pittsburghbrewingco.com), just two of the dozens of the district's bars and clubs.
While in the Strip District, be sure to feast on a colossal sandwich at the original Primanti Brothers (primantibrothers.com), Pittsburgh's famed sandwich shop, and stop by Pamela's Diner (60 21st St., Pittsburgh, 412-281-6366). Ordinary sides of French fries and coleslaw are stacked atop the meat and cheese at Primanti's, and Pamela's stuffs their pancakes with a variety of fillings, from strawberries to chocolate chips.
You'll have the extra cash to order seconds (not that you'll need them) if you take advantage of VisitPittsburgh's gas deal. Receive a $10 GetGo gas card for every overnight booked through visitpittsburgh.com. VisitPittsburgh also features discounts packages for attractions like Kennywood (kennywood.com, $19-32), an amusement park that doubles as a national and state historic landmark.
– Stacey Marin