TOM WHIPPLE, author of the News-Press' wildly-popular weekly Peak Oil column, was treated to a party marking a special birthday in Arlington last weekend by his wife, State Sen. Mary Margaret Whipple. (News-Press photo)
American University Professor Frames Science
On Friday, April 18, Matthew Nisbet, Ph.D, an assistant professor at American University, will be giving a talk on Framing Science for Public Debate at the National Science Foundation (4201 Wilson Blvd., Arlington) from 1 – 3 p.m. Nisbet will speak on the issue of "framing" science, where scientists balance remaining true to science with making the scientific issues personally meaningful. The talk is being presented by the National Capital Area Skeptics. By April 16, those interested must register for a guest badge by e-mailing ncas-april18@ncas.org or by calling 301-587-3827. The event is free and open to the public.

FCHS Jaguar 5K Run/Walk
The Falls Church High School (7521 Jaguar Trail, Falls Church) is holding its 3rd annual Jaguar 5K Run/Walk and Kids 1 Mile Fun Run on Saturday, April 19. The Kids 1 Mile Fun Run starts at 8 a.m. and the 5K begins at 8:30 a.m. There will also be a Fitness Fair at the event. Registration information can be found at www.jaguar5k.com. For more information, call 703-207-4023.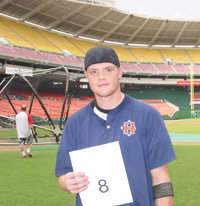 Heart's Ease: A Renaissance Celebration
Creative Cauldron and Falls Church Arts are joining together on Saturday, April 19 to celebrate the April birthdays of Leonardo da Vinci and William Shakespeare with a nighttime concert of Renaissance music at the Center of Spiritual Enlightenment (222 N. Washington St., Falls Church) at 7:30 p.m. Five of the Washington area's leading early music performers will be presenting popular pieces from the Renaissance era, as a part of the year-long DaVinci Passport Series. Tickets are $15 for adults, $10 for children 12 and under. For more information, visit www.creativecauldron.org.
Pre-Travel Soccer Training
For those future soccer stars looking for a little more training before diving into the travel soccer schedule, Chantilly Soccer Club and FC Virginia have announced a new program for boys and girls ages 6 – 8. Players will receive professional quality "pre-travel" soccer training while participating in existing recreational leagues. Registration is open for the six-week program on Sunday afternoons that begins on April 27. For more information, visit www.fcvirginia.com/academy or call 703-433-1887.
Learn T'ai Chi for HIV/AIDS Benefit
On Tuesday, April 22, Health Matters Massage (44e B Carlisle Dr., Herndon) is hosting a fundraiser for Inova Junipar's HIV/AIDS Program by holding a T'ai Chi class from 6:30 – 8 p.m. Taught by instructor Ed Bilanchone, who has taught the Yang Short Form for 12 years, T'ai Chi is a calming series of movements designed to boost energy and ease tension. The suggested donation for the program is $25, with all proceeds going to Juniper's patient care fund. For more information, call 703-568-9224.
Adopt a Library Day
One holiday you probably didn't know about in April, coming up on Wednesday, April 23, is Adopt a Library Day. That's right, the governors of Virginia and Nebraska and the South Dakota state legislature proclaimed Wednesday Adopt a Library Day to celebrate www.AdoptALibrary.org and to draw attention to things to be done for libraries. AdoptALibrary.org, aims to facilitate donations to schools and libraries, in prisons and around the world by not accepting donations themselves, instead siphoning the donations right to the schools. For more information, contact Lynn Gaubatz at adoptalibrary@aol.com or at 703-207-9450.
Green Apple Comes to D.C.
America's largest Earth Day festival comes to town this weekend as Washington D.C. welcomes the Green Apple Music Festival to the National Mall on Sunday, April 20. Started two years ago by music producer Peter Shapiro and Relix Magazine, the festival is an assortment of musical performances in venues across America, culminating in large-scale outdoor free festivals in eight cities on Sunday. Starting at 12 p.m., the National Mall will be rocking with Umphrey's McGee, an acoustic set from O.A.R., Gov't Mule and a headlining act from The Roots & Friends. Featured speakers include comedian Chevy Chase, Senate Majority Leader Harry Reid and actor Edward Norton. For more information, visit www.greenapplemusicfestival.org.
Falls Church Episcopal Celebrates New Priest
Falls Church Episcopal recently appointed the Rev. Michael Pipkin to Priest in Charge of the church, after he served four years of active duty as a Navy Chaplain, including time in Iraq. Pipkin aims to focus primarily on youth and young adult education while figuring out ways to reach out to the community. On Sunday, April 20, the church is holding a Celebration Service and luncheon after its 11 a.m. mass, which the retired Revered Peter James Lee, Bishop of the Diocese of Virginia will attend. For more information, please contact Parish Communications Director Robin Fetsch at 703-532-8818 or at robin@fetsch.com.
116th Arbor Day Celebration
Falls Church City plans on celebrating Arbor Day on Saturday, April 19 with its 116th Arbor Day Celebration, reflecting on the years since the first such celebration. The event is taking place at Frady Park (300 Block of E. Broad St. at Fairfax St., Falls Church), where the event has taken place every year since 1892. The event will feature an "Arbor Day Reflections" reenactment by the Falls Church Victorian Society and a presentation of the City of Falls Church's 30th consecutive Tree City USA award by the National Arbor Day Foundation. The event is free and open to the public, beginning at 3 p.m. For more information, call the City Arborist at 703-248-5183, x711.
FC Runner Named Rookie of the Week
Falls Church native Connor Ahlborn has been tearing up the Liberty League in track and field in her freshman campaign as a runner for Rensselaer Polytechnic Institute in New York. She was recently named Liberty League Rookie of the Week, the third straight week in which she's won the award. Ahlborn helped her team to a second place finish at the Liberty League Championships which her school hosted, finishing in the top five in all four events she participated in, including a second place finish in the shot put and javelin competitions. Ahlborn graduated from The Peddie School in Falls Church.
Fairfax City's Spotlight on the Arts
Fairfax City's Spotlight on the Arts is rapidly approaching and Fairfax High School is looking to become involved by presenting art works of students as part of the spotlight. On Saturday, April 19, Fairfax High School is holding an opening reception for the art show from 2 – 4 p.m. on the first floor of the Fairfax Old Town Hall (3999 University Dr., Fairfax). The show is sponsored by the City of Fairfax and the Fairfax Art League. For more information, call 703-352-2787, ext. 2.
Fairfax Teaching Assistant Wins Education Award
The Virginia Education Association recently named Margaret Panik of Bren Mar Park Elementary School in Fairfax County as the winner of their 2008 Education Support Professional (ESP) award. Panik, an instructional assistant at Bren Mar Park, was selected earlier this year as one of only 20 ESPs nationwide to participate in the National Education Association's "Leaders for Tomorrow" program. She serves as a member of Fairfax County's Superintendent's Support Employee Advisory Committee and has been working closely with the Northern Virginia Labor Council on a living wage campaign for local employees.
GMHS International Baccalaureate Art Show
The International Baccalaureate (IB) students at George Mason High School (7124 Leesburg Pike, Falls Church) are pleased to present their annual art show on the week of April 21 – 25. The show is open during school hours on the auditorium stage throughout the whole week, with a special public viewing on Wednesday, April 23 from 7 – 9 p.m. An opening celebration of the show is occurring on Thursday, April 24 from 7 – 9 p.m., where refreshments will be served.
CORRECTION
Last week in News and Notes, we ran a story about a faculty basketball game at George C. Marshall High School. The staff of Marshall did not participate in the game. Instead, staff members from Shrevewood Elementary School and Lemon Road Elementary School faced off in a fundraiser to raise money for St. Jude Children's Hospital. We apologize for the misprint.