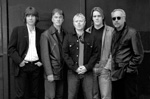 This blond Canadian might have a stage full of instruments dripping shades of cotton candy — including a sparkly pink drum kit and similarly pink piano — but don't expect to see another Britney or Christina walk onto the checkered stage of Avril Lavigne's Best Damn Tour.
"My songs aren't bubblegum pop dance songs and I don't have background dancers on every single song like them," says Lavigne. "I'm not wearing a microphone on my head. I'm playing guitar. I'm playing the drums. I'm playing piano."
The dancers, however, are a change for the angsty songstress who kicked off a string of shows March 5 in Victoria, British Columbia and brings her setlists of Grammy-nominated hits to George Mason University's Patriot Center in Fairfax next Tuesday, April 15. Still, she says the addition is still representational of her rock roots and doesn't portend a metamorphosis into a pop princess.
"The show is going to be very upbeat and the production will be bigger in the sense of my dancers," says Lavigne. "The dancing is very me; it's very kicking and punching and stomping and marching, stuff that I was always doing onstage."
Dancing won't be the only new thing Lavigne's whipped up for fans this tour. Recently having covered Joan Jett's "Bad Reputation," the recorded single will play live to a video montage of images of Lavigne throughout her career — some rumored to include a younger Lavigne flipping the bird. When asked directly about the buzz of hearsay, Lavigne remained vague, yet hinted at her colorful poses from her "Complicated" starting point.
"This was actually Jamie King, my set director's idea. He just wanted to put some fun images up on the screen from when I was 17 with my fists in the air screaming or my little kick shots," says Lavigne. "I was quite animated in a lot of my photo shoots when I first came out."
That fledgling feistiness hasn't faltered since she hit the music scene in 2002 with the release of her first album Let Go. If anything, she says her confidence level in front of fans has grown since her tie-wearing days, despite her introverted tendencies.
"A lot of people don't know this about me, but I'm actually shy around people I don't know. With my first concert, I didn't really talk on stage besides 'Thank you guys, I love you,' or whatever. I was always comfortable singing, but being a performer is a totally different thing," says Lavigne. "Now, I've just kind of learned how to work a crowd, how to talk to an audience. I'm more confident."
The energy of Lavigne's music has also transformed from tour to tour. Referring to songs from her last album, Under My Skin, as "dark and deep," Lavigne's well aware of how the tone of her music can bring a crowd up or down.
"My last record was pretty mid-tempo and serious, like every song was bringing down the audience and I wanted to go up. I just wanted to rock," says Lavigne. "A lot of my inspiration for the Best Damn Thing came from knowing what kind of songs I wanted to play live. I can bring it up with songs like 'Girlfriend' and 'Sk8er Boi,' open and close with those big songs and bring out the dancers, but I can also come down and come out on the piano with 'When You're Gone,' 'Alone' and 'By Myself.'"
There's no doubt Lavigne will be working the crowd by tickling those pink ivories, among other instruments during her live show, though she remains quite modest about her guitar-playing skills.
"I'm not a lead guitarist. I will always say I'm not the greatest player, but I'm good. I love to play guitar. I use it as a writing tool and I love to play it live," says Lavigne.
Of course, a series of recent accolades belie her humble claims. Taking time off from her tour this month to perform at Canada's 2008 Juno Awards, she earned multiple nominations, including Album of the Year — perhaps an example of that "extra love" she said she is shown by the bordering North.
"When I go there, I feel like everyone, my fans, are like 'Woo-hoo, she's Canadian,' and I feel like I've come home. I'm Canada's girl for them," says Lavigne.
• Avril Lavigne plays The Patriot Center Tuesday, April 15. Tickets are $42.50 and doors open at 7 p.m. Boys Like Girls opens the show. For more on Avril Lavigne, visit www.avrillavigne.com.